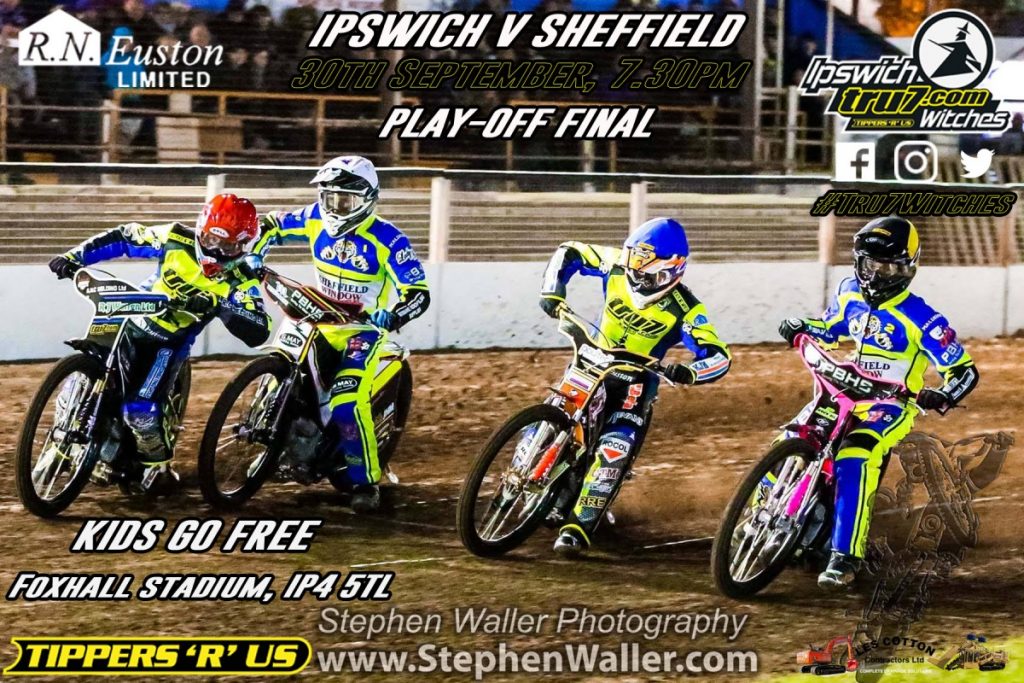 The 'Tru7.com' Witches host the deciding leg of the 2017 Championship Play-Off final this Saturday against Sheffield Tigers at Foxhall (7.30pm).
The two sides got the final underway on Thursday evening at Owlerton with the Tigers building a 16-point lead after a 53-37 win. It was a close battle on the night as both sides threw everything at each other and it promises to be another pulsating night of action under the lights at Foxhall on Saturday.
Cameron Heeps makes his Foxhall return from injury having scored 6+1 at Sheffield on Thursday. Sadly, Connor Mountain failed another fitness test and will miss Saturday's meeting with Newcastle's Alfie Bowtell deputising at number seven. Rider replacement remains in operation at number two for Justin Sedgmen.
The Tigers will be without number one Josh Grajczonek who withdrew after two rides on Thursday having aggravated an injury picked up on Tuesday at Glasgow. Ipswich legend Scott Nicholls, part of the famous 1998 treble winning side, deputises in his place. Josh Bates rides at number four and he was in fine form on Thursday scoring 13 in some thrilling races.
The Witches have run out comfortable winners on both occasions at Foxhall this season during the league campaign with 52-38 and 52-41 wins with the visitors' last win in Suffolk coming back in 2015. The two wins this season show the home side have it in them to win by 16 points but it will need one more push from riders and fans to see them over the line.
Team Manager Ritchie Hawkins says his side remain underdogs due to their injury problems but has confidence in his side to complete the job.
"Looking at the final, we are the underdogs because of our injury problems," said Hawkins. "I believe we have a more talented side but Sheffield have done an exceptional job this year and it will be a very difficult ask for us but I have confidence in my riders."
Hawkins says that Saturday has all the makings to be a classic at Foxhall and explains his reasons for booking Bowtell to guest.
"Whatever happens Saturday is going to be an exciting meeting. It is the final of the league, it is an exciting thing to be involved in and every point is going to matter. It will be tense and it has the makings to be a classic.
"Alfie impressed us a lot when he came with Berwick and he has been to Ipswich a couple of times so knows the track. I want determination and he won't be afraid to give it a go on Saturday."
The boss is hoping for a big crowd on Saturday night and says it will be a special night for the town should his side secure the title.
"I hope everyone comes and backs us on Saturday and there is a big crowd at Foxhall. It has been a long time coming and we have been close for a long time and we are closer than we were last year now. It will be very difficult but if we can bring that title to the town it will be very special for everybody. I know the whole town will embrace it and that is all we want to do."
The former captain says it has been an ambition of his to bring a league title to Suffolk for a long time.
"I feel a responsibility, my ambition for many years now has been to bring a title back to Ipswich so I am feeling the adrenalin and the buzz for it. I am happy with the team I have got and have every confidence in them, they impress me every week. I am feeling confident with the team and the talent they have."
Hawkins says it has been another year of learning about different personalities but says everyone knows their roles ahead of the second leg.
"Everyone knows their roles and we have all spoken in the week building up to this. It has been another year of learning with new personalities and egos in the team and last year was the same. I think we are doing alright and are doing something right somewhere along the line. We just need to go that final step now."
Kids go free to this meeting.
Words: Henry Chard
Ipswich 'Tru7.com' Witches:
1. Danny King (c) 9.03
2. R/R for Justin Sedgmen 6.17
3. Cameron Heeps 6.93
4. Kyle Newman 6.25
5. Rory Schlein 8.60
6. Nathan Greaves 4.45
7. Alfie Bowtell (g) 3.26
Team Manager: Ritchie Hawkins 
Sheffield 'Window Centre' Tigers:
1. Scott Nicholls (g) 9.54
2. Todd Kurtz 5.39
3. Lasse Bjerre 8.27
4. Josh Bates 6.67
5. Kyle Howarth (c) 8.52
6. Jan Graversen 4.88
7. Georgie Wood 2.49

Team Manager: Simon Stead
Referee: M. Bates
Parade: Saturday, 7.30pm
Venue: Foxhall Stadium, IP4 5TL
Championship Play-Off final
Ipswich (37) vs (53) Sheffield
Last five home results v Tigers:
12.07.17 W52-38
25.03.17 W52-41
08.09.16 W59-34
23.04.16 W51-39
23.07.15 L43-47

Sheffield's last five:
CHPO Sheffield 53-37 Ipswich
CHPO Glasgow 34-31 Sheffield
CHPO Sheffield 59-31 Glasgow
CH Berwick 50-40 Sheffield
CH Sheffield 52-38 Ipswich