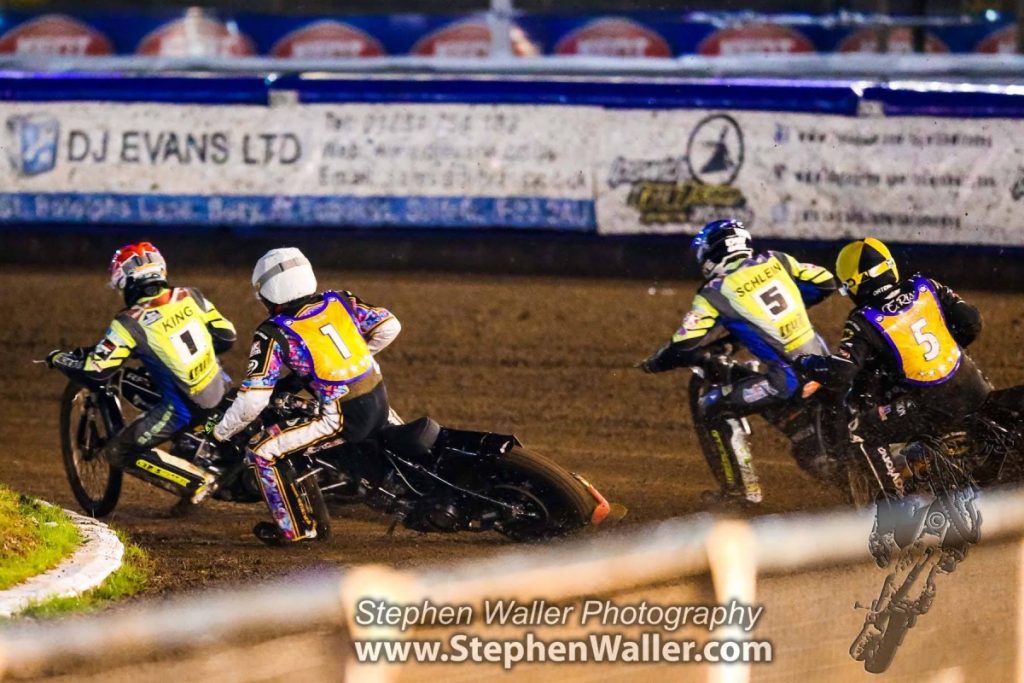 The 'Tru7.com' Witches take on Sheffield Tigers in the first leg of the Championship Play-Off final on Thursday at Owlerton (7.30pm).
A whole season's work boils down to two meetings as the two top teams in the division go toe to toe over two legs as they look to lift the Championship trophy.
Its mixed news for the Witches as Cameron Heeps returns to the side having recovered from his shoulder injury but Connor Mountain is likely to miss both legs having picked up a shoulder injury of his own whilst riding for Mildenhall last weekend. Peterborough's Tom Bacon guests at number seven as Heeps come back in at number three and rider replacement is used at two for Justin Sedgmen, who remains on the sidelines.
The Tigers are at full strength for the tie with Todd Kurtz back at number two after injury. Josh Grajczonek leads the side at number one with Kyle Howarth captaining the side after arguably his best season in the sport. Sheffield finished the regular season in top spot after an impressive campaign saw them win every home league meeting.
Sheffield won both meetings at Owlerton this season, the first a convincing win early in the season before a tighter meeting just a few weeks ago.
Team Manager Ritchie Hawkins says the team's determination got them through a tough semi-final last week.
"I thought we were brilliant last week and it was a classic cup tie that swayed both ways," said Hawkins. "There was decisions to be made in both meetings and it could have all gone wrong in the first leg. I said at the time but other teams I have been a part of would have fallen to bits but we showed great character. The boys' determination pulled them through to build up that ten point lead."
Hawkins says it was a real battle in the second leg at Edinburgh with the boss delighted with spirit shown all season despite a series of injury setbacks.
"We are showing a lot of strength of depth now which is pleasing and everyone contributed and picked up important points at Edinburgh. We had that bit of class with Rory (Schlein) on Friday and that was the telling difference.
"It was a battle and everyone came through it but we need to improve for the final. We have done remarkably well to get to the final with all of our injury worries and it looks like we have probably lost Connor for the final as well. It is a big ask but that spirit we have shown all season and in the semi-final could make the difference and we will need to show that again."
The former skipper says there is an outside chance Mountain could ride in the final but has moved to book Bacon as a guest for Thursday's first leg.
"Connor has damaged shoulder ligaments. It is not as bad as first feared and there is a chance he might ride in the final and he is desperate to ride. He has been superb in both meetings at Sheffield and he is desperate to race there as he is very good there. It is what it is and with Cam back and having r/r the reserves are very important.
"We have tried to get some Championship experience in and the best rider we can and hopefully Tom can do a good job at Sheffield. His form has improved as the season has gone on and he has learnt well."
Hawkins is delighted to have Heeps back in the side and says the Australian is raring to go.
"Cam was like a caged animal, he was desperate to ride in the semi-final but I wouldn't let him and so hopefully a bit of that pent up frustration can be used in the final. He is fully fit now and I have complete confidence in him. It was brilliant to see him and Danyon (Hume) up at Edinburgh and they were probably the two most nervous people in the stadium. It is nice to see their passion for the club and to come up to Scotland shows a lot about our team spirit."
The second leg of the final will be held at Foxhall Stadium this Saturday at 7.30pm. Kids will go free to this meeting.
Words: Henry Chard
Sheffield 'Window Centre' Tigers:
1. Josh Grajczonek 9.54
2. Todd Kurtz 5.39
3. Lasse Bjerre 8.27
4. Josh Bates 6.67
5. Kyle Howarth (c) 8.52
6. Jan Graversen 4.88
7. Georgie Wood 2.49

Team Manager: Simon Stead
Ipswich 'Tru7.com' Witches:
1. Danny King (c) 9.03
2. R/R for Justin Sedgmen 6.17
3. Cameron Heeps 6.93
4. Kyle Newman 6.25
5. Rory Schlein 8.60
6. Nathan Greaves 4.45
7. Tom Bacon (g) 3.26

Team Manager: Ritchie Hawkins 
Referee: S. Wilson
Parade: Thursday, 7.30pm
Venue: Owlerton Stadium, S6 2DE
Last five results at Sheffield:
14.09.17 L38-52
13.04.17 L33-57
04.08.16 D45-45
21.04.16 L43-47
30.04.15 L43-50

Sheffield Tigers Factfile
Main Sponsor: Sheffield Window Centre
Team Colours: Blue and Yellow
Race-Night: Thursday (7.30pm)
Website: www.sheffieldspeedway.co
Track Length: 361 metres
Track Record: 59.1 seconds, Ricky Ashworth (October 14, 2010)
Admission Prices
Adults: £15
Concessions (over 65s): £12
Juniors (aged 12-17): £5
Children (aged 5-12): £1
Programme: £3
Stadium Address
Owlerton Stadium, Penistone Road, Sheffield, S6 2DE
Telephone: 01142 853142
By Train: The nearest station is Sheffield, which is about two and a half miles from Owlerton Stadium.