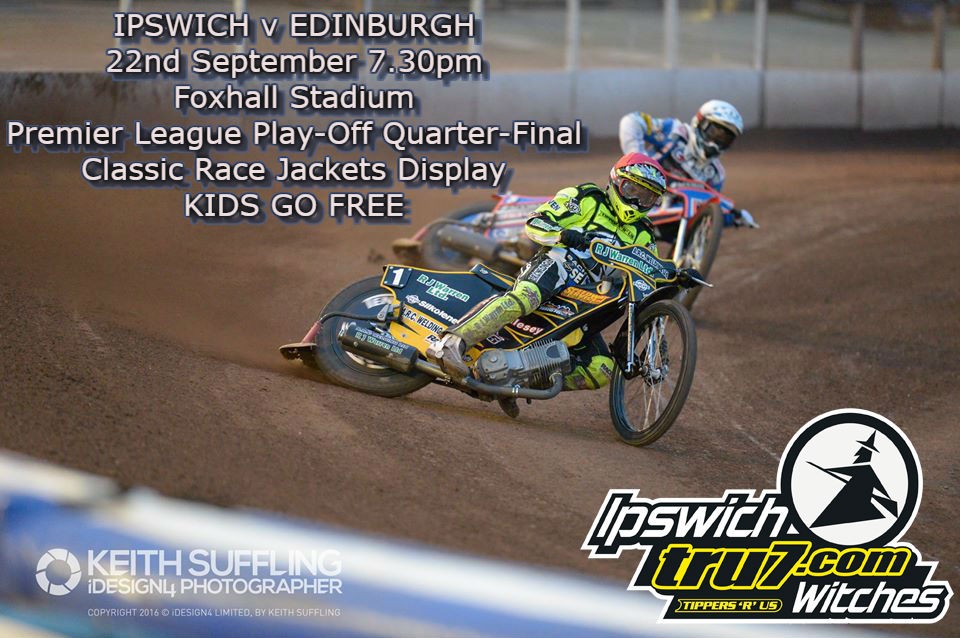 The 'Tru7.com' Witches begin the Premier League Play-Offs with a Quarter-Final first leg tie against reigning champions the Edinburgh Monarchs at Foxhall on Thursday (7.30pm).
A fantastic second half to the campaign has seen the Witches rise up the table and storm into the top six to secure their place in the end of season drama. The Suffolk side come up against an Edinburgh side who have won the title the previous two years and who finished fourth in the league this time around.
The Witches welcome back Joe Jacobs to the side after illness and James Sarjeant has declared himself fit to ride. Mildenhall's Connor Coles will replace the injured Danyon Hume.
The Scottish side are led by Australian Sam Masters who is one of the league's top performers and represented Australia in this year's World Cup. USA star Ryan Fisher rides at number two with German Kevin Wolbert completing a strong top three. The Monarchs also have a guest at number seven with Stoke's Ben Hopwood coming in for the injured Dan Bewley.
The Witches will hope to take a big advantage to Armadale for the second leg but the Monarchs will be a tough nut to crack and only lost by three points at Foxhall earlier in the season.
Team Manager Ritchie Hawkins wants his side to carry on their good form and build a good lead to take north of the border.
"We need to carry on our own good form and ride the way he have been," said Hawkins. "We need to build as big a lead as possible and try and make life easier but I believe we should do well in both legs. We want a good solid performance on Thursday like we have been doing at home the last two months."
The boss says he will not approach the meeting any differently and adds he has confidence in his side to get a result.
"Everyone has been under  a lot of pressure to win meetings and get us in the Play-Offs but we just want to carry on our good form because we've been riding so well. In a sense we are underdogs in the Play-Offs because we were written off a long time ago. We're in very good form and we are confident so we will go out there and do our thing and we are capable of getting a very good result. "
Hawkins is aware of the test his side face against the champions but believes the Witches' form stands them in good stead to defeat the Monarchs.
"They are the reigning champions and won't want to lose that title easily but I think we are coming into the Play-Offs in the best form that I've known at the club since I have been involved. We've built up well to this and we need to concentrate on ourselves and if we ride to our abilities I think we will be fine."
KIDS GO FREE  to this huge meeting and there will be a display of 'Classic Witches Race Jackets' prior to the meeting.
Meeting Sponsor: Tippers 'R' Us
Ipswich 'Tru7.com' Witches:
1. Danny King (c) 9.38
2. James Sarjeant 5.45
3. Nico Covatti 7.32
4. Morten Risager 6.88
5. Ben Barker 7.56
6. Joe Jacobs 4.78
7. Connor Coles (g) 3.00

Team Manager: Ritchie Hawkins
Edinburgh 'Border Roofing' Monarchs: 
1. Sam Masters (c) 8.97
2. Ryan Fisher 7.77
3. Erik Riss 6.56
4. Mark Riss 5.00
5. Kevin Wolbert 8.13
6. Max Clegg 3.60
7. Ben Hopwood (g) 3.00

Team Manager: John Campbell
Premier League Play-Off Fixtures:
Quarter-Finals:
Edinburgh vs Ipswich
Newcastle vs Sheffield
Semi-Finals:
Somerset vs Edinburgh/Ipswich
Glasgow vs Newcastle/Sheffield
Last five home results v Monarchs:
19.05.16 W48-45
03.09.15 W52-38
16.07.15 D45-45
16.10.14 L37-53
29.05.14 D45-45

Monarchs' last five:
PL Monarchs 50-43 Somerset
PL Monarchs 39-30 Plymouth
PL Monarchs 62-28 Redcar
PL Newcastle 33-27 Monarchs
KOC Monarchs 48-41 Glasgow