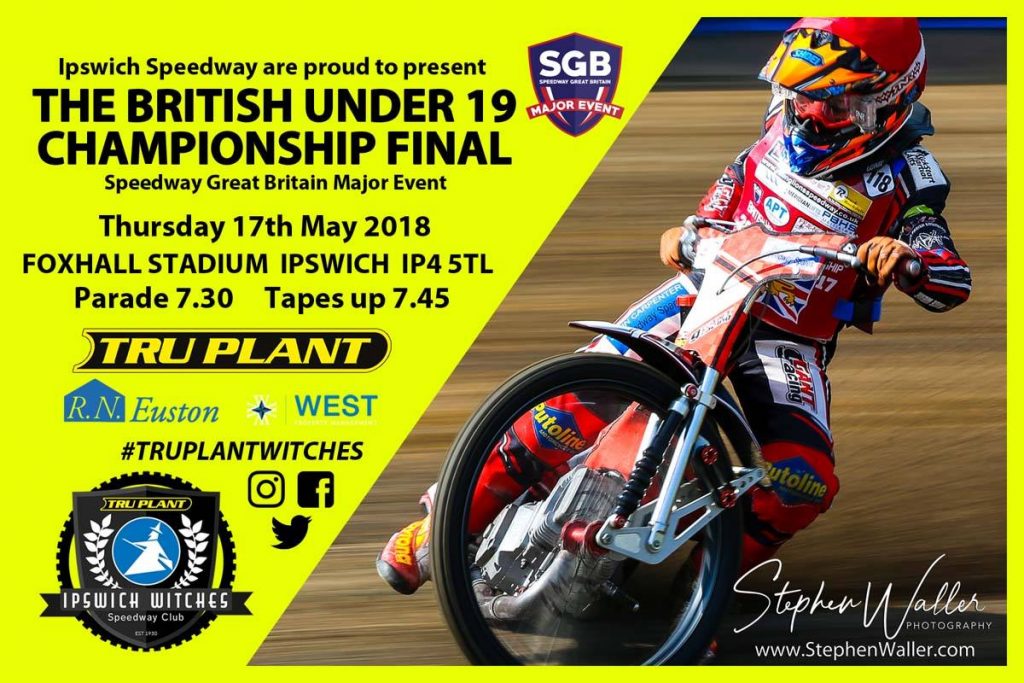 By Henry Chard
When and where
Speedway Great Britain Major Event
Foxhall Stadium: Thursday 17th May, 7.30pm
The draw
1. Jamie Halder (Coventry), 2. Joe Lawlor (Belle Vue Aces), 3. Dan Bewley (Belle Vue Aces & Workington Comets), 4. Ben Woodhull (Belle Vue Colts) 5. William O'Keefe (Stoke), 6.Taylor Hampshire (Kent), 7. Matt Marson (Mildenhall), 8. Charlie Brooks (Eastbourne), 9. Tom Brennan (Eastbourne), 10. Anders Rowe (Kent), 11. Jack Thomas (Kent), 12. Jason Edwards (Eastbourne), 13. Kyle Bickley (Workington Comets & Belle Vue Colts), 14. Alex Spooner (Kent), 15.Drew Kemp (Mildenhall), 16. Leon Flint (Birmingham).
Reserves: 17. Joe Alcock (Stoke) & 18. James Laker
Referee: C. Durno
The story
Foxhall Stadium hosts the British Under-19 Championship on Thursday as Britain's next generation of riders battle it out for the prestigious title (7.30pm).
16 of the finest young riders in the country will race it out over 20 heats with the winner crowned the new champion. It is the first major event to be held in Suffolk since the Elite League Pairs Championship back in 2010 when Coventry came out on top and the Ipswich promotion are delighted to host the event and are hoping a big crowd will add to the occasion. Zach Wajtknecht was crowned in 2017 after a 15-point maximum at Plymouth ahead of Dan Bewley and Kyle Bickley. Wajtknecht is now ineligible to race in the event and Dan Bewley starts as the favourite to take the title this year after his blistering start to the season with Belle Vue in the Premiership and Workington in the Championship. There will be plenty of local interest as Drew Kemp, Taylor Hampshire, Charlie Brooks and William O'Keefe take to the Suffolk shale.
The riders
Jamie Halder: 21 May 1999, Selby, North Yorkshire
Joe Lawlor: 29 June 2000, Greater Manchester – Northern Junior League Riders' Champion: 2017
Dan Bewley: 20 May 1999, Maryport, Cumbria – National League Riders champion: 2017
Ben Woodhull: 8 November 2001, Leicester, Leicestershire
William O'Keefe: 8 March 2001, Ipswich, Suffolk
Taylor Hampshire: 1 June 2001, Bury St Edmunds, Suffolk – Midland Riders Development champion: 2016
Matt Marson: 15 March 2000, Perth, Western Australia
Charlie Brooks: 28 September 2001, Southwold, Suffolk
Tom Brennan: 2 July 2001, Swindon, Wiltshire – British 125cc champion: 2012, British 150cc champion: 2014, British 250cc champion: 2015, British 500cc pairs champion: 2016
Anders Rowe: 9 May 2002, Weymouth, Dorset
Jack Thomas: 25 April 1999, Norwich Norfolk
Jason Edwards: 14 September 2002, Billericay, Essex
Kyle Bickley: 27 February 2002, Whitehaven, Cumbria – British 125cc champion: 2013 & 2014, 125cc FIM Longtrack Gold Trophy champion: 2014 & 2015, British 500cc champion: 2016
Alex Spooner: 18 June 2000, Wickford, Essex
Drew Kemp: 11 August 2002, Osnabruck, Germany – British 500cc champion: 2017
Leon Flint: 21 February 2003, Ashington, Northumberland – British 150cc champion: 2015, British 250cc champion: 2016 & 2017
One to watch
Dan Bewley is the name on many speedway fans' lips at the moment and with great reason. The Cumbrian already seems to have a catalogue of high profile heat wins at Premiership level with Belle Vue as his sweeping style entertains the home crowd at the National Speedway Stadium. Bewley has already produced stunning rides to beat Krzysztof Kasprzak and Sam Masters in the top flight this season and will take some beating on Thursday.
Outsider
Drew Kemp is a man many Witches fans will be keen to see in competitive action having watched the youngster take several practice laps around Foxhall over the past few years. It's Kemp's first full season in the sport but he has started in fine fashion scoring a 15-point maximum at the Isle of Wight and a 17+1 paid maximum at Plymouth. With his home track knowledge Kemp could surprise a few on Thursday.
What happened last year?
Zach Wajtknecht was crowned British Under-19 Champion with a flawless 15-point maximum at Plymouth last year. The Swindon and Lakeside star had missed the 2016 event due to injury but underlined his pedigree with an unbeaten performance at the St Boniface Arena. The remaining rostrum places were decided by a run-off after three riders finished level on 13 points. Second spot overall was taken by Dan Bewley with Kyle Bickley in third, just ahead of Birmingham captain Jack Parkinson-Blackburn.
Tickets for Thursday's meeting are priced at £15 for adults and £11 for concessions with kids going free.