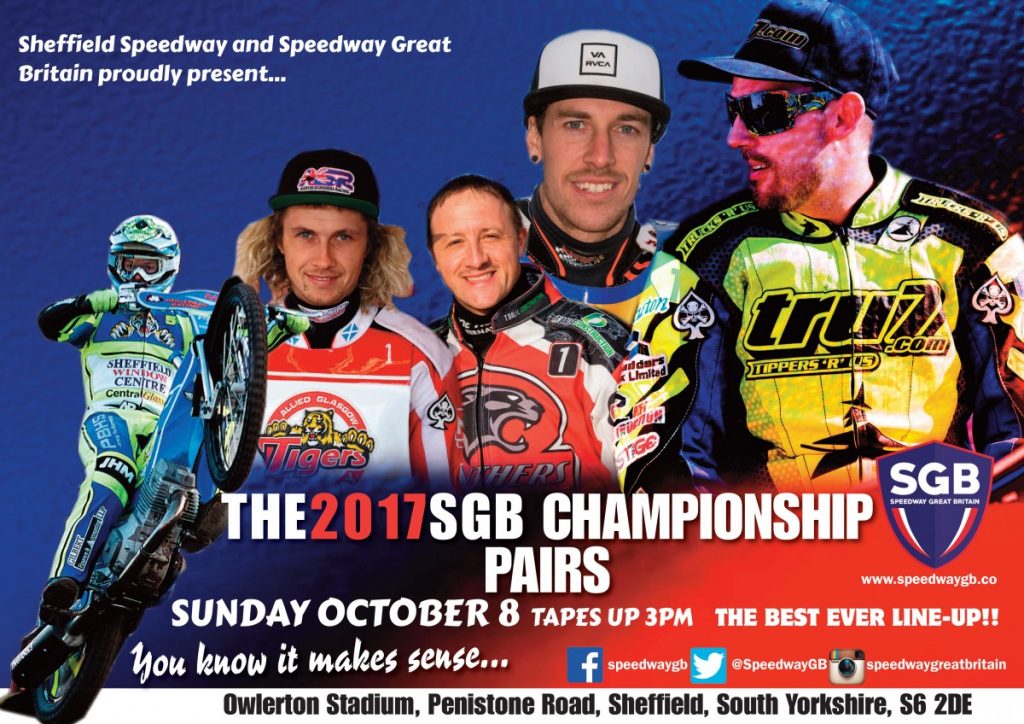 Danny King and Rory Schlein head to Sheffield on Sunday to represent the 'Tru7.com' Witches at the Championship Pairs (3.00pm).
Ipswich have been drawn in Group A alongside Glasgow, Peterborough, Workington and Scunthorpe as they look to bring some silverware back to Suffolk.  The Witches won the competition in 2015 as King and Rohan Tungate came out on top and the skipper is hoping for a repeat performance on Sunday with Schlein.
"Last time I did it we managed to win it so hopefully we can do that again," said King. "I'm pleased with my partner as Rory has been in really good form this season. Hopefully we can bounce off each other and get to that final and bring the trophy home.
"Rory is a very experienced rider and he is big enough to look after himself, he knows where I am and where I'm going to be and he reads it well. It is nice riding with someone like that."
The Australian believes the Witches have a chance of success at the meeting having produced numerous big performances with King throughout the season.
"We tend to ride better when we are racing against each other! No, in all seriousness we have had a few heat 13's and heat 15's where we have needed big results this year and we have got them so we have got to do it in every race on Sunday. It is an odd meeting because it is not all about winning races but we have just got to do our thing."
King says that consistency is key to winning the showpiece event as well as looking out for your partner.
"It is all about consistency and you have got to be smart because second and third is better than first and last. It is all about track position and trying to help your teammate if you can."
Schlein says that league form is irrelevant and it is all about how riders perform on the day.
"Someone who might not be on form may click on the day so we have got to bring our A game and bring home some silverware."
MEETING FORMAT
10 teams will compete in 2 groups.
Each team will ride against every other team in their group (4 rides each) with the top 2 teams in each group progressing to the sudden death semi-finals.
Winners of each semi-final will then race in a winner-takes-all Grand Final.
Semi-final losers will race-off for third place.
Scoring system: 4-3-2-0
Words: Henry Chard
DATE/ TIME
Sunday, October 8, 2017 @ 3.00pm
VENUE
Owlerton Stadium, Penistone Road, Sheffield S6 2DE
Track Telephone: 01142 853142
Website: http://www.sheffieldspeedway.co
ADMISSION PRICES
Adults: £20.00
Concessions: £15.00
Junior (12-15): £5.00
Children (Under 11s): FREE
Programme: £4.00
QUALIFYING TEAMS/ RIDERS
Group A:
GLASGOW: Richard Lawson & Aaron Summers
PETERBOROUGH: Chris Harris & Ulrich Ostergaard
IPSWICH: Danny King & Rory Schlein
WORKINGTON: Craig Cook & Ty Proctor
SCUNTHORPE: Josh Auty & Lewis Kerr
Group B:
EDINBURGH: Sam Masters & Ricky Wells
NEWCASTLE: Stuart Robson & Steve Worrall
SHEFFIELD: Lasse Bjerre & Kyle Howarth
REDCAR: Charles Wright & Ben Barker
BERWICK: Kevin Doolan & David Howe