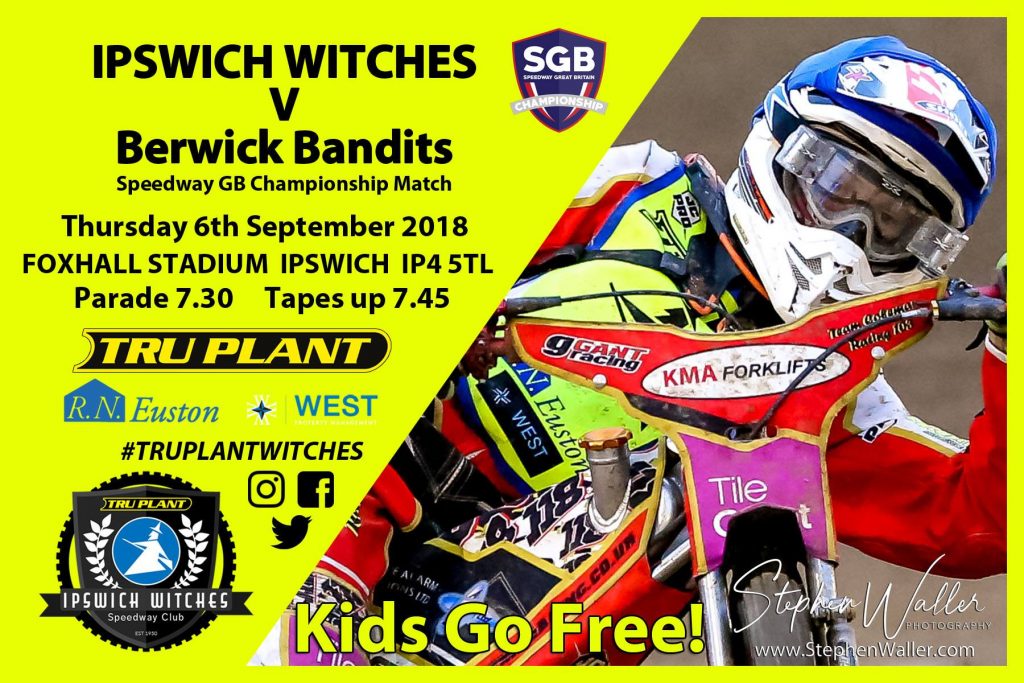 By Henry Chard
When and where
Foxhall Stadium: Thursday 6th September, 7.30pm
Home meeting sponsors
Kids Go Free
Fans can meet Drew Kemp by the turnstiles from 6.45pm-7.10pm
The teams
Ipswich: 1. Richard Lawson (g) 8.83 2. Cameron Heeps 6.19 © 3. Nico Covatti 6.66 4. Mark Riss 5.51 5. R/R for Rory Schlein 8.79 6. Coty Garcia 4.26 7. Drew Kemp 2.00. Team Manager: Ritchie Hawkins
Berwick: 1. Aaron Summers 6.94 2. Kevin Doolan 6.40 © 3. Jye Etheridge 5.95 4. David Howe 5.90 5. Nicolaj Busk Jakobsen 6.40 6. Dany Gappmaier 5.68 7. Theo Pijper 5.00 Team Manager: Scott Courtney
Referee: C. Turnbull
Championship table
| | | |
| --- | --- | --- |
| Team | Meetings | Points |
| 1 Peterborough | 17 | 38 |
| 2 Glasgow | 17 | 33 |
| 3 Edinburgh | 17 | 32 |
| 4 Lakeside | 15 | 32 |
| 5 Ipswich | 18 | 31 |
| 6 Berwick | 17 | 30 |
| 7 Workington | 15 | 30 |
| 8 Newcastle | 16 | 24 |
| 9 Scunthorpe | 19 | 24 |
| 10 Redcar | 18 | 20 |
| 11 Sheffield | 19 | 16 |
The story
The 'Tru Plant' Witches entertain the Berwick Bandits on Thursday at Foxhall in a Championship fixture. The Witches were at Glasgow on Tuesday in what was almost a shootout for the play-offs. After leading the majority of the meeting, injuries and crashes hit the Witches hard and the Tigers came back in the last three heats to snatch a win, leaving the away side with just a consolation point. That point leaves the Suffolk side fifth with two home meetings to race with Team Manager Ritchie Hawkins saying that the other sides would have to have a disastrous final few meetings for the Witches to make the top four. With the play-offs looking out of reach, all the Witches can do is try and win their final two home meetings and see where it leaves them, starting with Berwick on Thursday. Scott Nicholls was due to guest at number one but now requires surgery on his ankle after his crash at Glasgow on Tuesday whilst guesting for the Witches. Lakeside's Richard Lawson now steps in, having scored 17+1, 14+1 and 11 on his three visits to Foxhall with the Hammers. It is hoped that Cameron Heeps will be fit to ride after injuring his knee at Ashfield earlier this week. Rider replacement will be used at number five for the injured Rory Schlein, who is unlikely to ride again this season. It has been another difficult season of injuries for the club and although the play-offs seem unlikely the team will be fighting until the end to finish the season on a high.
The opposition
Berwick have enjoyed a much improved 2018 and currently sit just outside the play-off spots in the Championship. Much of that has been down to their home form at Shielfield Park where they have won nine and lost just once. They are yet to register a win on the road though and have picked up just three points on the road this season so far. Despite their position not many are tipping the Bandits to make the top four, with three away meetings remaining. Thursday represents a huge chance for them to make people sit up and take notice as they could move into the play-off spots with a win.
One to watch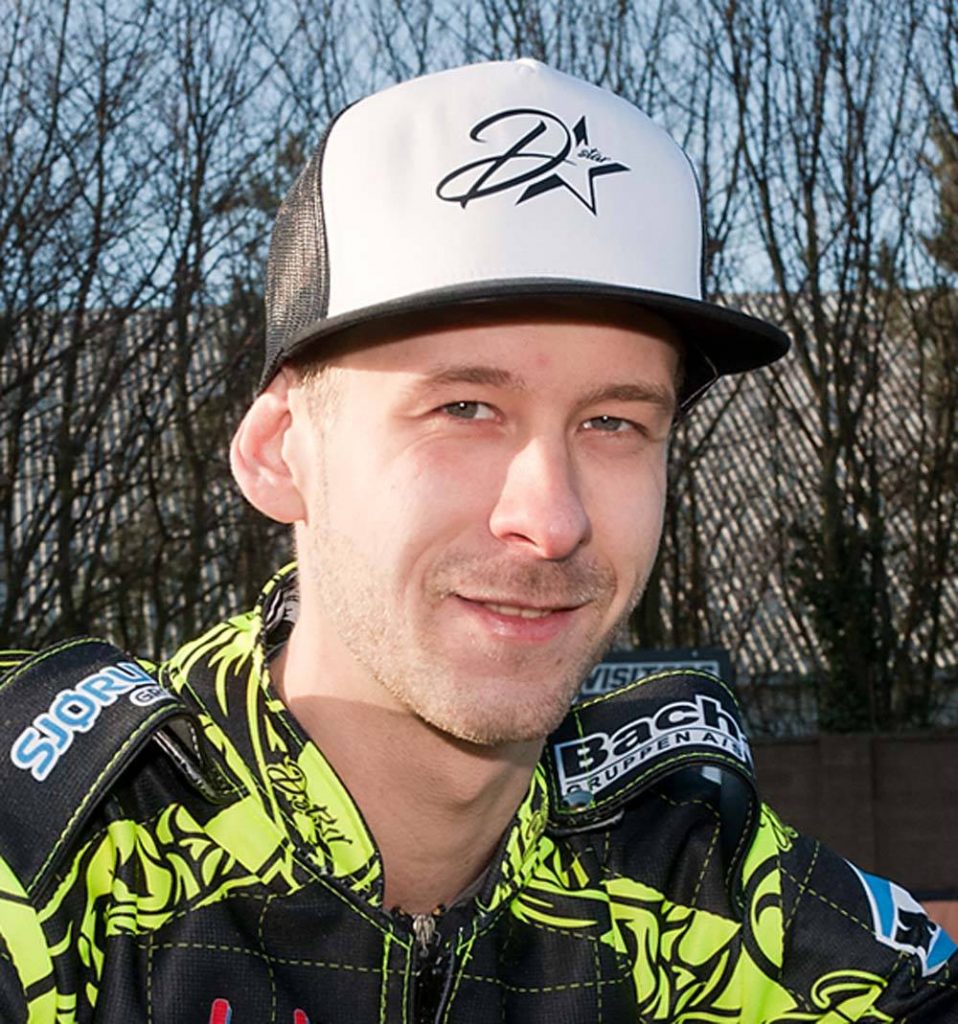 Busk Jakobsen has been in fine form for the Bandits of late albeit from reserve. He has scored 9+3, 12+3 and 12+2 in his last three appearances and now finds himself at number five where he will find life a lot tougher. He will need to carry on that form if Berwick are to have any joy at Foxhall.
Play-off picture
Here is how the table currently stands with the top four making the play-offs. See below for all of the remaining fixtures for each team.
Peterborough – 38 points: Berwick (H), Workington (A), Lakeside (A)
Glasgow – 33 points: Ipswich (A), Lakeside (A), Edinburgh (H)
Edinburgh – 32 points: Lakeside (H), Glasgow (A), Berwick (H)
Lakeside – 32 points: Edinburgh (A), Glasgow (H), Newcastle (H), Peterborough (H), Workington (A)
Ipswich – 31 points: Berwick (H), Glasgow (H)
Berwick – 30 points: Ipswich (A), Peterborough (A), Edinburgh (A)
Workington – 30 points: Redcar (H), Newcastle (H), Peterborough (H), Newcastle (A), Lakeside (H)
From the boss…
'Tru Plant' Witches Team Manager Ritchie Hawkins previews Thursday's meeting.
"Since we made the changes to the team, we have done very well. We want to end with two home wins and that is what we are looking to do, starting on Thursday.
"Thursday is very important for Berwick, if they can get an away win then they have a great home record so they can give themselves a big play-off push.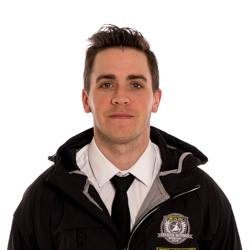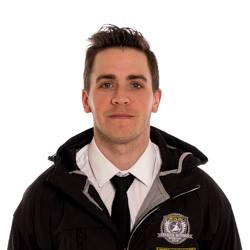 "We have been trying to get Richard this season as a guest but for various reasons it hasn't worked out due to rain-offs and work commitments. We look forward to having him in the team and he has been going very well at our place recently.
"We got a point at Glasgow but the reason we are in such an uphill battle for the play-offs is because we haven't picked up a point in other away meetings this season. They are more vital than the home losses because they happened because of valid reasons. We have had too many away meetings this season where we haven't picked up a point and we have been beaten by more than seven points."
The form
The Witches are in good form having picked up points in their last three meetings. Ipswich thrashed Scunthorpe away from home before beating the Scorpions at Foxhall last week. The Witches were then narrowly beaten at Glasgow earlier this week, picking up a point. Berwick are in decent form too and are unbeaten in four after three convincing home wins over play-off contenders Glasgow, Peterborough and Edinburgh. They also picked up an away draw at Scunthorpe in the middle of those home wins to enhance their play-off prospects.
What happened last time?
The 'Tru7.com' Witches finished their home league campaign in 2017 with a convincing 56-36 win over Berwick Bandits. The result mathematically confirmed the Suffolk side's place in the play-offs. The Witches raced into an eight point lead early on but the visitors battled hard in the middle of the meeting to keep things tight and reduce that lead to six points. The Witches came on strong in the latter part of the meeting and won comfortably to send the home fans home happy. Rory Schlein top scored with 14 from five rides.