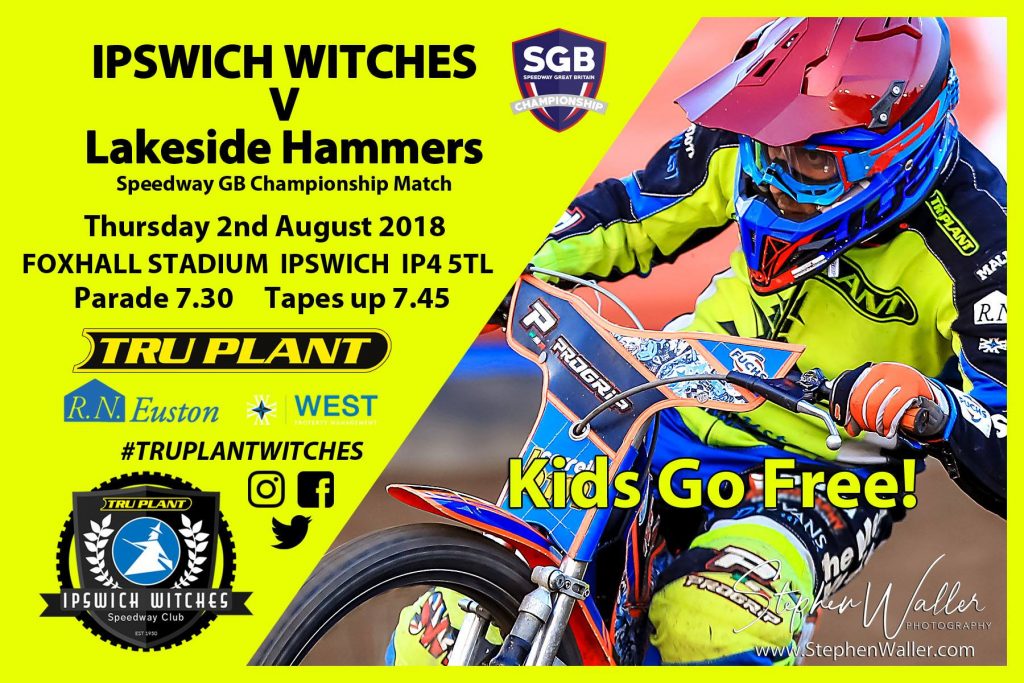 By Henry Chard
When and where
Foxhall Stadium: Thursday 2nd August, 7.30pm
Home meeting sponsors
Kids Go Free 
Fans can meet Nico Covatti up by the turnstiles from 6.45pm-7.15pm
The teams
Ipswich: 1. Rory Schlein 9.32 © 2. Cameron Heeps 6.55 3. Nico Covatti 6.81 4. Mark Riss 5.16 5. Scott Nicholls (g) 8.90 6. David Wallinger 2.00 7. Coty Garcia 4.04. Team Manager: Ritchie Hawkins
Lakeside: 1. Richard Lawson © 9.03 2. Zach Wajtknecht 5.41 3. Adam Ellis 8.36 4. Kyle Newman 6.30 5. R/R for Nick Morris 8.81 6. Ben Morley 5.16 7. Alfie Bowtell 2.19 Team Manager: Will Pottinger
Referee: W. Dishington
Championship table
| | | |
| --- | --- | --- |
| Team | Meetings | Points |
| 1 Peterborough | 13 | 32 |
| 2 Lakeside | 12 | 29 |
| 3 Glasgow | 13 | 23 |
| 4 Berwick | 14 | 22 |
| 5 Ipswich | 10 | 18 |
| 6 Edinburgh | 10 | 17 |
| 7 Workington | 9 | 17 |
| 8 Scunthorpe | 12 | 16 |
| 9 Newcastle | 10 | 14 |
| 10 Sheffield | 12 | 13 |
| 11 Redcar | 15 | 10 |
The story
The 'Tru Plant' Witches host the high-flying Lakeside Hammers at Foxhall Stadium on Thursday in the Championship. The home side begin a busy and important weekend for their play-off hopes as they ride three meetings in four days. The hosts are beginning to find their feet in 2018 after an injury disrupted first half to the season and since team changes have been made have moved up the table as they begin to gather momentum for a play-off push. Strong partnerships are starting to develop in the side as Schlein and Heeps are at one and two and Riss and Covatti have hit the ground running at three and four since the German's recent arrival at the club. Skipper Danny King remains out of action and former treble-winner Nicholls guests at number five. The Witches are in for one of their toughest tests on Thursday but know that they can afford no slip-ups at home as the summer of speedway begins.
The opposition
The Hammers have been excellent so far in 2018 since making the step up from the National League and look a certainty for the play-offs at this halfway stage. They currently sit second in the table with three away wins to their name and have already beaten the Witches twice at Foxhall this season in the league and Championship Shield. Morris misses out due to injury with rider replacement at five but they have a formidable heat leader duo of Lawson and Ellis with former Witch Newman in the engine room, the home side will need to be at their best to send the away side away empty handed.
One to watch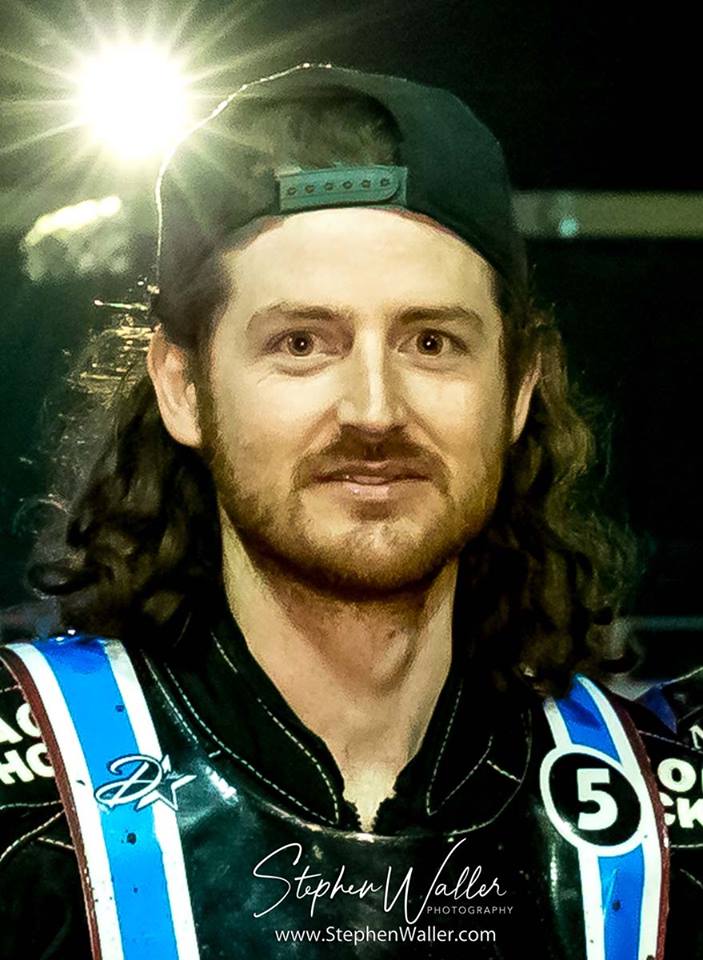 Lawson is enjoying a good season and has worked his way back to number one for the Hammers. He scored a paid maximum from five rides last time he was at Foxhall and will be a tough rider to beat on Thursday.
From the boss…
'Tru Plant' Witches Team Manager Ritchie Hawkins previews Thursday's meeting.
"It was a great result last Thursday at Redcar but we have got to focus again quickly as we need three points this week. It is a busy weekend for us and we need to start with a win.
"We are a very different side to the team they faced earlier this season in the Knockout Cup, there is hardly anyone left from that meeting, two riders. We have a completely different team. They are doing well and have a good side this year but we need to make sure we get the three points. We need to win all our home matches really and we will need win away again this season.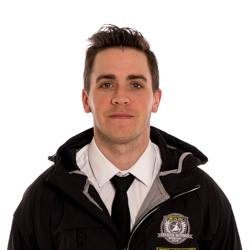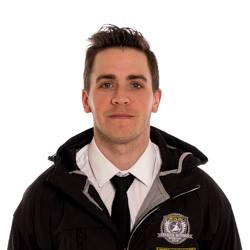 "The last meetings were so long ago they have no relevance anymore, the team is so different and in the second meeting we only had four riders left at the end. I look more to what we learnt around their place really, we did well there last time and that fills me with confidence. We welcome Scott (Nicholls) in as a guest and he should do well in both meetings.
"If we lose at home we need to go and win away again. I don't expect us to lose at home and I have confidence in this team. When I look at the team I think it is a very good team and I think everyone will agree we have had a good side all season. They didn't necessarily perform and this side has been put together now and had a good start. They need to carry on the momentum and push towards those play-offs now."
The form
The Witches come into Thursday's meeting in good form. Following defeat at Edinburgh the Witches beat Redcar at Foxhall before picking up their first away win of the season against the Bears. The Hammers are also in good form. Having lost at Glasgow they put champions Sheffield to the sword on home shale before picking up a convincing win away against the Tigers.
What happened last time?
The 'Tru Plant' Witches endured a nightmare evening at Foxhall in May as they crashed to a 54-35 defeat in the first leg of their Knockout Cup tie with Lakeside.
It all went wrong in heat one for the home side as Michael Härtel got out of shape and crashed into skipper King. King was looked at by paramedics and was withdrawn from the meeting and taken to hospital with an arm injury. That left the home side with just five riders to complete the meeting and the away side were in total control throughout building a big lead for the second leg on Friday. Heeps top scored with 14+1.