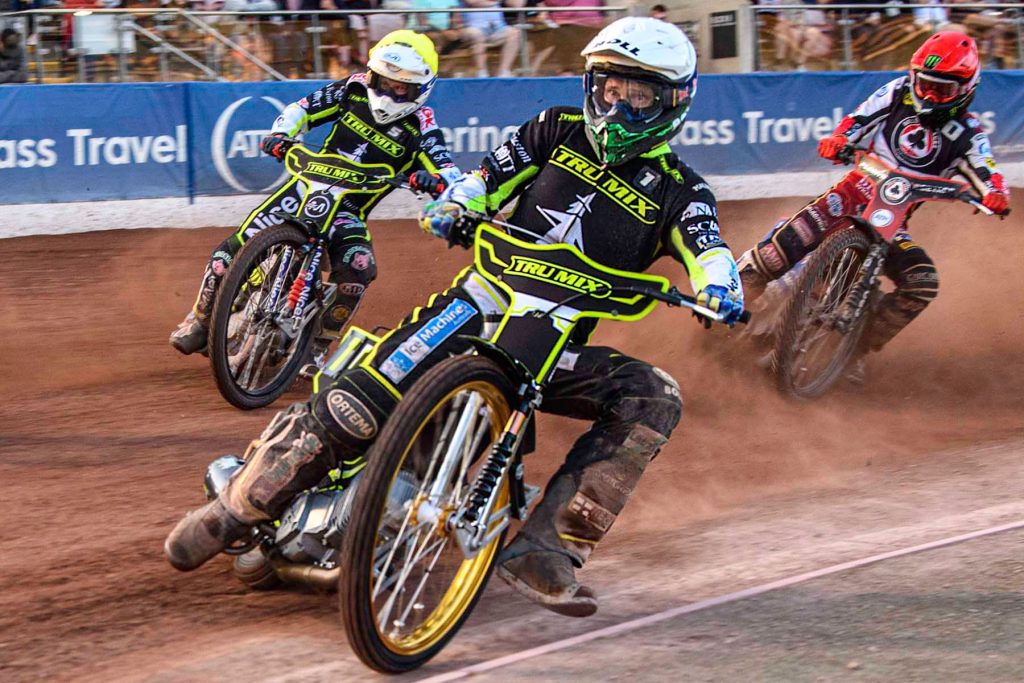 By Dave Rowe
THE SCORES
BELLE VUE 55: Dan Bewley 10, Tom Brennan 5, Jaimon Lidsey 12, Charles Wright 7+1, Brady Kurtz © 13+1, Norick Blödorn 7+1, Jake Mulford (RS) 1+1. Team Manager: Mark Lemon
IPSWICH 35: Jason Doyle 9+1, Ben Barker 3+1, Danny King © 3, Keynan Rew 5, Emil Sayfutdinov 10, Danyon Hume 2, Joe Thompson (RS) 3+3. Team Manager: Ritchie Hawkins
REFEREE: C. Ackroyd
SPORTS INSURE PREMIERSHIP TABLE
| | | |
| --- | --- | --- |
| Team | Meetings | Points |
| Belle Vue | 10 | 17 |
| Wolverhampton | 9 | 16 |
| Sheffield | 7 | 10 |
| Leicester | 7 | 10 |
| Ipswich | 8 | 8 |
| King's Lynn | 7 | 5 |
| Peterborough | 8 | 2 |
THE STORY
The Ipswich 'Tru Mix' Witches were beaten 55-35 at Belle Vue on Monday in a meeting which saw them provide just two heat wins – both of them from Emil Sayfutdinov.
The meeting opened up with two shared races, Jason Doyle protecting Ben Barker in Heat 1 as the Aces' Dan Bewley went clear, before Norick Blödorn rounded a fast-starting Danyon Hume to take the win in Heat 2.
Belle Vue broke the deadlock with a 5-1 in Heat 3 as Jaimon Lidsey and Charles Wright flew from the start with Wright then holding off a strong challenge from Keynan Rew, before a super Heat 4 saw Sayfutdinov chase and catch home skipper Brady Kurtz before surging through on the inside on the last lap.
Witches gated on a 5-1 in Heat 5 but as Doyle and Barker looked to ride side by side, Lidsey found a gap down the inside coming off the fourth bend and passed the pair, with Barker then losing third place to Wright after another fierce battle as the hosts went six points up.
A run of Belle Vue 4-2s followed with Bewley heading Sayfutdinov in Heat 6, and then Blödorn threatened to set up another maximum advantage in the next race before Rew fought hard to regain second place, with skipper Danny King just squeezed out.
After a shared Heat 8, Witches boss Ritchie Hawkins made his move by bringing Doyle into the next race to partner Sayfutdinov as a tactical substitute, and the Australian rode a superb first lap around the outside to get the better of Lidsey and Wright with Sayfutdinov racing clear up-front for a 5-1 to the visitors.
That cut the gap to six points, and the prospects looked promising in Heat 10 too when King and Rew established themselves up front for the Witches – only for Bewley and Tom Brennan to simultaneously pass Rew, before Bewley hunted down and passed King going into the last lap for a 4-2.
And the Aces' advantage was back to ten points thanks to another 4-2 in Heat 11, with Doyle passing Blödorn after a tough first-lap battle but by that stage Kurtz had already gone clear.
The league points were in the bag for the home side in the first race after the interval with Belle Vue manager Mark Lemon bringing in Blödorn as a reserve switch in Heat 12, and he gated to a 5-1 with Lidsey to leave King and Hume trailing.
A spectacular Heat 13 battle saw Kurtz surge to the front for the Aces whilst the Witches looked to close ranks on Bewley, but whilst his unbeaten run was ended by Sayfutdinov, the British Champion did manage to move inside Doyle for third place heading into the last lap.
Rew led Heat 14 for two laps before Wright forced his way through with a brutal move on turn four, and even with Bewley rested from Heat 15 the Aces still finished off with a 5-1 from Lidsey and Kurtz, who did their work from the start against Doyle and Rew as Sayfutdinov sat out on this occasion.
REACTION FROM THE BOSS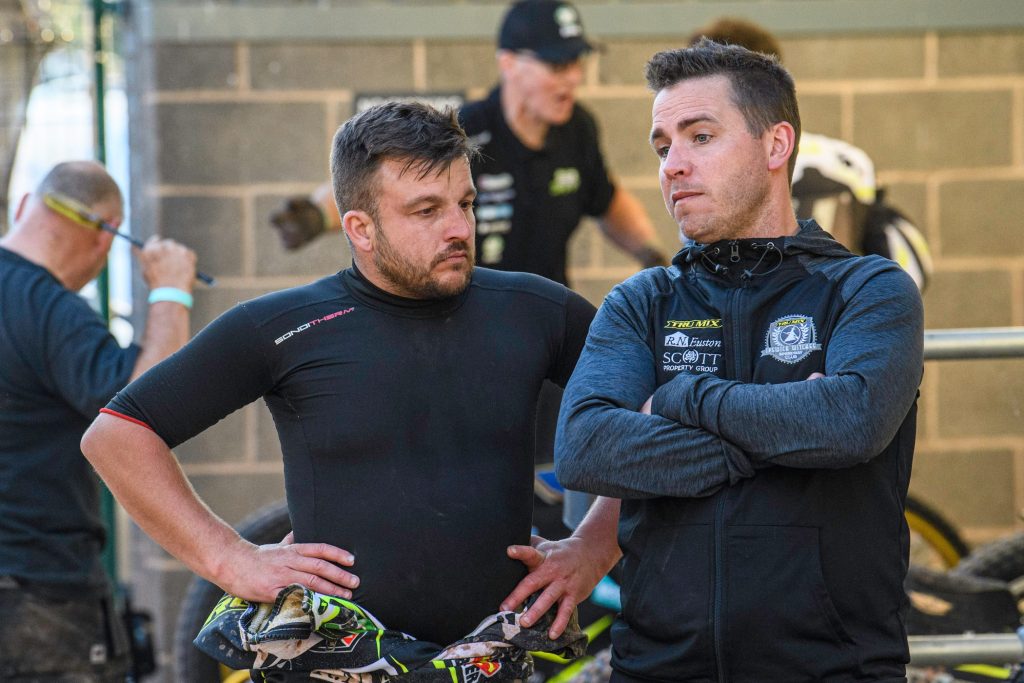 Ipswich 'Tru Mix' Witches team manager Ritchie Hawkins reflects on Monday's defeat to Belle Vue.
"I didn't feel we were as far off as the scoreline suggests. We got ourselves in good positions at times and just made mistakes. They were very, very slight errors but the Belle Vue boys really took advantage and showed their home track knowledge.
"We've ridden here enough times now and certainly when we come back, we need to not make those mistakes again, because we're going to get punished. We did last season and we have done again tonight.
"Emil got two race wins but Doyley looked a bit down on power, he had an engine problem in one race, and he wasn't as quick as normal tonight, but I'm sure that's something he'll very quickly rectify.
"Keynan has done well all season, and he's not far off scoring big points everywhere. For his first meeting here he did do well, and he'll definitely come back here again with a lot more knowledge and confidence in himself, because he's not done a bad job at all tonight."
RIDER OF THE NIGHT
Whilst Emil Sayfutdinov produced the individual ride of the night to pass Brady Kurtz in Heat 4, the most encouraging display for the Witches came from Keynan Rew who was on the pace all night and deserved more than his five-point total. There's no reason to believe he won't improve further on that on his next visit to the National Speedway Stadium.
WHAT IT MEANS
Belle Vue's win along with the aggregate point takes them back to the top of the Sports Insure Premiership table, whilst the Witches are left in fifth place, two points adrift of fourth placed Leicester ahead of their trip to face the East Midlands side on Thursday.
UP NEXT
The Ipswich 'Tru Mix' Witches travel to Leicester on Thursday 8th June to take on the Lions at the Pidcock Motorcycles Arena in the Sports Insure Premiership. Tickets can be purchased online in advance here and on the gate.