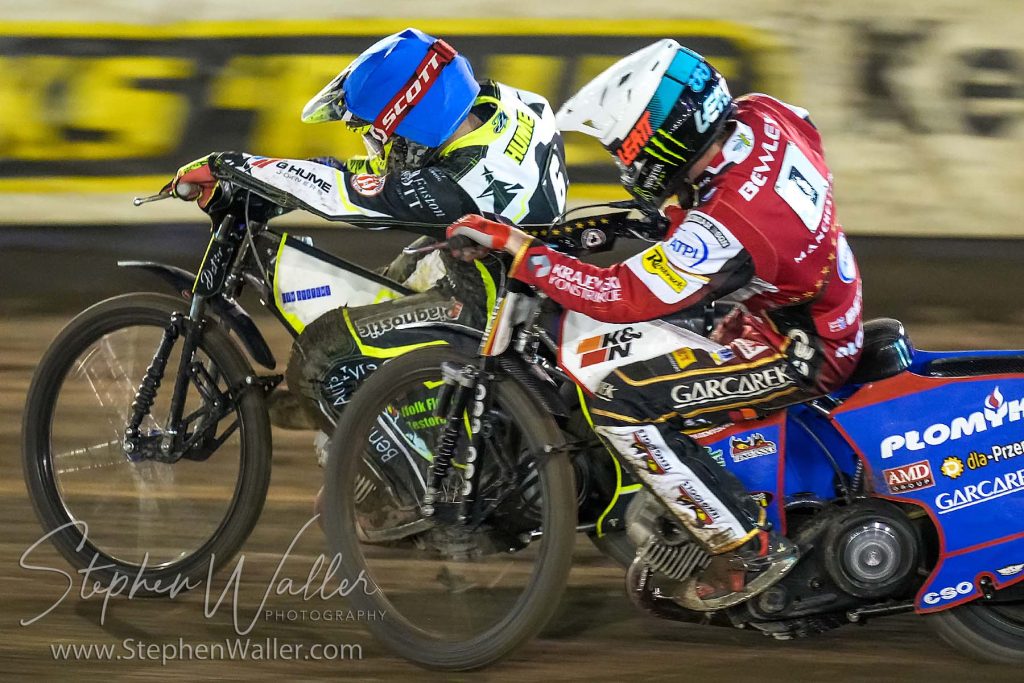 By Dave Rowe
MEETING SPONSORS
Suffolk Floor Restore – Suffolk Floor Restore is a family run business that provide a professional stone and tile cleaning.

Farnham Leisure Ltd – Catering to all of your caravan servicing, accessory fitting and repair requirements. They are a Bailey of Bristol main solus dealer for new Bailey touring caravans, while they also offer a vast selection of used caravans. They also have a camping and leisure shop which boasts a wonderful selection of products.
THE SCORES
IPSWICH 41: Jason Doyle 13+1, Erik Riss R/R, Danny King © 7+1, Keynan Rew 3, Emil Sayfutdinov 12+1, Danyon Hume 6+1, Joe Thompson (RS) 0. Team Manager: Ritchie Hawkins
BELLE VUE 49: Dan Bewley 8, Norick Blödorn 5+2, Tom Brennan 6+2, Charles Wright 9+1, Brady Kurtz © 9, Jaimon Lidsey 9+1, Anders Rowe (G) (RS) 3+1. Team Manager: Mark Lemon
REFEREE: S.H. Kennett
PREMIERSHIP TABLE
| | | |
| --- | --- | --- |
| Team | Meetings | Points |
| Sheffield | 2 | 5 |
| Wolverhampton | 2 | 3 |
| Leicester | 1 | 2 |
| Belle Vue | 3 | 2 |
| Ipswich | 2 | 2 |
| King's Lynn | 2 | 2 |
| Peterborough | 2 | 0 |
THE STORY
The Ipswich 'Tru Mix' Witches suffered their first defeat of the season as reigning champions Belle Vue raced to an impressive 41-49 win at Foxhall on Thursday.
In a weather-affected meeting, the Witches dropped eight points down after five races, and every time they made a significant move to narrow the gap, the Aces hit back immediately in a powerful all-round team performance.
The visitors took the lead with a 2-4 in heat two when former Ipswich rider Anders Rowe got the better of Joe Thompson for third place, and a further 2-4 followed in heat four as Aces skipper Brady Kurtz held off the hard-charging Emil Sayfutdinov.
Jason Doyle and Danny King were early race winners for the Witches, but Belle Vue struck a major blow in heat five when King fell on the third bend as Dan Bewley and Norick Blödorn completed the first 1-5 of the night to put their side 11-19 up.
Witches boss Ritchie Hawkins immediately deployed Sayfutdinov as a tactical substitute in heat six and he quickly made it through from the back to join Doyle and record the pair's fifth successive 5-1 together this season.
But Charles Wright defeated Sayfutdinov in tricky conditions in heat seven to rebuild a six-point lead for the Aces, and it was a margin they held through the mid-stages of the meeting despite further race wins for King in heat eight and Doyle in heat 10.
A superb heat 11 saw the Witches back in contention with Danyon Hume superbly holding British champion Bewley at bay for a 5-1 with Sayfutdinov to leave the scores at 32-34 with four races remaining.
But again, Belle Vue responded, this time with a 1-5 of their own from Jaimon Lidsey and Tom Brennan in heat 12, and that left the Witches' top two needing to perform a major rescue act in the closing stages.
However, on this occasion there was no way back as the run of Doyle/Sayfutdinov 5-1s was ended by Kurtz taking the win in heat 13, holding off Doyle up front whilst Bewley took third place over Sayfutdinov to leave the Witches needing two 5-1s to set up a Super Heat decider.
Briefly it looked possible in heat 14, but Wright made it past Hume and Keynan Rew, with the latter falling to enable Lidsey to take second place and confirm an Aces victory. Sayfutdinov and Doyle did team up again for a heat 15 5-1, but on this occasion, it was mere consolation.
REACTION FROM THE BOSS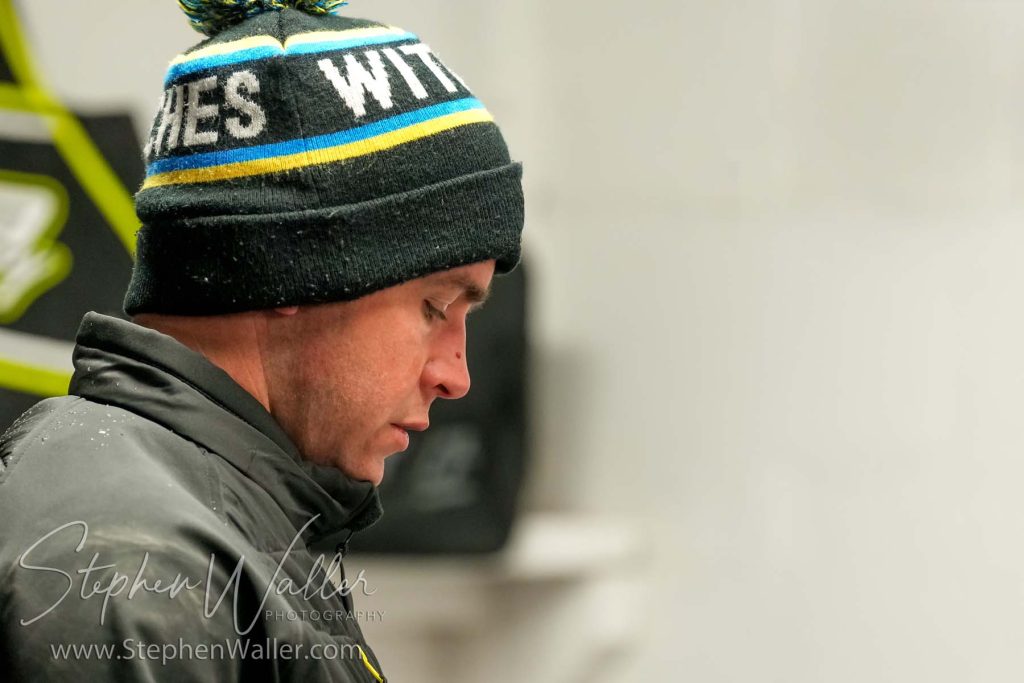 Ipswich 'Tru Mix' Witches team manager Ritchie Hawkins reflects on Thursday's home defeat against Belle Vue.
"We were beaten by the better team on the night, and congratulations to Belle Vue. They turned their early season form around and looked like the champions they are. I think for us, you could really see the inexperience we have in the side, that certainly showed today, and the wet conditions really made it even more evident.
"It's a team of seven, so you can't rely on two riders, you can't expect two riders to carry you through, that's not going to happen. But you could use Emil as an example of a rider who had a couple of tough rides tonight where he was trying to figure out his set-up on a track he hasn't ridden much on, and by heat 15 he'd got it sorted and was probably the quickest rider by that stage. If that takes him a bit of time, then for less experienced guys like Keynan and Joe, it's understandable that it's hard for them to get set up.
"The latest on Erik is that as things stand, I'd be surprised if he's back on Monday. We're waiting on more information from the doctor but he's still not feeling great. Obviously, we want him to recover as quickly as possible both for him and the team."
SUFFOLK FLOOR RESTORE & FARNHAM LEISURE LTD RIDERS OF THE NIGHT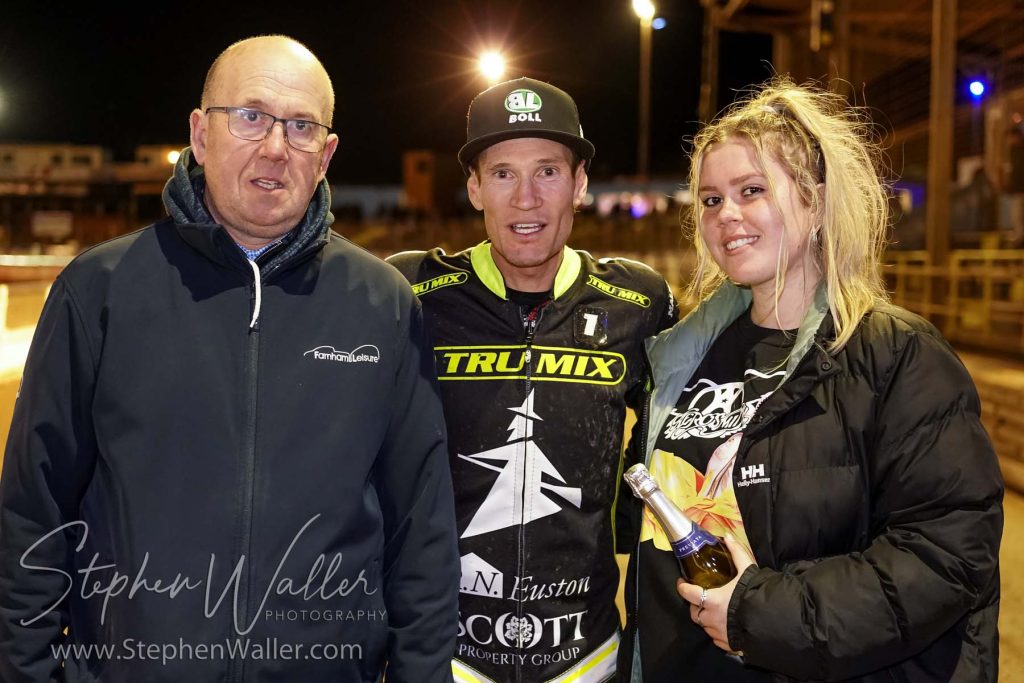 Farnham Leisure Ltd chose number one Doyle after he top scored with 13+1.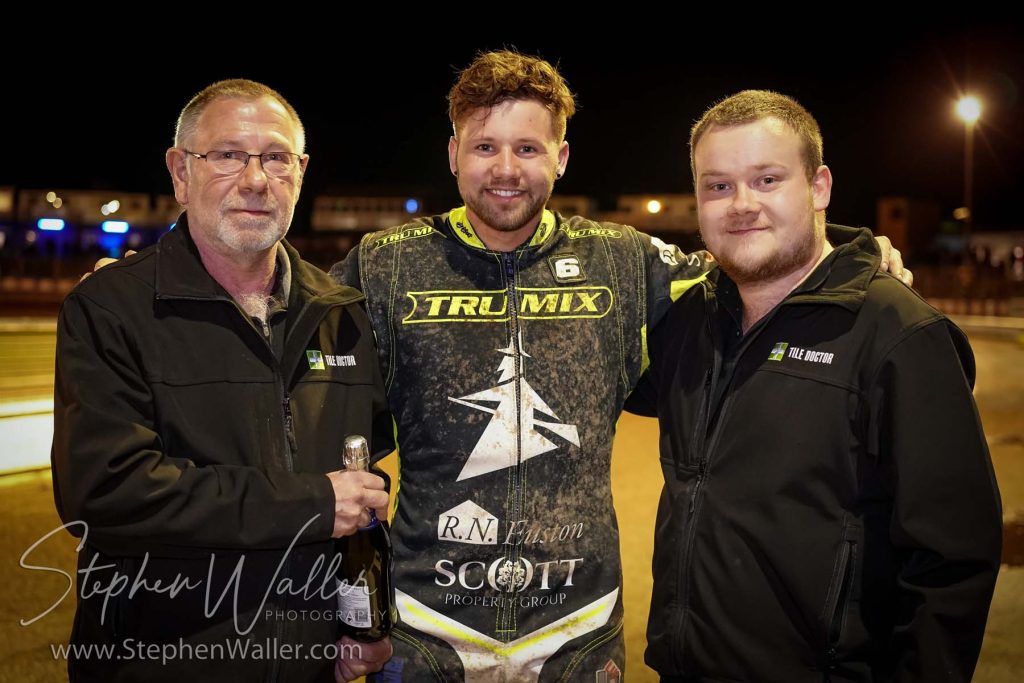 Suffolk Floor Restore picked Hume for his efforts at reserve.
WHAT IT MEANS
The Witches are placed fifth in the early Premiership table, one of four clubs on two points. Belle Vue's first points of the season take them into fourth place. Sheffield remain top with a maximum five points from two matches.
UP NEXT
The Ipswich 'Tru Mix' Witches travel to Leicester on Monday 17th April to take on the Lions at the Pidcock Motorcycles Arena in the second leg of their Knockout Cup tie. Tickets can be purchased online in advance here and on the gate.