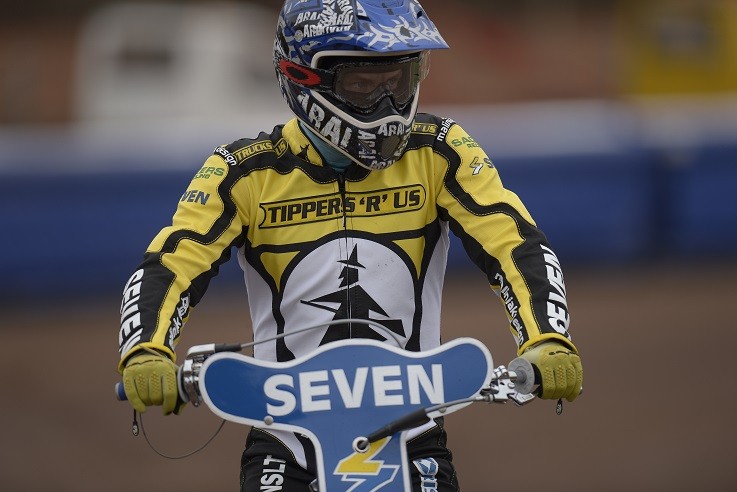 The Ipswich 'Tru7.com' Witches are back at Foxhall again on Thursday as they hold their first home Premier League meeting of the season against the Somerset Rebels (7.30pm).
After a tough start to the season the new look Witches are finding their feet and have seen off Peterborough and Sheffield in recent weeks whilst claiming a point away at Sheffield and Ritchie Hawkins' side will want to hit the ground running in the Premier League at Foxhall.
The Witches have raced one Premier League meeting so far this season, a defeat away at Rye House and will be hoping that after the League Cup meetings the team have found their form ready for their league title charge.
Both sides will be at full strength for Thursday's clash and the visitors will come to Suffolk in confident mood after they won convincingly at Peterborough at the weekend.  There will be a familiar face in the Rebels' line-up as Ipswich asset Rohan Tungate returns to Foxhall for the first time since his winter loan move. The last time the two sides met at Foxhall it was honours even as the tie ended 45-45 in last year's Premier League.
Team Manager Ritchie Hawkins feels his side are now ready to embark on the Premier League campaign after the League Cup competition.
"It's been a good settling in period now with the League Cup," said Hawkins. "The boys have improved throughout that competition but I feel ready to start the Premier League now and the boys are ready and we'll see how we do on Thursday."
The boss highlighted the importance of the whole team contributing with points after the reserves and James Sarjeant played a key role on Saturday against Sheffield.
"On Saturday Danny (King) and Lewi (Kerr) didn't have great nights but it didn't matter as much and didn't have as big an effect on us as the reserves chipped in with a few points as well and Sarj (James Sarjeant) was brilliant from number two, so it shows we've got to get points from everywhere and not just the top four."
Hawkins recognises the importance of being strong at Foxhall but wants his side to be strong on the road in 2016 too.
"Obviously a winning team will be strong at home but there is a lot of points to be picked up away from home, more than at home so we've got to go to Somerset on Friday and score points as well."
The Rebels have started the new campaign well with a big win at Peterborough but Hawkins says it will be totally different in Suffolk on Thursday.
"They (Somerset) had a real good win at Peterborough, their tracks are quite similar but it will be a totally different story coming to our place this week. I wouldn't say they look as strong on paper but they are doing well and they'll be a strong team at home."
Meeting Sponsor:  Renzland Powergates
Ipswich 'Tru7.com' Witches:
1. Danny King (c) 9.54
2. James Sarjeant 4.88
3. Lewis Kerr 6.85
4. Morten Risager 6.86
5. Nico Covatti 7.55
6. Paco Castagna 3.33
7. Darryl Ritchings 3.00
Team Manager: Ritchie Hawkins
'Cases' Somerset Rebels: 
1. Josh Grajczonek 8.50 (c)
2. Jake Allen 5.00
3. Charles Wright 6.89
4. Paul Starke 6.00
5. Rohan Tungate 7.74
6. Bradley Wilson-Dean 5.00
7. Zach Wajtknecht 3.00
Team Manager: Garry May
Premier League table
| | | |
| --- | --- | --- |
| Team | Pl | Pts |
| Peterborough | 3 | 7 |
| Somerset | 1 | 4 |
| Workington | 2 | 3 |
| Glasgow | 1 | 3 |
| Rye House | 2 | 3 |
| Scunthorpe | 1 | 3 |
| Edinburgh | 2 | 3 |
| Plymouth | 1 | 0 |
| Witches | 1 | 0 |
| Redcar | 2 | 0 |
| Berwick | 0 | 0 |
| Newcastle | 0 | 0 |
| Sheffield | 0 | 0 |
Last five home results v Rebels:
18.06.15 D45-45
09.04.15 W46-28 (Abandoned)
02.10.14 W57-39
24.07.14 W57-35
16.05.13 W50-43

Rebels in 2016:
PL Peterborough 37-53 Rebels
LC Rye House 46-43 Rebels
LC Rebels 49-40 Rye House