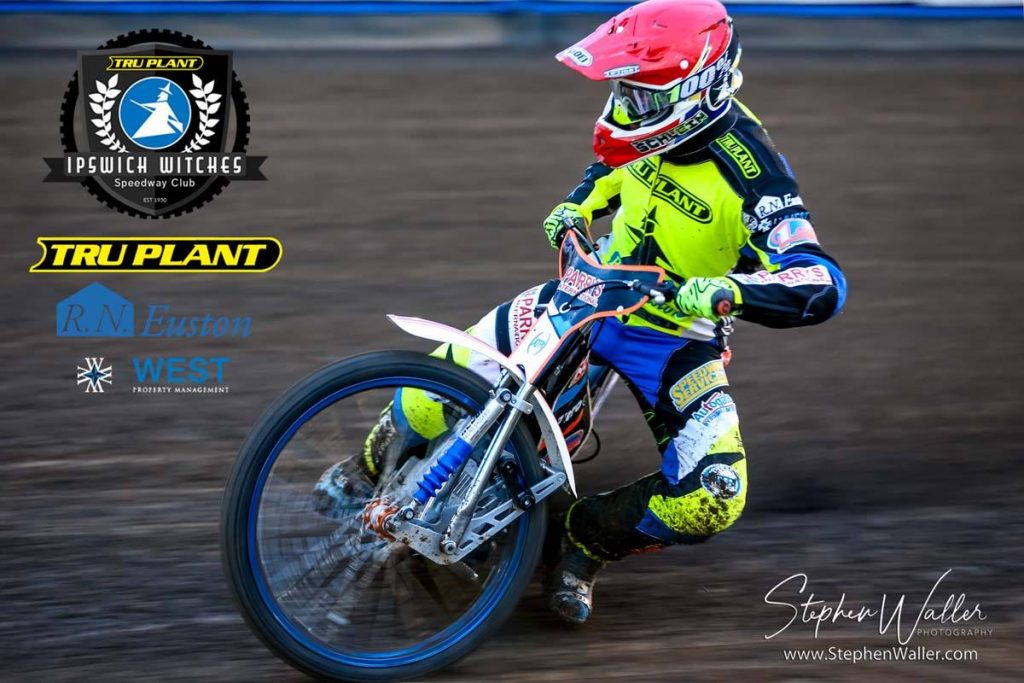 The scores
Berwick 50: Jye Etheridge 10+1. Kevin Doolan © 9+2, Aaron Summers 9+1, John Lindman 8+2, Dany Gappmaier 6+1, Paul Starke (g) 5+1, David Howe 3+1.
Ipswich 40: Rory Schlein 18 (Maximum), Michael Härtel 7+2, Ben Barker (g) 7+1, Cameron Heeps 3, Connor Mountain 3, Danyon Hume 2.
Championship table
| | | |
| --- | --- | --- |
| Team | Meetings | Points |
| 1 Berwick | 2 | 6 |
| 2 Peterborough | 4 | 6 |
| 3 Ipswich | 3 | 5 |
| 4 Workington | 1 | 4 |
| 5 Scunthorpe | 1 | 3 |
| 6 Glasgow | 1 | 3 |
| 7 Lakeside | 2 | 3 |
| 8 Edinburgh | 1 | 3 |
| 9 Sheffield | 2 | 1 |
| 10 Newcastle | 2 | 1 |
| 11 Redcar | 3 | 0 |
The story
The 'Tru Plant' Witches suffered their first loss of the Championship season as they fell to a 50-40 defeat at Berwick on Saturday.
The home side started strongly as the Witches worked their way into the meeting and kept things tight and they were just four points down after nine heats. The hosts recorded a 4-2 in heat 10 and then a 5-1 in heat 12 to give them a 10-point cushion which the away side could not come back from. Rory Schlein recorded an immaculate 18-point maximum for the Witches as he continued his fine form this season.
The home side started well as Aaron Summers won heat one ahead of Ben Barker with Kevin Doolan picking up a point for a 4-2. John Lindman jumped the start in heat two as the race was called back but that didn't stop the Bandits reserve pairing from recording a 5-1 in the re-run to extend their lead. Dany Gappmaier won heat three but Cameron Heeps and Michael Härtel were both in the points to steady the ship. Schlein won heat four by some distance as the home side held a 15-9 lead.
Ritchie Hawkins wasted no time in using Schlein as a tactical substitute in heat five and it worked a treat as he and Ben Barker hit a 5-1 to put the Witches just two points behind. Schlein was a man on a mission and was back out in heat six and he duly won again as the points were shared. Heeps touched the tapes in heat seven and was excluded with Danyon Hume brought in to replace him in the re-run. There was a big crash in the re-run as Paul Starke and Hume fell on the first turn, both taking hard falls. There was a delay as the Berwick guest was checked over at the pits and Lindman produced a fantastic ride to round both Witches riders and win the re-run as the points were shared. The home side pulled ahead after heat eight as Jye Etheridge won and Doolan passed both Hume and Heeps to join his partner at the front and put the hosts 27-21 up.
Schlein was in phenomenal form and won again in heat nine ahead of David Howe as Gappmaier suffered an engine failure on the opening lap leaving Connor Mountain to pick up a point for a Witches 4-2. However, Berwick hit back immediately as Doolan won heat 10 but Härtel passed Summers for second and kept the home rider behind him to limit the damage to a 4-2. Barker produced a great ride to win heat 11 as he passed Starke on the fourth bend of the opening lap to win in a shared heat. The Bandits edged closer to victory after Etheridge and Gappmaier hit a 5-1 in heat 12 to put them 41-31 ahead.
Schlein made it five wins from five in heat 13 but Barker couldn't get amongst the points despite his best efforts. Härtel won heat 14 as the points were shared meaning the away side needed a 5-1 to claim a point. Schlein completed his perfect night with another win as Doolan and Barker had a terrific battle for third with the home skipper coming out on top as Barker fell on the final bend giving it his all out wide. That left the final score 50-40 to Berwick as the Witches went away empty handed.
Rider of the Night
No doubts about this one, Schlein was in a class of his own all night as he won all six rides and carried the Witches threat all night, a stunning performance from the Australian.
Key moment
Before the heat 12 5-1, the away side were just six points down and had hopes of a positive result but after Etheridge and Gappmaier recorded a maximum it left the Witches chasing with just three heats to turn it around.
Next meeting
The next action at Foxhall is the showpiece British U19 Final on Thursday 17th May.