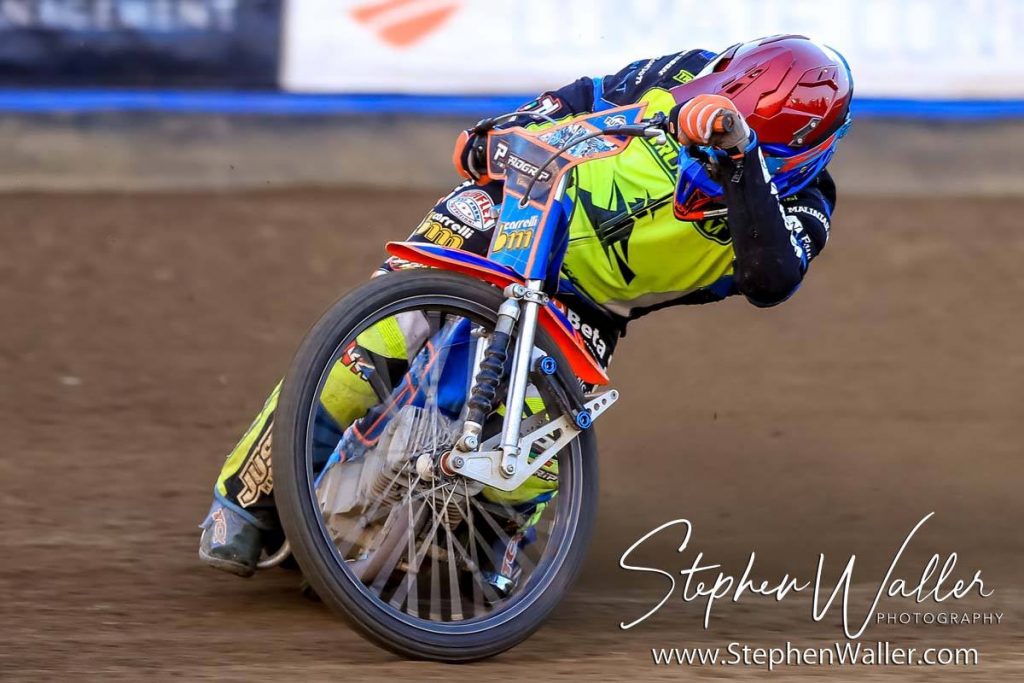 The scores
Qualifying: Richard Lawson 11, Kyle Howarth 11, Erik Riss 11, Craig Cook 10, Charles Wright 9, Ty Proctor 9, Tero Aarnio 9, Ben Barker 8, Aaron Summers 8, Steve Worrall 7, Ricky Wells 6, Scott Nicholls 6, Michael Palm Toft 5, Josh Auty 5, Kevin Doolan 3, Nico Covatti 1, Kyle Bickley (res) 1.
Semi-final: Cook, Riss, Wright, Proctor.
Final: Cook, Lawson, Howarth, Riss.
The story
'Tru Plant' Witches rider Nico Covatti had a disappointing meeting at the Championship Riders' Individual at Sheffield on Sunday, scoring one point.
Covatti struggled for pace on the night and exited after the qualifying heats as the meeting was won by Glasgow's Craig Cook with Lakeside's Richard Lawson second and Sheffield's Kyle Howarth third.
The Witches man was out in heat three but finished at the back as Edinburgh's Erik Riss held off Cook for the win and Workington's Ty Proctor passed Cook for second on the final bend.
Howarth won heat five ahead of Berwick's Aaron Summers and Covatti couldn't get past Peterborough's Michael Palm Toft for third, leaving the Argentinian born Italian with a mountain to climb already.
Covatti's hopes of qualifying were over after heat 11 as Redcar's Ben Barker won and Peterborough's Scott Nicholls passed both Covatti and Edinburgh's Ricky Wells on the way to second, leaving the Witches rider on zero points after three rides.
Newcastle's Tero Aarnio won heat 16 after holding off severe pressure from Scunthorpe's Josh Auty and the Scorpions rider fell on the third bend of the final lap allowing Berwick's Kevin Doolan into second and Covatti into third for his only point of the night.
Covatti made the gate in heat 18 but was eaten up by all three riders on the opening lap leaving him at the back again to end a frustrating night. First it was Scunthorpe's Steve Worrall who rounded the Ipswich man on the second bend of the opening lap and then Lawson and Sheffield's Charles Wright followed suit on the third and fourth turns.
Cook progressed to the final after winning the semi-final with Riss joining him after coming out on top of a great tussle with Wright for second.
Cook produced the goods again in the final as he won the meeting ahead of Lawson and home favourite Howarth with Riss at the back.
Next meeting
The 'Tru Plant' Witches are in action on Tuesday 4th September as they travel to Glasgow in the Championship.