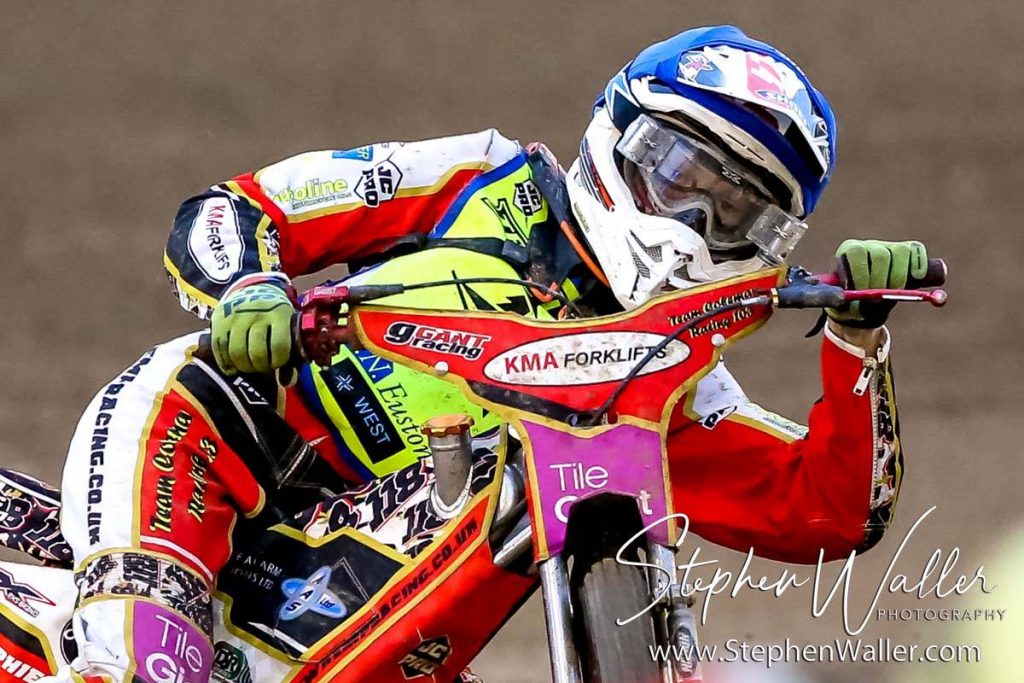 The scores
Glasgow 47: Craig Cook 15 (Maximum), Chris Harris © 11+1, Claus Vissing 8, Paul Starke 5+2, Jack Thomas 5, James Sarjeant 2, Gino Manzares (g) 1.
Ipswich 42: Nico Covatti 11, Scott Nicholls (g) 10, Drew Kemp 9, Cameron Heeps © 7+3, Coty Garcia 3+1, Mark Riss 2+1.
Championship table
| | | |
| --- | --- | --- |
| Team | Meetings | Points |
| 1 Peterborough | 17 | 38 |
| 2 Glasgow | 17 | 33 |
| 3 Edinburgh | 17 | 32 |
| 4 Lakeside | 15 | 32 |
| 5 Ipswich | 18 | 31 |
| 6 Berwick | 17 | 30 |
| 7 Workington | 15 | 30 |
| 8 Newcastle | 16 | 24 |
| 9 Scunthorpe | 19 | 24 |
| 10 Redcar | 18 | 20 |
| 11 Sheffield | 19 | 16 |
The story
The 'Tru Plant' Witches suffered an agonising 47-42 defeat at Glasgow on Tuesday night in the Championship that leaves their play-off hopes hanging by a thread despite picking up a consolation point.
The away side put in a terrific performance and were in control of the meeting throughout, building up a seven point lead by heat eight. However, things started to go wrong in heat 11 when Cameron Heeps fell and the Tigers gained momentum and hit consecutive 5-1's in heat 13 and 14 to lead for the first time in the evening. Scott Nicholls also suffered a fall in heat 13 and couldn't take part in heat 15 as Nico Covatti battled to a second place to ensure the away side took a point back to Suffolk which was the least they deserved. Covatti top scored for the visitors with 11 but the Witches now need a host of results to go their way if they are to make the top four.
It looked like being a good start for the Witches as Nicholls and Heeps made the gate but Craig Cook soon made his way past Heeps on the first lap and then took the lead coming out of the second bend of the second lap as the points were shared to open the night. The away side did get their noses in front in heat two though as Drew Kemp won and was followed home by Coty Garcia who held off Gino Manzares to ensure a maximum heat advantage to the Witches. The home side soon levelled the score though as Claus Vissing and Paul Starke raced to a 5-1 of their own in heat three. Nicholls won heat four as Kemp held off Chris Harris for second for three laps but the Glasgow man eventually passed the Witches reserve, meaning a 4-2 to the Witches that put them 13-11 ahead.
Heat five was stopped as Starke fell under pressure from Heeps on the second lap and with his partner Vissing having already retired, the Witches pair of Nicholls and Heeps were awarded a 5-0 to put them seven ahead. Cook made it two wins from two with victory in heat six ahead of Heeps with James Sarjeant winning the battle for third against Garcia to claw back two points on the Witches. Harris won heat seven ahead of Covatti but Mark Riss was a faller on the opening lap, leaving the hosts to pick up another 4-2. Heat eight was stopped as Manzares fell and failed to clear the track on the second lap. The Witches took full advantage in the re-run as Kemp was joined by Heeps at the front for a 5-1 that put them 27-20 up.
Heat nine was called back with Covatti warned to stay still at the start. Vissing won the re-run with Covatti second and Starke took third for a 4-2 to the home side. Cook was proving a hard man to beat as he won again in heat 10 but Covatti and Riss were both in the points for a 3-3. Heat 11 was awarded as Heeps fell whilst at the back and with Harris leading Nicholls at the time it was a 4-2 to Glasgow. The Witches cancelled that 4-2 out immediately as Covatti won heat 12 by passing Vissing and Jack Thomas on the opening lap and Kemp then passed the Tigers reserve for third on the third lap for the heat advantage to leave the away side 38-33 up.
The lead was down to one point after heat 13 though as Cook and Harris were awarded a 5-1. Nicholls fell whilst in second and was seen to by the paramedics on the track. Things went from bad to worse for the Witches as the hosts were awarded another 5-1 in heat 14 to take the lead for the first time in the meeting with just a heat to go. Thomas and Starke were holding off every move Riss threw at them before he crashed on the third lap. With Heeps and Nicholls not fit to ride after their earlier falls it was down to Covatti and Kemp in heat 15 to try and salvage something from the meeting. Cook completed his maximum with a win but Covatti got a valuable second ahead of Harris to ensure the Witches took a point home with the final score 47-42 to the Tigers.
Rider of the Night
It was another superb night for young Kemp at reserve who produced once again in a big meeting in what was just his fifth meeting at this level. He scored nine and recorded two race wins.
Key moment
Heat 13 was where it all went wrong for the Witches. Nicholls was in second with the Tigers on a 4-2 but then hit a hole in the track and fell, injuring himself with Glasgow awarded a 5-1 to put them a point behind. Without Nicholls and Heeps to choose from for heat 15 the Witches went from being in control of the meeting to being up against it to salvage a point from the meeting, which they deservedly did in the end but it could have been so much more.
Next meeting
The Witches are next in action at Foxhall against Berwick on Thursday 6th September in a Championship clash. Kids go free to this meeting.