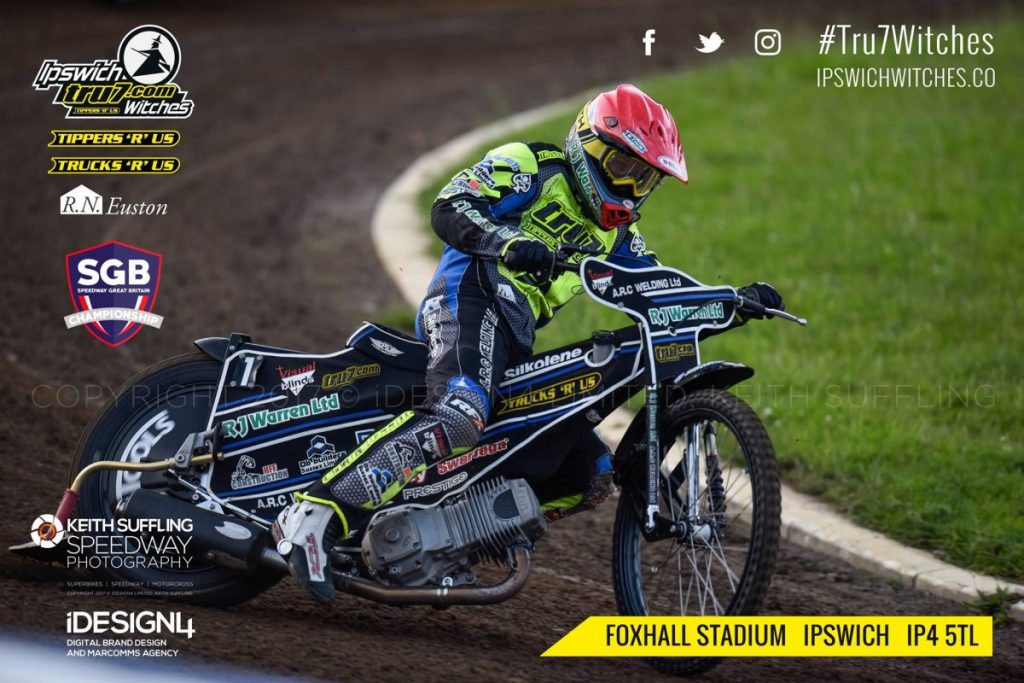 The 'Tru7.com' Witches claimed an away point at Glasgow after going down 49-43 in Scotland on Saturday.
The home side started strongly and raced into a 10 point lead early on. However, the Witches hung in there despite not providing a heat winner in the first ten heats. Danny King won three of the final five heats as a last heat 4-2 grabbed a last ditch point for the away side's efforts. King was the Witches top scorer with 12.
The home side wasted no time in getting started as Richard Lawson and Ryan Douglas opened with a 5-1 even after the Australian got out of shape later in the race. The home side's good start continued in heat two as Jack Smith and Tom Perry made it back to back 5-1's in the first two heats. Richie Worrall won heat three but the Witches stemmed the tide as Cameron Heeps and Justin Sedgmen were both in the points for a 3-3. Aaron Summers held off Rory Schlein to take the win in heat four as the Witches man chased hard meaning a shared heat that made the score 16-8 to the Tigers after four heats.
Worrall won his second heat of the night as he kept King behind him and Kyle Newman hung onto third for another 3-3. The wait for a Witches winner went on as Lawson was the next home rider to make it two wins from two as he beat Schlein in heat six with Douglas third for a 4-2 to extend their lead to ten points. Heeps was sent out on a tactical ride in heat seven but he couldn't provide a first heat win of the night for the away side as Summers won but the Witches man claimed second for four points with Sedgmen third for a Witches 5-3. Douglas won heat eight for the home side as Newman and Nathan Greaves made sure it was a shared heat, leaving the home side 29-21 up.
The home winners kept on coming as the Witches couldn't match the Tigers heat leaders as Worrall won heat nine ahead of Schlein with Nike Lunna claiming a point for a home 4-2 to restore their 10 point lead with six heats to go. The trend continued in heat 10 as Lawson beat Heeps and Sedgmen in a 3-3. The wait was finally over in heat 11 and it was worth it as King and Newman raced to 5-1 to reduce the home side's lead to just six points. Worrall made it four wins from four in heat 12 ahead of Heeps as Perry replaced Smith and picked up a point for a 4-2 to make it 41-33 to Glasgow after 12 heats.
King won heat 13 as Lawson and Schlein battled for second with the Glasgow man coming out on top but a 4-2 kept the Witches in contention for some points with two to race. Sedgmen made the gate in heat 14 but found himself in third by the end of the first lap. However, he fought back to take second on the line over Perry to keep the Witches' hopes of a point alive. King was the winner in heat 15 but there was a fantastic battle behind him as Lawson, Schlein and Worrall traded places with Lawson just taking second ahead of Schlein but a Witches 4-2 secured a point with the final score 49-43 to the Tigers.
Glasgow 'Allied Vehicles' Tigers 49
Richard Lawson 13
Ryan Douglas (g) 6+1
Richie Worrall 12
Nike Lunna 4
Aaron Summers (c) 7
Tom Perry 4+1
Jack Smith 3
Ipswich 'Tru7.com' Witches 43
Danny King (c) 12
Kyle Newman 5+2
Cameron Heeps 10
Justin Sedgmen 5+3
Rory Schlein 8
Connor Mountain 1
Nathan Greaves 2+2
Championship Table
| | | |
| --- | --- | --- |
| Team | Pl | Pts |
| Edinburgh | 19 | 41 |
| Glasgow | 14 | 36 |
| Witches | 18 | 36 |
| Redcar | 17 | 31 |
| Sheffield | 14 | 30 |
| Workington | 11 | 21 |
| Newcastle | 14 | 19 |
| Peterborough | 14 | 18 |
| Scunthorpe | 18 | 14 |
| Berwick | 19 | 10 |
Next Meeting: C2 2nd July vs Peterborough (away)