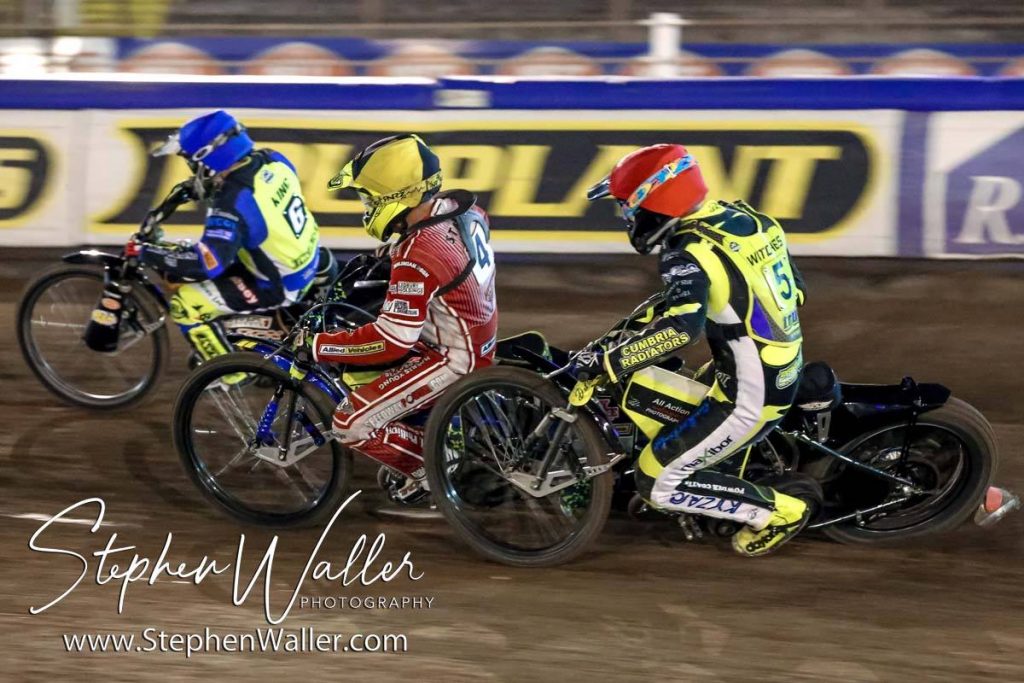 The scores
Ipswich 41: Richard Lawson (g) 12+1, Coty Garcia 9, Cameron Heeps © 6+1, Nico Covatti 6, Drew Kemp  5+2  Mason Campton (g) 2+1, Mark Riss 1.
Glasgow 49: Craig Cook 13, Chris Harris © 11+1, Paul Starke 9, James Sarjeant 7+2, Jack Thomas 4+2, Claus Vissing 4+1, Broc Nicol (g) 1.
Championship table
| | | |
| --- | --- | --- |
| Team | Meetings | Points |
| 1 Peterborough | 18 | 41 |
| 2 Glasgow | 19 | 40 |
| 3 Workington | 17 | 36 |
| 4 Edinburgh | 19 | 35 |
| 5 Lakeside | 16 | 32 |
| 6 Berwick | 18 | 31 |
| 7 Ipswich | 19 | 31 |
| 8 Scunthorpe | 20 | 27 |
| 9 Newcastle | 18 | 24 |
| 10 Redcar | 20 | 24 |
| 11 Sheffield | 20 | 17 |
The story
The 'Tru Plant' Witches were defeated at Foxhall as the Glasgow Tigers won 49-41 at Foxhall on Thursday in the Championship.
The home side needed a win to keep their slim play-off hopes alive and it was a tight meeting throughout until the Tigers took control after the interval to record a valuable away win that confirmed their spot in the play-offs. Guest Richard Lawson top scored for the Witches with 12+1
Lawson put in an impressive performance in heat one to beat Craig Cook who had recorded three consecutive maximums at this level but with Cameron Heeps at the back it was a 3-3. The home side had it all their own way in heat two as Coty Garcia and Drew Kemp hit the first 5-1 of the night. The away side immediately levelled things in heat three as Paul Starke and Claus Vissing recorded a maximum despite the last ditch efforts from Nico Covatti on the run to the line. Chris Harris won heat four as the points were shared leaving the score 12-12.
The away side went ahead in heat five as Cook beat Covatti and James Sarjeant picked up a point for a 4-2 to the Tigers. Harris won again in heat six as Heeps and Lawson were both in the points for a shared heat. Heat seven was called back after an unsatisfactory start with Vissing warned. Garcia won his second heat of the night in the re-run and there was a terrific fight for second as Mason Campton and Starke went toe-to-toe with the Tigers man claiming second on the line, meaning a 4-2 to the home side that levelled the scores again. Sarjeant won heat eight with Heeps and Kemp second and third for a 3-3 that kept the overall score level at 24-24.
Garcia replaced Mark Riss in heat nine after the German had failed to score from two rides. Garcia and Covatti made the gate but Covatti retired on the first lap leaving Garcia to battle it out with Harris at the front. The pair traded moves on laps three and four but it was the former Grand Prix man who won for the away side, giving them a 4-2 to put them back ahead. The lead continued to change hands after heat 10 as the Witches went back in front thanks to a 5-1 from Lawson and Heeps. The visitors were back ahead after heat 11 though as Cook won and Sarjeant forced his way past Garcia on the final lap to join his teammate at the front for a maximum. Covatti won heat 12 but with Kemp at the back it was a shared heat leaving Glasgow 37-35 up with three to race.
The away side extended their lead in heat 13 as Cook came out on top of a tight battle with Lawson to win and Harris claimed third for a 4-2 to edge them closer to a precious victory. The away win was sealed in heat 14 as Starke and Jack Thomas hit a 5-1 to put them out of reach with a heat to race. Covatti was a faller in heat 15 on the second turn and he was excluded to rub salt into the wounds. Lawson won the re-run for the home side after fending off Cook and it was a 3-3 that made the final score 41-49 to the Tigers, giving them four league points that confirmed their play-off spot.
Tru Plant and Volvo Truck and Bus Riders of the Night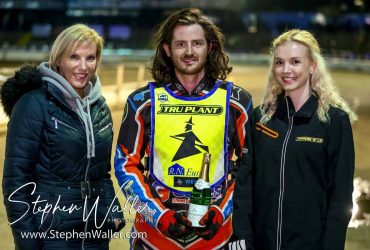 Lawson won the Tru Plant Rider of the Night award after scoring 12+1 whilst Garcia picked up the Volvo Truck and Bus award after scoring nine from reserve.
Key moment
With the away side two points up going into heat 13 the Witches needed their two guests to produce something special against Cook and Harris to turn the score around. Lawson put up a terrific fight but couldn't beat Cook and with Campton struggling at the back, the 4-2 to the Tigers all but confirmed their win.
Next meeting
The Witches host Berwick at Foxhall on Saturday 15th September in the final Championship fixture of 2018. Kids go free to this fixture.