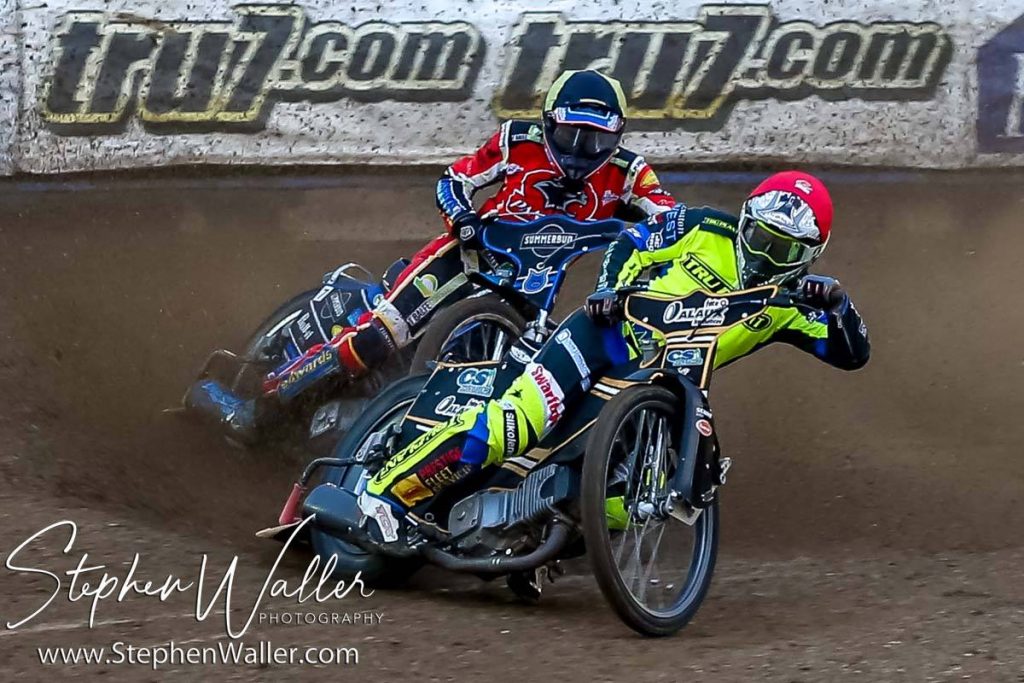 The scores
Ipswich 41: Coty Garcia 11+2, Cameron Heeps 11+2 ©, Mark Riss 7+2, Nico Covatti 6, Kyle Newman (g) 5, Drew Kemp 1.
Peterborough 49: Tom Bacon 14, Scott Nicholls 13+1, Bradley Wilson Dean 9+2, Paul Starke (g) 9+1, Emil Grondal 4+1, Simon Lambert 0 ©.
Championship table
| | | |
| --- | --- | --- |
| Team | Meetings | Points |
| 1 Peterborough | 17 | 38 |
| 2 Lakeside | 14 | 32 |
| 3 Berwick | 17 | 30 |
| 4 Workington | 13 | 27 |
| 5 Glasgow | 14 | 27 |
| 6 Edinburgh | 14 | 25 |
| 7 Ipswich | 15 | 23 |
| 8 Newcastle | 13 | 21 |
| 9 Scunthorpe | 16 | 21 |
| 10 Redcar | 17 | 17 |
| 11 Sheffield | 18 | 15 |
The story
The 'Tru Plant' Witches fell to a disappointing 41-49 defeat to Peterborough in the Championship at Foxhall on Thursday.
Without the injured top two of Rory Schlein and Danny King and suffering a late withdrawal of guest Adam Ellis due to injury, it was an uphill but achievable task for the home side to keep their play-off hopes on track. However, it proved too much for the Witches who started slowly and found themselves 10 points down after four heats. A late 5-1 in heat 13 left the hosts just four points behind but in truth it was the Panthers who were in control all night and sealed their win in the final heat with a 5-1. Coty Garcia top scored for Ipswich with 11+2 alongside Cameron Heeps.
Visiting number one Scott Nicholls won the opening heat of the night ahead of Kyle Newman as Mark Riss prevented a Panthers heat advantage by passing Simon Lambert at the start of the second lap. The away side did go in front in heat two though as Tom Bacon passed Garcia to win and Emil Grondal picked up third after Drew Kemp had passed him on the third turn of the opening lap but then got out of shape. The Panthers then recorded the first 5-1 of the night as Nicholls and Bradley Wilson-Dean went by Riss on the opening lap to hit the front. It got worse for the home side in heat four as Bacon won again and Paul Starke followed him home with Kemp picking up his first point for the Witches. That 5-1 left the hosts with a mountain to climb, 7-17 down after just four heats.
Nicholls was out again in heat five and won again as the points were shared with the Witches still waiting for a heat win. That elusive win came in heat six as Heeps won and it was a 4-2 to the Witches after Starke suffered machinery problems on the last bend whilst in the points, allowing Newman to pick up a point. Following that win, Heeps came in as a tactical substitution in heat seven but he couldn't stop Wilson-Dean picking up a win as the heat was shared with Starke struggling with bike problems again. Garcia won heat eight for the home side with Newman passing Panthers captain Lambert for third on the back straight of the third lap to leave the Witches just six down now at 21-27 after eight heats.
Starke sorted his bike problems out to win heat nine but partner Grondal fell whilst third on the second lap, meaning a 3-3 that kept the away side six ahead. They extended the lead back to 10 points again though in heat 10 as Bacon and Wilson-Dean continued their impressive form with a 5-1 that left the Witches needing to produce something special to turn things around. Garcia was doing himself proud on the night and won heat 11 but Nicholls was in fine form as he passed Covatti for second on the final bend to limit the home team to a 4-2. Heeps won heat 12 and there was a good battle at the back as Kemp went past Grondal at the start of the second lap but the visiting reserve fought back to claim third on the third lap to ensure a 3-3 that left his side 32-40 up.
Nicholls touched the tapes in heat 13 and went from 15 metres in the re-run. The Witches capitalised in the re-run as the Argentine duo of Covatti and Garcia recorded a maximum to put them just four points behind with two to race. There was a three-man pile-up in heat 14 as Wilson-Dean, Bacon and Riss all hit the deck going into the first turn of the second lap whilst Garcia led at the time. Thankfully all three riders got to their feet and Wilson-Dean was excluded from the re-run having tried a move that didn't come off. However, on this occasion the Witches could not take advantage as Bacon's impressive evening continued with a win in the re-run. The home side needed a 5-1 to rescue a point in heat 15 but it was the away side who recorded a maximum to win 41-49 and claim four league points.
RN Euston & Enid Thatchell's 80th Rider of the Night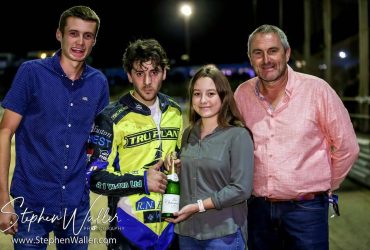 Garcia was the man of the night as he picked up both awards after scoring 11+2 from five rides at reserve.
Key moment
After Heeps won heat six for the first Witches heat win of the night and heat advantage, you thought maybe the home side could gather some momentum. Heeps was back out in heat seven as a tactical substitute but it was Wilson-Dean who controlled the race to win and deny the hosts with the Panthers proving to have the answers all night. After this heat it felt like all the cards had been played, eight points down and not winning races.
Next meeting
The Witches travel to Scunthorpe on Friday 24th August in a Championship fixture.