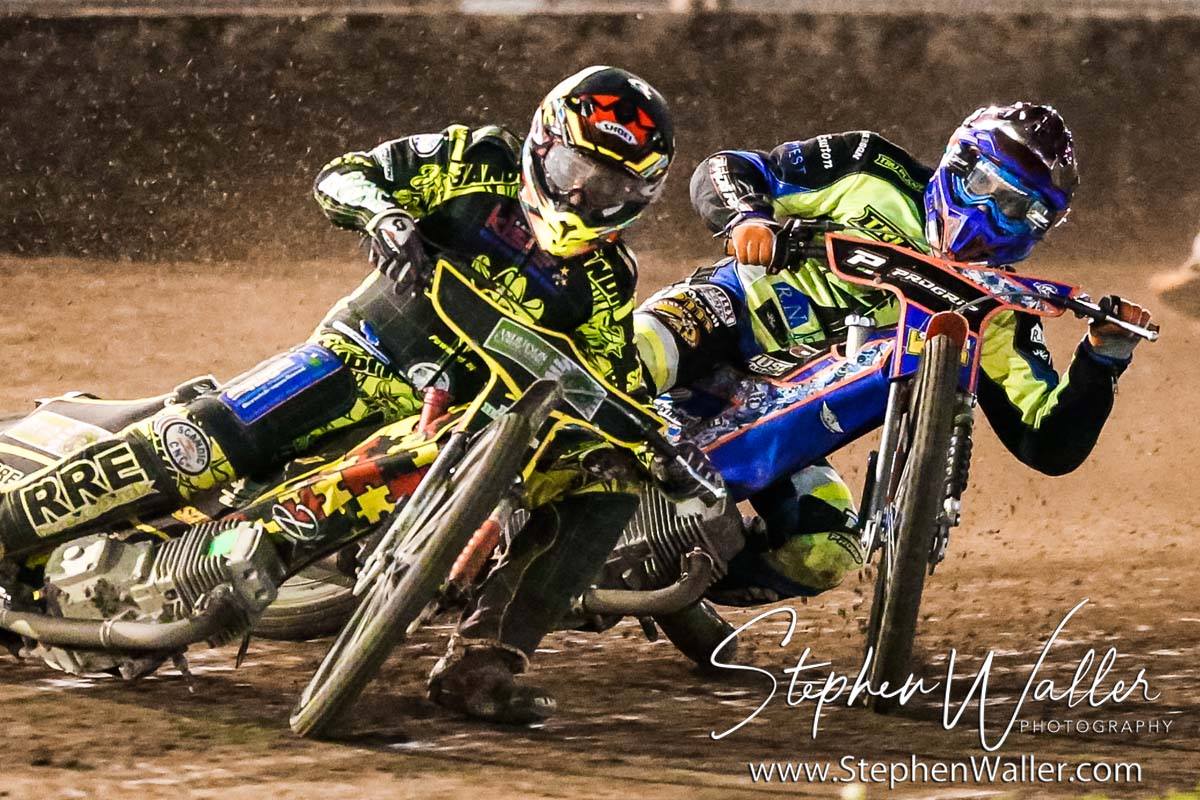 The scores
Ipswich 43: Nico Covatti 13, Cameron Heeps © 10+1, Thomas Jorgensen (g) 9+1, Drew Kemp 6+1, Coty Garcia 3, Paul Starke (g) 2+1.
Berwick 47: Kevin Doolan © 12+1, Aaron Summers 11, Nicolaj Busk Jakobsen 8, Theo Pijper 7+2 David Howe 5+1, Jye Etheridge 4+1, Dany Gappmaier 0.
Championship table
| | | |
| --- | --- | --- |
| Team | Meetings | Points |
| 1 Peterborough | 20 | 45 |
| 2 Glasgow | 20 | 40 |
| 3 Workington | 18 | 39 |
| 4 Lakeside | 19 | 38 |
| 5 Berwick | 20 | 37 |
| 6 Edinburgh | 20 | 35 |
| 7 Ipswich | 20 | 31 |
| 8 Scunthorpe | 20 | 27 |
| 9 Newcastle | 19 | 25 |
| 10 Redcar | 20 | 24 |
| 11 Sheffield | 20 | 17 |
The story
The 'Tru Plant' Witches ended their 2018 season with a disappointing 43-47 defeat to Berwick at Foxhall on Saturday in the Championship.
The home side had nothing to race for but pride in their last meeting of the campaign and led early on but were pegged back by heat eight. The scores were level until heat 11 as the Witches hit a 5-1 followed by a 4-2 and the home side looked to be heading towards a victory to end the season on a positive note. However, the Bandits stunned everyone with a 4-2 and 5-1 of their own in heats 13 and 14 before taking the win with another maximum in heat 15. Nico Covatti top scored for the home team with 13 points.
The home side started in fantastic fashion as Covatti and Cameron Heeps hit a 5-1 to get things up and running. Berwick reserve Theo Pijper won heat two with Coty Garcia and Drew Kemp in the points for a 3-3. Jye Etheridge touched the tapes in heat three and went from 15 metres in the re-run. Covatti won the re-run ahead of Kevin Doolan with Paul Starke third for a 4-2 to the Witches. Kemp then touched the tapes in heat four and was excluded as Nicolaj Busk Jakobsen also received a warning. Garcia came in for Kemp but he was a faller on the first turn as all four were called back for a third attempt. Thomas Jorgensen won for the Witches when the race got going but Garcia retired at the back meaning a 3-3 that left the Witches 15-9 up.
Covatti made the gate in heat five but was passed by both Aaron Summers and David Howe as the race went on to give the Bandits a 5-1 to narrow the home side's lead to two points. There was yet another tapes exclusion in heat six as Jorgensen was the next man to jump the start. Kemp came in to replace the Witches guest in the re-run and he picked up a point as Heeps won for a 4-2 to the hosts. Doolan won heat seven ahead of Jorgensen and Etheridge took third for a Berwick 4-2 as Garcia again retired at the back. Howe won heat eight with Heeps second as Pijper took third for another heat advantage to the away side that levelled the score at 24-24.
Jakobsen won heat nine ahead of Covatti and Starke for a shared heat to keep the score level. Heeps won heat 10 but Starke retired with machinery problems on the first bend resulting in another 3-3 as the two sides couldn't be separated. Then came another tapes exclusion in heat 11 as Witches reserve Garcia dropped the clutch too early on this occasion. Kemp came in for Garcia and he won the re-run for his first win at Foxhall with Jorgensen behind him for a Witches 5-1 to put them back ahead on the night. They extended the lead in heat 12 as Covatti won and Kemp passed Pijper for third at the start of the second lap for a 4-2 that put the home side 39-33 up with three to race.
Summers won heat 13 ahead of Jorgensen with Jakobsen third for a 4-2 to the visitors that kept things interesting going into the final two heats. Things got even more interesting after heat 14 as the scores were level again thanks to a maximum from Doolan and Pijper to take it to a last heat decider. The late turnaround was complete as Summers and Doolan hit another 5-1 in heat 15 to win the meeting 47-43 and take three league points.
Tru Plant Rider of the Night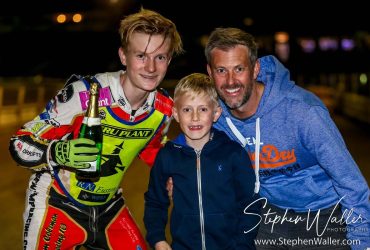 Kemp won the Tru Plant Rider of the Night award after scoring 6+1 from reserve as he won his first heat at Foxhall in heat 11.
Key moment
It all boiled down to heat 15 with the scores level and although the Witches had nothing to race for but pride, they were keen to end the season on a positive note. However, it was the Bandits duo of Summers and Doolan who came out on top to give their side the win and leave the Witches pointless to end the season.
Next meeting
Please keep an eye out on our website and social media channels for news of our next fixture.