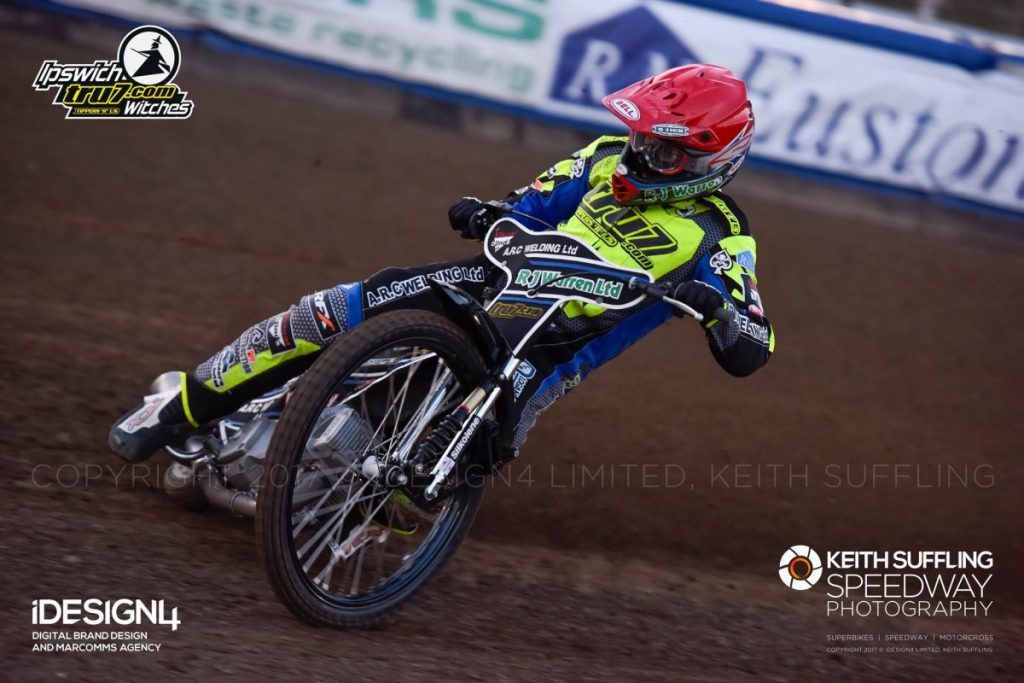 The 'Tru7.com' Witches continued their 100% home record on Thursday night with a narrow win over the Glasgow Tigers in the Championship.
The two sides could not be separated in the early heats but the home side built up a lead in the mid part of the meeting which they saw through to the end to take the three points. The visitors ensured they took a point home with them with a last heat 5-1. Guest James Shanes top scored with 10+1.
Cameron Heeps continued his good form in heat one as he beat youngster Dan Bewley with captain Danny King passing Aaron Summers to take third on the penultimate lap for a 4-2. Tom Perry won heat two as Shanes and Connor Mountain were both in the points for a shared heat. Richard Lawson beat debutant Justin Sedgmen to the chequered flag in heat three as Kyle Newman was a faller meaning the tie was levelled up. Richie Worrall provided another heat win for the visitors as the points were shared again leaving the score 12-12.
Newman got his first Foxhall heat win in heat five and it looked like being a first 5-1 of the night until Summers passed Sedgmen on the final turn to reduce the damage to just a 4-2. The home side extended the lead in heat six as King got his first heat win of the night with Heeps third for consecutive 4-2's despite a last ditch effort to take second on the final turn. Rory Schlein won heat seven in a shared heat as Mountain fell on the first lap. The home side got their first maximum of the night in heat eight as Heeps was followed home by guest Shanes to give the Witches a 28-20 lead.
Worrall won heat nine ahead of Newman as Sedgmen passed Perry on the fourth turn of lap three to ensure a shared heat. Lawson was the second opponent to beat King at Foxhall in 2017 as he won heat 10 in a 3-3. Schlein won his second heat of the night as the two sides could not be separated again in heat 11. Sedgmen got his first win in Witches colours with Shanes in third to edge the Witches closer to victory with a 41-31 lead.
The home side sealed victory in heat 13 as Summers won but King and Schein packed the minor placings for another 3-3 as Worrall packed up at the end of the first lap. Shanes completed a fantastic guest appearance by winning heat 14 ahead of Lawson as the points were shared once again. The Tigers made sure they took a point back north with a final heat 5-1 thanks to Summers and Worrall to make the final score 48-42 to the Witches.
Ipswich 'Tru7.com' Witches 48
Danny King (c) 9
Cameron Heeps 8+1
Justin Sedgmen 7+1
Kyle Newman 5
Rory Schlein 8+2
Connor Mountain 1+1
James Shanes (g) 10+1
Glasgow 'Allied Vehicles' Tigers 42
Aaron Summers (c) 10
Dan Bewley 5+2
Richard Lawson 12
Richie Worrall 10+1
Tom Perry 5+1
Jack Smith 0
Championship Table
| | | |
| --- | --- | --- |
| Team | Pl | Pts |
| Glasgow | 7 | 17 |
| Witches | 9 | 17 |
| Edinburgh | 6 | 16 |
| Redcar | 7 | 14 |
| Scunthorpe | 10 | 10 |
| Sheffield | 5 | 9 |
| Peterborough | 5 | 9 |
| Workington | 4 | 8 |
| Newcastle | 4 | 6 |
| Berwick | 9 | 1 |
Teng Tools Rider of the Night: James Shanes
Chosen by Leah Durrant from the Junior Witches
Next Meeting: C1 11th May vs Scunthorpe (home)