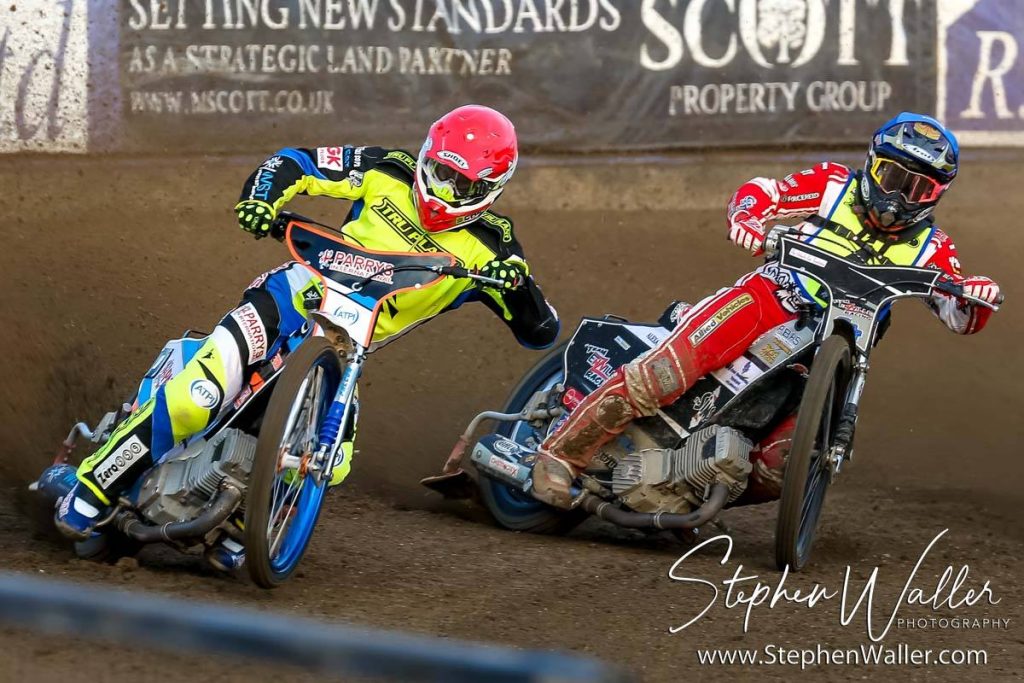 By Henry Chard
The scores
Ipswich 50: Rory Schlein 15 (Maximum), Nico Covatti 10+1, Danyon Hume 7, Danny King 6 ©, Cameron Heeps 5+1, James Sarjeant (g) 4+1, Connor Mountain 3.
Sheffield 40: Kyle Howarth 11+2 ©, James Shanes 8+2, Charles Wright 7+1, Lasse Bjerre 4, Jan Graversen 4, Jack Smith 3, Todd Kurtz 3.
Championship table
| | | |
| --- | --- | --- |
| Team | Meetings | Points |
| 1 Lakeside | 5 | 13 |
| 2 Berwick | 6 | 13 |
| 3 Peterborough | 6 | 12 |
| 4 Glasgow | 4 | 10 |
| 5 Ipswich | 4 | 8 |
| 6 Newcastle | 6 | 7 |
| 7 Scunthorpe | 3 | 6 |
| 8 Redcar | 8 | 6 |
| 9 Workington | 4 | 5 |
| 10 Edinburgh | 3 | 4 |
| 11 Sheffield | 5 | 4 |
The story
The 'Tru Plant' Witches recorded an impressive 50-40 victory over Sheffield in the Championship on Thursday night at Foxhall.
The home side were in terrific form on a night of entertaining racing and could have won by more if not for mechanical issues. The away side took an early lead but once the Witches found their groove they led comfortably. A late rally from the Tigers was not enough as the home side sent them home empty handed. Rory Schlein recorded a perfect 15-point maximum.
Schlein, in his new number one position, won heat one with ease ahead of the visiting pair as a shared heat opened proceedings. Jack Smith won heat two ahead of Connor Mountain as James Shanes worked his way into third to give the away side the lead, with all four riders remaining bunched up over the four laps. Lasse Bjerre went through the tapes in heat three and was replaced by Shanes. Jan Graversen did excellently in the re-run to fend off the Witches pair of Cameron Heeps and Nico Covatti as the points were shared again. Danny King and Danyon Hume looked to be recording a 5-1 in heat four until King suffered carburettor problems on the final lap, meaning the home side had to settle for a 3-3 that left the reigning champions 13-11 up.
The home side did get their maximum in heat five though as Heeps and Covatti were never threatened from the gate. Schlein won in fine style once again in heat six as guest James Sarjeant was in third for a Witches 4-2. King completed four laps in heat seven and won with Mountain picking up third for another heat advantage as the Witches started to dominate the meeting. Hume got his second win of the night in heat eight but Shanes rode well to pass Sarjeant for second, limiting the Witches to a 4-2 that left them 28-20 up.
Heat nine was a phenomenal watch as Charles Wright made the gate ahead of Covatti but the Witches man stalked the visiting rider for three laps before swooping round Wright coming out of turn two of the final lap and finding the smallest of gaps to pass him on the back straight. The crowd were on their feet and with Heeps third it was another heat advantage to the home side. Bjerre went through the tapes again in heat 10 and was forced to go from 15 metres in the re-run. Schlein and Sarjeant coasted to a 5-1 in the re-run as the home side edged closer to victory. Kyle Howarth won heat 11 ahead of King as Todd Kurtz picked up third for a rare Tigers heat advantage. That gave the away side hope though and they hit a 5-1 in heat 12 with Howarth winning as a tactical substitute as Shanes passed Hume on the final bend to seal the maximum and leave them just 40-32 down with three heats to go.
Schlein was imperious again in heat 13 as he won with King third for a 4-2 that sealed victory for the Witches. Covatti was awarded the win heat 14 after Mountain was excluded for an incident on the third lap. Mountain and Shanes had been enjoying a great battle for third all race as the pair re-passed each other and it looked as though the Witches reserve had got the better of his opponent before a mechanical issue struck on the third turn of the third lap which left Shanes with nowhere to go but to fall. Schlein completed his maximum in heat 15 with another dominant win in a shared heat that left the final score 50-40 to the Witches.
DJ Evans and Volvo Truck & Bus Rider of the Night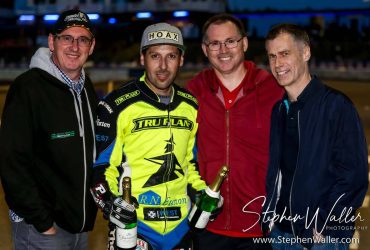 Nico Covatti won the sponsors' award after his stunning heat nine win that got the fans on their feet as he scored 10+1 on his return from injury.
Key moment
On a night with plenty of positives it was Covatti's ride in heat nine that seemed to regain the positivity that has been missing so far in 2018. It was the Covatti of old that wowed the fans and inspired the home side to victory.
Next meeting
The Witches travel to Peterborough on Sunday 17th June in a Championship Shield fixture.