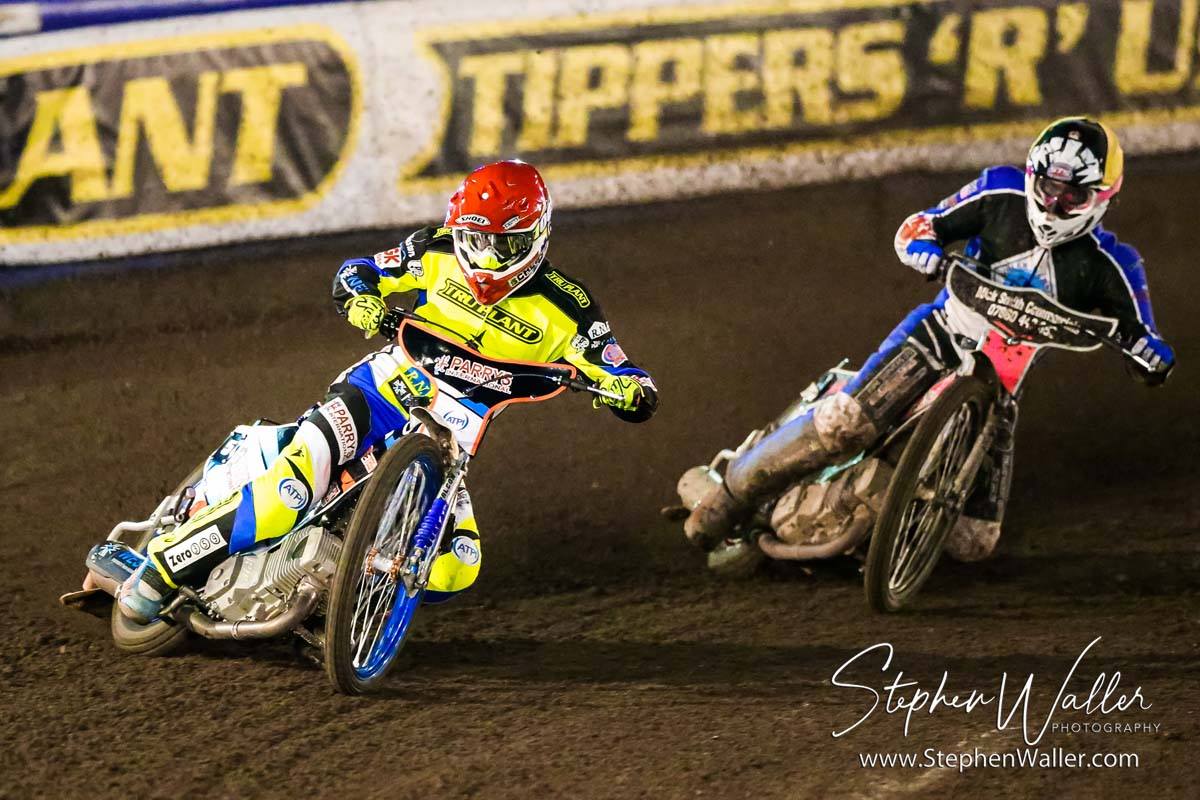 The scores
Newcastle 45: Ludvig Lindgren 17+1, Tero Aarnio 9+3, Kevin Doolan (g) 7+1, Ashley Morris 7+1,  Carl Wilkinson 5, Matthew Wethers 0.
Ipswich 45: Rory Schlein 14, Cameron Heeps 11+1, Josh Pickering (g) 9+1, Ben Barker (g) 8+1, Danyon Hume 2, Connor Mountain 1.
Championship table
| | | |
| --- | --- | --- |
| Team | Meetings | Points |
| 1 Peterborough | 3 | 6 |
| 2 Ipswich | 2 | 5 |
| 3 Scunthorpe | 1 | 3 |
| 4 Glasgow | 1 | 3 |
| 5 Lakeside | 2 | 3 |
| 6 Berwick | 1 | 3 |
| 7 Edinburgh | 1 | 3 |
| 8 Newcastle | 2 | 1 |
| 9 Sheffield | 2 | 1 |
| 10 Workington | 0 | 0 |
| 11 Redcar | 3 | 0 |
The story
A depleted 'Tru Plant' Witches picked up two league points on the road at Newcastle on Sunday as they drew 45-45 in the Championship.
Missing Danny King, Nico Covatti and Michal Härtel through injury the away side started brightly and looked like they may take an away victory as they lead by six points with six heats to go. The home side fought back but the Witches held strong for two points as Rory Schlein led the way with 14 points from five rides.
Diamonds skipper Ludvig Lindgren won heat one ahead of Witches guest of Ben Barker with Tero Aarnio in third for a 4-2 to the home side. Carl Wilkinson won heat two with Danyon Hume in second as Ashley Morris passed Connor Mountain for third before the Witches man fell whilst at the back and the race was awarded. The Witches levelled things in heat three as Cameron Heeps won and Josh Pickering produced a stunning ride to pick off both Diamonds riders and join Heeps at the front for a 5-1. Heat four was stopped as Aarnio fell on turn one with all four called back. Rory Schlein comfortably won the re-run as the points were shared leaving the score 12-12.
Barker won heat five as Newcastle guest Kevin Doolan held off Pickering for second but a 4-2 put the away side ahead in the meeting for the first time. Schlein made it two wins out of two in heat six in a 3-3. Pickering continued his fantastic form in heat seven as he swooped round both home riders and then rounded Heeps as the away side recorded a 5-1 to extend their lead. Heeps was back out in heat eight and won in a 3-3 that left the away side 27-21 up.
Newcastle put captain Lindgren in as a tactical substitute in heat nine but he couldn't stop Schlein from winning again as Doolan snatched third on the final lap from Mountain to prevent a heat advantage. Heeps fell in heat 10 and was excluded from the re-run and with the home pairing on a 5-1 at the time, Pickering was forced to go from 15 metres in the re-run after the referee felt Heeps did not do enough to clear the track. The Diamonds duly recorded a maximum in the re-run thanks to Lindgren and Aarnio. The scores were level after heat 11 as Lindgren won again ahead of Barker who had made his way past Wilkinson for second with Hume falling at the back. Heeps put the Witches back ahead after winning heat 12 as Mountain passed Morris for third at the end of the first lap making it 37-35 to the visitors.
Lindgren won again in heat 13 ending Schlein's chances of a maximum but it was a 3-3 that kept the away side ahead. Hume was down again in heat 14 and was excluded from the re-run. The scores were level again after the completion of heat 14 as Morris won despite Pickering's best efforts who passed Wilkinson for second and almost made his way to the front.  Schlein won the final heat of the night but Heeps couldn't get into the points meaning the final score was 45-45 with the Witches picking up two league points.
Rider of the Night
Plenty of contenders for this one but Schlein led from the front dropping just a point all night away from home and ensured the Witches took two points back to Suffolk.
Key moment
The Witches looked like they were heading for a win but after Heeps fell in heat 10 with Pickering penalised in the re-run having to go from 15 metres. That 5-1 to the home side closed the lead and gave the home side hope of a positive result.
Next meeting
The 'Tru Plant' Witches are back in action on Saturday 12th May as they travel to Berwick in the Championship.