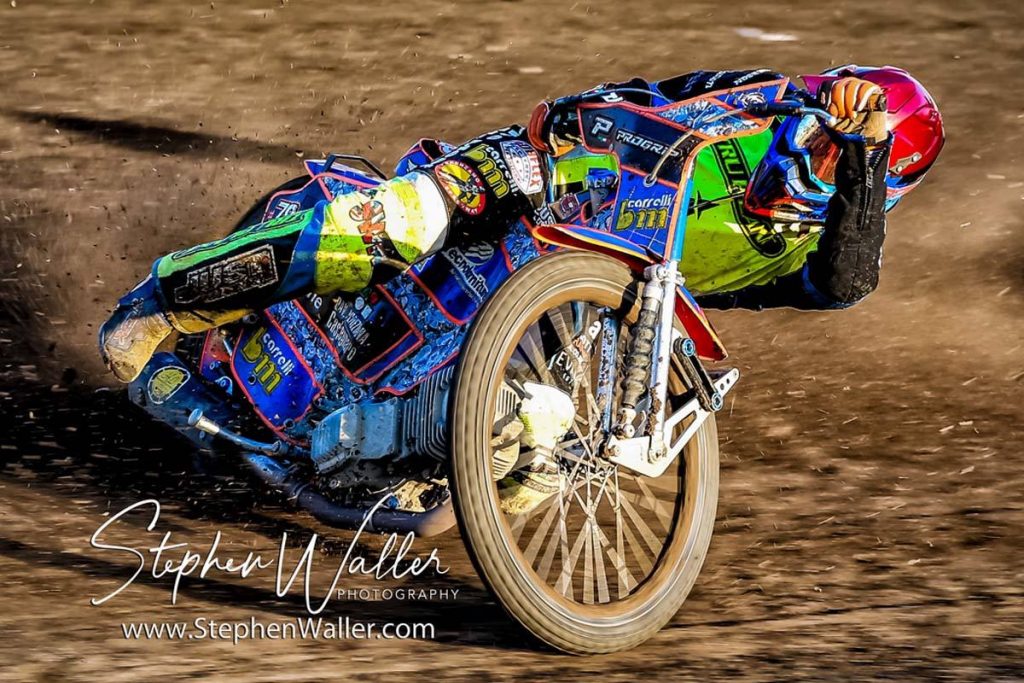 The scores
Peterborough 45: Michael Palm Toft 11, Tom Bacon 8+2, Scott Nicholls 7, Ben Barker (g) 6+1, Emil Grondal 5+1, Simon Lambert © 4+1, Bradley Wilson Dean 4.
Ipswich 45: Rory Schlein © 10, Nico Covatti 11+1, Adam Ellis (g) 9, Cameron Heeps 7+2, Mark Riss 6, Coty Garcia 2+1, David Wallinger 0.
Championship table
| | | |
| --- | --- | --- |
| Team | Meetings | Points |
| 1 Peterborough | 14 | 33 |
| 2 Lakeside | 14 | 32 |
| 3 Glasgow | 14 | 27 |
| 4 Ipswich | 13 | 23 |
| 5 Berwick | 14 | 22 |
| 6 Edinburgh | 11 | 20 |
| 7 Workington | 10 | 20 |
| 8 Scunthorpe | 15 | 20 |
| 9 Newcastle | 11 | 14 |
| 10 Sheffield | 13 | 13 |
| 11 Redcar | 15 | 10 |
The story
The 'Tru Plant' Witches produced an impressive performance to draw 45-45 at local rivals Peterborough in the Championship on Sunday.
The home side had won seven meetings on the trot in all competitions ahead of the fixture with the Witches and they started well to lead by six after two heats. The away side pegged them back by heat five and there was nothing to separate the two sides throughout as a couple of 4-2's for each side evened themselves out going into a last heat decider that ended in a 3-3. Nico Covatti top scored for the Witches with 11+1 as the visitors took two points back to Suffolk, a result that put them into the play-off positions.
Heat one was stopped as Rory Schlein was bundled into the air fence on the first turn. All four were called back as Simon Lambert won ahead of Cameron Heeps with Scott Nicholls third for a 4-2 to the hosts. They increased their lead in heat two as they eased to a 5-1 thanks to Tom Bacon and Emil Grondal. The Witches got going in heat three though as Covatti took the win with Mark Riss winning the battle for third for a 4-2 to the visitors. Witches guest Adam Ellis won heat four as the points were shared leaving the home team 14-10 up.
The Witches levelled the score in heat five thanks to a maximum from Schlein and Heeps. Ellis won again for the away side in heat six fending off Nicholls as the points were shared after David Wallinger had fallen and cleared the track. Covatti then made it two wins from two with a heat seven win but with both Panthers in the points it was a 3-3 to keep the scores level. Bacon won heat eight in another 3-3 to leave it all square at 24-24.
Michael Palm Toft won heat nine ahead of Ellis as Bradley Wilson-Dean picked up third to break the run of 3-3's and put the home side ahead by two. Riss won heat 10 for the Witches but they were denied a 5-1 as Nicholls passed Covatti on the final two turns to claim second but the scores were level again at 30-30. Peterborough guest Ben Barker won heat 11 just edging out Schlein but Heeps was third to ensure a share of the spoils. Covatti produced a fine win in heat 12 as he passed Wilson-Dean on the third bend of the final lap to take the chequered flag in a 3-3 that left it 36-36 with three to race.
The Witches then took the lead in heat 13 as Schlein beat Nicholls and Ellis picked up third for a 4-2. Palm Toft won heat 14 ahead of Riss and after Coty Garcia retired with engine failure it was all level again going into the final heat. Palm Toft won the final heat for the home side but Schlein and Covatti kept Nicholls at the back to make sure of the draw and two vital league points.
Rider of the Night
Covatti was back to his best after an off night at the small Lakeside track on Friday, reeling off three heat wins as he scored 11+1 for the Witches.
Key moment
With the scores level going into heat 15 and the big hitters out for both sides it could have gone either way. Palm Toft won to ensure the Panthers avoided home defeat whilst Schlein and Covatti made sure the Witches took two vital points from the meeting.
Next meeting
The Witches are next in action at Foxhall against Berwick on Thursday 9th August in the Championship. Kids go free to this meeting.