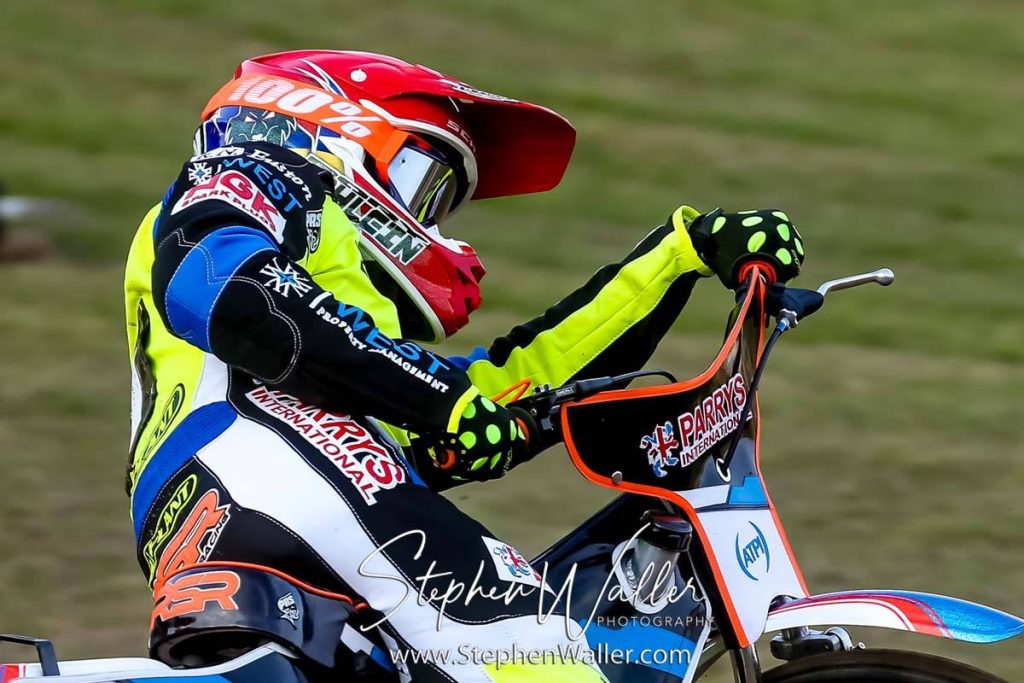 The scores
Peterborough 53: Michael Palm Toft 13, Scott Nicholls 11+2, Simon Lambert 9+1 ©, Bradley Wilson Dean 8+2, Tom Bacon 6+2, Ellis Perks 4+2, Ulrich Ostergaard 2 (Withdrawn).
Ipswich 37: Rory Schlein 15, Danny King 7 ©, Connor Mountain 5, Nico Covatti 4+1, Georgie Wood (g) 4+1, Cameron Heeps 1,  Danyon Hume 1.
Championship Shield table
| | | |
| --- | --- | --- |
| Team | Meetings | Points |
| 1 Lakeside | 4 | 10 |
| 2 Peterborough | 4 | 9 |
| 3 Ipswich | 4 | 0 |
The story
The 'Tru Plant' Witches ended their Championship Shield campaign with another defeat as they went down 53-37 to Peterborough on Sunday.
The home side went into the meeting knowing they needed to win to progress to the next round and they delivered after finishing the meeting strongly with three 5-1's in the last four heats. Rory Schlein top scored for the Witches with 15.
Scott Nicholls won heat one with partner Ellis Perks behind him in second until Schlein split the pair on the final bend as he took second. Connor Mountain won heat two as Simon Lambert pushed his teammate Tom Bacon wide on the opening lap to take second leaving Danyon Hume to take third for a Witches 4-2. The Panthers hit a 5-1 in heat three as Michael Palm Toft and Bradley Wilson-Dean crusied to a maximum. Danny King won heat four ahead of Ulrich Ostergaard and Bacon passed Hume to take third for a 3-3 leaving the home side 14-10 up.
Schlein won heat five with Cameron Heeps second but both Palm-Toft and Wilson-Dean passed Heeps to make it a shared heat. King won a shared heat six as he held off pressure from Nicholls. Ostergaard suffered a nasty fall in heat seven as there was a lengthy delay before he left the track in an ambulance and withdrew from the meeting. Lambert won the re-run to prevent the Witches from capitalising. Bacon and Perks hit a 5-1 in heat eight to put the home side 28-20 up.
Schlein came in as a tactical substitute in heat nine and Palm-Toft went through the tapes and was excluded with Lambert coming in to replace the Dane. Schlein won the re-run as the home pairing of Wilson-Dean and Lambert kept King at the back before the Witches skipper swooped round on the final bend to take third for a 4-2. Nicholls won heat 10 ahead of Covatti and Georgie Wood as the away side kept within striking distance. Schlein was in fine form and passed both Panthers to win heat 11 as Heeps passed Lambert late on in the race for third for a 4-2 to close the gap to just four points. Wilson-Dean won heat 12 and there was a terrific battle for second between Bacon and Mountain as the pair traded moves but the home rider came through for a 5-1 to put the Panthers 40-32 up.
Schlein was the early leader in heat 13 but was passed by both Palm-Toft and Nicholls as the hosts secured another 5-1 to give them the win. Hume crashed out of heat 14 and was excluded from the re-run. Palm-Toft and Lambert inflicted further damage with another 5-1 in the re-run. Schlein won the final heat in a 3-3 as Peterborough took a 53-37 win.
Rider of the Night
As has been the case many times this season it was Schlein who impressed the most as he kept the Witches in the meeting scoring 15.
Key moment
It was the heat 13 5-1 that sealed the win for the home side as Palm-Toft and Nicholls both passed Schlein, a 3-3 for the away side could have kept them in with a shout of picking up some Championship Shield points.
Next meeting
The 'Tru Plant' Witches are back in action on Thursday 21st June as they host the Edinburgh Monarchs at Foxhall in the Championship.