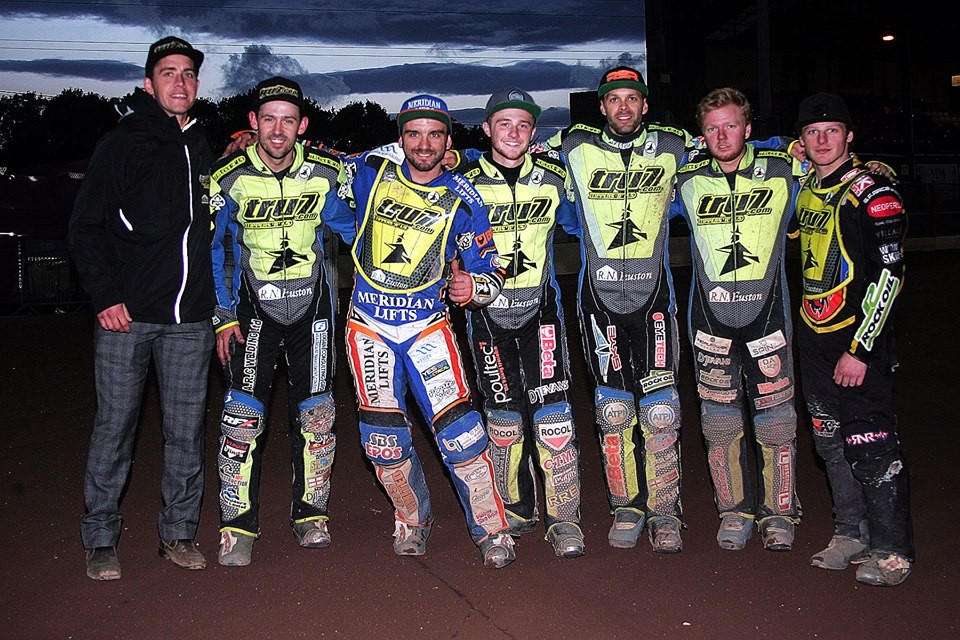 The 'Tru7.com' Witches stormed to a fantastic 51-39 victory at Workington on Saturday night in the Championship.
The Witches edged ahead early on and were eight points up after five heats. The home side rallied briefly in the middle of the meeting to cut that lead to just two points but the Suffolk outfit responded in style in the final five heats, hitting three 5-1's to secure four league points. Rory Schlein top scored with 12+1.
Danny King won heat one after a quick start as the points were shared in the opening four laps of the evening. Nathan Greaves continued his good form with a win in heat two but James Sarjeant passed Connor Mountain at the end of the first lap to split the away pair meaning a 4-2 to the Witches to edge them ahead. Ty Proctor won heat three ahead of Greaves as Cameron Heeps got himself into third by the end of the first lap to ensure a 3-3. Schlein won heat four with Mountain picking up third for another 4-2 to make it 14-10 to the away side.
King and Kyle Newman then extended that lead with the first 5-1 of the night in heat five. Home guest Josh Grajczonek won heat six ahead of Schlein with Mason Campton in third for the first home heat advantage of the meeting. Thomas Jorgensen won heat seven but partner Sarjeant fell on the opening lap leaving the Witches pair to fill the minor placings. Campton rode a good race in heat eight to take the win but Newman and Greaves were both in the points again meaning the visitors still led, 27-21.
Schlein won a shared heat nine before the home side kicked into life in heat 10 hitting a 5-1 to put the pressure on the Witches going into the interval. However, it was short lived as Newman and King instantly responded in heat 11 with a 5-1 of their own. Proctor won heat 12 but the points were shared as the Witches closed in on the win with a 39-33 lead.
The win was sealed in heat 13 as King won and Schlein went past Jorgensen at the start of the second lap to join him at the front for a 5-1. Things got even better for the Witches as Mountain then won heat 14 with Heeps second for another maximum to put gloss on the score line. Grajczonek won the final heat of the night as Schlein worked his way into second with the Comets ending the night on a 4-2 but it was Ipswich who took four big league points after a 51-39 win.
Image: Dave Payne
Workington 'Thomas Armstrong' Comets 39
Josh Grajczonek (g) 11
Mason Campton (c) 7+2
Ty Proctor 10
Matt Williamson 2+1
Thomas Jorgensen 7
James Sarjeant 2
Paul Bowen (g) 0
Ipswich 'Tru7.com' Witches 51
Danny King (c) 11+1 (Paid Maximum)
Kyle Newman 8+2
Cameron Heeps 8+2
Rory Schlein 12+1
Nathan Greaves 7+2
Connor Mountain 5 
Championship Table
| | | |
| --- | --- | --- |
| Team | Pl | Pts |
| Sheffield | 26 | 64 |
| Witches | 29 | 63 |
| Glasgow | 24 | 56 |
| Edinburgh | 26 | 54 |
| Redcar | 28 | 49 |
| Peterborough | 25 | 37 |
| Workington | 21 | 31 |
| Newcastle | 24 | 31 |
| Scunthorpe | 27 | 25 |
| Berwick | 30 | 17 |
Next Meeting: C2 24th August vs Peterborough (home)