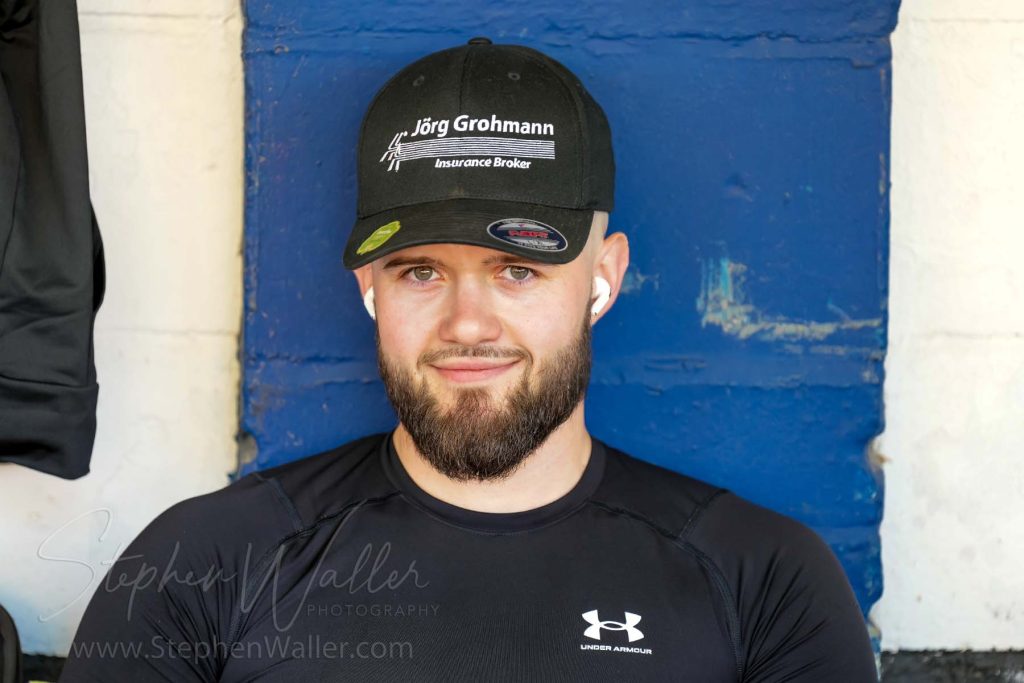 By Mike Bacon
Erik Riss is hoping to help fire the Ipswich 'Tru Mix' Witches back into the play-off picture with his worrying illness now behind him.
Riss, 27, was diagnosed with intracranial hypertension, a build-up of pressure around the brain, after just a few weeks of the new season. It was a worrying time for the amiable German who has had to endure three lumbar punctures and much medication to alleviate the problem.
Now, and with the Witches standing by him throughout his lay-off, he says he's feeling good and wants to repay the club's faith in him, as he and the Witches go head-to-head with Wolverhampton Wolves at Foxhall Stadium on Thursday night (7.30pm), in a crucial Sports Insure Premiership clash.
"I'm feeling back to normal now, probably two weeks ago I was like, 'okay, I'm feeling normal again,'" he said.
"It's been a long process. It wasn't a quick improvement, but I'm pleased to say the symptoms have gone and the improvement has happened."
A diagnosis of such must have been a worry for Riss. How did he cope with it?
"Yes, at the start when they first diagnosed it, I'll admit it was quite a worrying thing to hear. So, I was a bit concerned.
"But when they did some more investigation, it turned out it was nothing too serious to worry about because although this condition can point to something more serious, it wasn't the case for me. So, I was never afraid or scared of what I had.
"All I was worried about was when will I get better?"
Throughout his time away from the track, Riss was in constant dialogue with the Ipswich
Witches management.
"I really appreciate Ipswich waited it out for me to get better," he said.
"For them it was sort of the same thing as me, they didn't really know when I was going to get better. I couldn't give them a clear answer. The fact Ipswich waited is nice for me and makes me feel they really want me in the team.
"The worst thing as a speedway rider is having to watch others ride. When you have an injury like a break, like I did with my leg last season, there is no doubt you can't ride.
"But when you had the condition I had, you sit at home thinking, maybe I could ride, maybe it would work. But every time I did a bit of exercise, I felt dizzy and knew it wasn't right."
So, feeling better and raring to go, Riss says his season starts now and helping Ipswich into the play-offs is a No.1 target.
"There is still plenty left of the season," he said.
"I still feel I'm at the start of the season though. Before I was out, I'd only done three meetings. I'm still catching up on engine set-ups. But, yes, the goal is the play-offs for me and the team. And we can do it."
There is little doubt Wolverhampton will provide a big test at Foxhall on Thursday, as they include Foxhall specialists, Aussies Sam Masters and Rory Schlein.
"It will be a tough meeting, we know that," Riss said.
"They are strong at our track and a strong team in general. So, we must be on our A game.
"But the good thing about speedway is it's about on the day. Even if you think you are stronger than the opposition there is a lot more to it than that. Bike set-ups, getting out of the starts. There is no reason we can't win."
IPSWICH WITCHES v WOLVERHAMPTON WOLVES, Thursday, July 6, Foxhall Stadium, 7.30pm