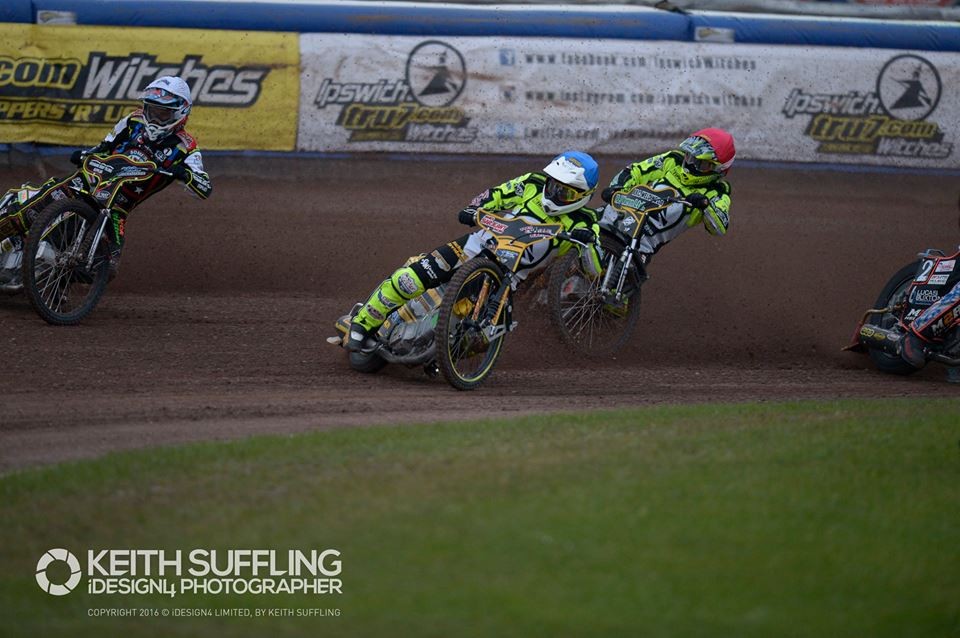 The 'Tru7.com' Witches are back at Foxhall Stadium on Thursday as they welcome the Rye House Rockets in the Premier League (7.30pm).
It's been nearly a month since the Witches have been on home shale after a frustrating rain off against Newcastle and numerous lengthy journeys around the country. During that space of time the Witches picked up their first away victory of the season at Plymouth but they come into Thursday's meeting off the back of a disappointing defeat at Scunthorpe.
New reserve Joe Jacobs will make his home debut for the club after a good display at Scunthorpe on Sunday as the Witches look to put Sunday behind them as they start a run of regular fixtures over the summer at Foxhall. However, the Witches will be without Ollie Greenwood who has decided to take time out of the sport. His replacement will be announced soon.
The Rockets occupy the last play-off spot in the table making a Witches win even more important as not to lose more ground. In Edward Kennett they have a man who has not been beaten by a Witches rider in two meetings this season and we also welcome back former Witches riders Cameron Heeps and Leigh Lanham.
The Rockets have already been at Foxhall once this season in the Knockout Cup as they suffered a 46-44 defeat.
Team Manager Ritchie Hawkins is looking forward to a run of meetings at Foxhall after some time away.
"We have got a string of home matches coming up now, one a week, and we need to win all of them," said Hawkins. "It will be good to be racing back at Ipswich as the meetings have been so few and far between it doesn't feel like your home track really. We've not been there enough."
The boss knows the Rockets will provide another tough test with some track specialists in the side.
"Every meeting is tough and Rye House have got people who go well at Ipswich. Eddie goes really well round Ipswich and obviously Cameron and Leigh are in the team so it's going to be tough but every meeting is tough in the Premier League nowadays."
Meeting Sponsor: Sackers Recycling
Ipswich 'Tru7.com' Witches:
1. Danny King (c) 8.82
2. James Sarjeant 4.79
3. Nico Covatti 7.83
4. Morten Risager 6.83
5. Ben Barker 7.16
6. Joe Jacobs 4.07
7. Danyon Hume 3.00

Team Manager: Ritchie Hawkins
Rye House 'BMR' Rockets:
1. Edward Kennett (c) 10.28
2. Kasper Lykke 5.10
3. Cameron Heeps 6.52
4. Leigh Lanham 5.57
5. Stuart Robson 6.55
6. Robert Branford (g)
7. Ben Morley 4.24

Team Manager: Peter Schroeck
Premier League table
| | | |
| --- | --- | --- |
| Team |   Pl     | Pts   |
| Glasgow | 12 | 25 |
| Berwick | 14 | 24 |
| Sheffield | 11 | 24 |
| Peterborough | 10 | 23 |
| Somerset | 7 | 22 |
| Rye House | 9 | 17 |
| Newcastle | 8 | 15 |
| Workington | 9 | 14 |
| Edinburgh | 10 | 14 |
| Plymouth | 12 | 13 |
| Witches | 11 | 9 |
| Redcar | 10 | 6 |
| Scunthorpe | 8 | 6 |
Last five home results v Rockets:
12.05.16 W46-44
09.07.15 W58-35
23.04.15 W55-38
07.08.14 W55-40
26.06.14 W52-38

Rockets' last five:
PL Rockets 35-25 Plymouth
PL Somerset 55-38 Rockets
PL Rockets 48-42 Newcastle
PL Rockets 45-45 Berwick
PL Rockets 55-37 Redcar