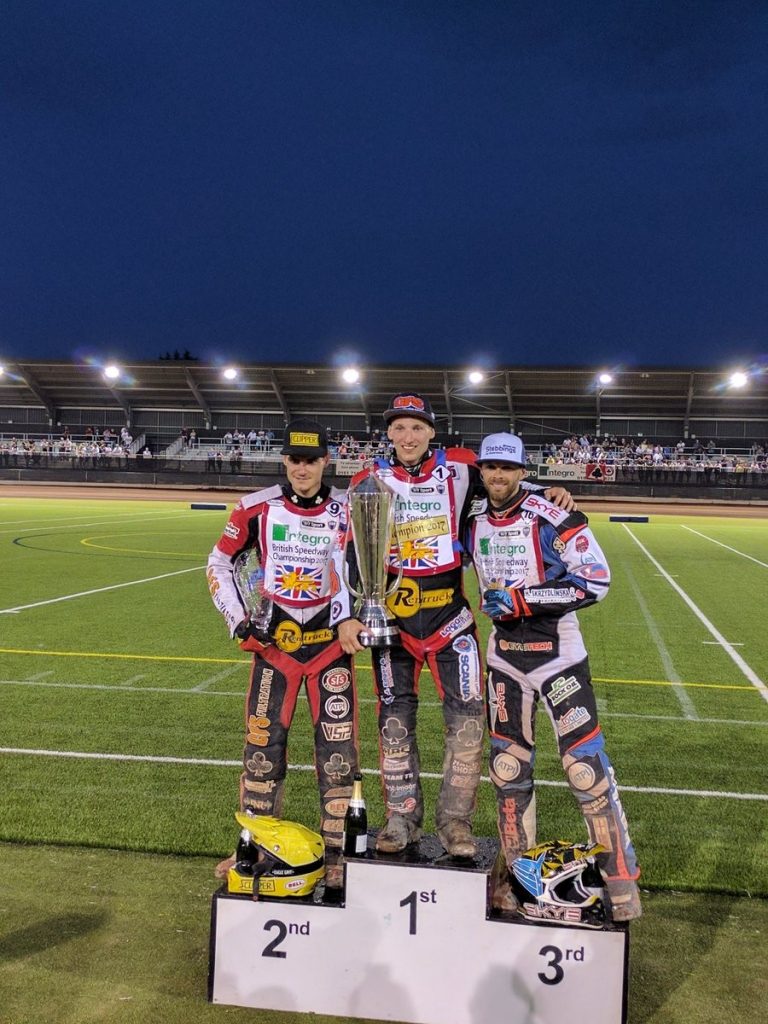 'Tru7.com' Witches rider Rory Schlein finished third in Monday's British Championship Final at Belle Vue as 2016 winner Danny King exited at the semi-final stage with Craig Cook crowned the new champion.
Both Witches men qualified for the semi-final on 10 points but it was Schlein who made it through to the final after picking up second as King's night ended after finishing at the back. Cook passed Steve Worrall to take the title as Schlein secured a podium spot by holding off Ben Barker in the final.
King was out in the first heat of the night and put big pressure on Barker but couldn't find a way to the front and was forced to settle for second. Things started badly for Schlein as he failed to score in his opening ride.
King struggled in his second ride and couldn't get amongst the points as Cook and Richard Lawson battled for first with the Belle Vue man coming out on top. Schlein got his night going in heat eight as he beat Chris Harris to pick up three points.
Schlein was back out in heat nine and eased to victory over Kyle Howarth to pick up consecutive heat wins. King got his first heat win of the night in heat 10 as he came out of a tight first corner to swoop round Scott Nicholls on the back straight and put himself back in contention on the night.
King followed in Schlein's footsteps by then recording consecutive heat wins as he beat Richie Worrall and Harris from the gate in heat 14 to put him on eight points overall. Schlein was on form and made it three straight wins in heat 15 as Barker and Lawson traded places behind him for second spot.
The Witches duo were up against each other in heat 18 with both needing points to progress further on the night. Steve Worrall won the heat as King held onto second and Schlein had to work hard to pass Lewis Kerr for a point as they entered the final lap. Both Witches riders progressed to the semi-final on 10 points.
Barker won the semi-final leaving Schlein, King and Nicholls to battle it out for second spot. King took up second place heading into the third turn of the first lap but Nicholls came through into second as they entered the second lap. Schlein had other ideas and threw himself into second as they entered the first turn of the second lap and the Australian held on to progress to the final as King finished fourth and was eliminated.
Steve Worrall made the gate in the final but Cook passed him on the first turn of the second lap to take the win as Schlein and Barker battled for third with Barker going around the fence and Schlein holding the inside to secure a spot on the podium.
Words: Henry Chard
Qualifying Scores:
1st Craig Cook 14
2nd Steve Worrall 11
3rd Ben Barker 11
4th Rory Schlein 10
5th Danny King 10
6th Scott Nicholls 10
7th Richie Worrall 9
8th Chris Harris 9
9th Richard Lawson 9
10th Paul Starke 6
11th Lewis Kerr 5
12th Lewis Rose 5
13th Kyle Howarth 4
14th Stuart Robson 4
15th Jason Garrity 3
16th Carl Wilkinson 0
Semi-final:
Barker, Schlein, Nicholls, King
Final:
Cook, S.Worrall, Schlein, Barker