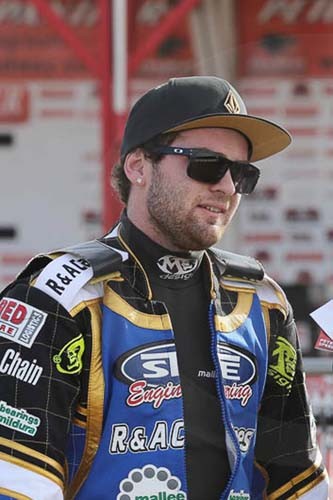 New 'Tru7.com' Witches signing Justin Sedgmen is delighted to be linking up with Ipswich having had his move approved by the BSPA.
Sedgmen comes in to replace the injured Nico Covatti and says a move to the Championship was always the plan after signing for Belle Vue.
"Dealing with visas is something I'm getting pretty good at these days" said Sedgmen. "I signed for Belle Vue and that allowed me to race in England this year with the visa situation. It's a move I was planning to do in the season, to ride in the Championship as well and do the extra meetings and improve myself."
The 25-year-old says a move to Ipswich is an attractive one having always picked out a trip to Foxhall as one to look forward to.
"Luckily for me I got the call up from such a good team like Ipswich. It's not nice that Nico has got injured but someone's bad luck is someone else's good luck. I'm pretty stoked to be coming to Ipswich.
"When you look at the calendar and when I was riding at Edinburgh, you were always looking forward to it at Ipswich. They've put a great team together already and hopefully I can come here and do the business and win the guys some trophies."
The new signing is hoping that the top end of the side can lead the way to success this season allowing the reserves to enjoy their riding.
"Hopefully by bringing myself in we are still one of the favourites! With Danny (King) and Rory (Schlein) leading the way and myself, Kyle (Newman) and Cameron (Heeps) in the main body, it makes a strong top five.
"I don't know too much about the reserves and they've got problems there with injury at the moment. It all looks good and in the past when I rode for Edinburgh and won two titles on the bounce, we always had a strong top four or five and they took the pressure off the reserves. They could just go out and enjoy themselves and ride their bikes. We will do that and get them going."
Sedgmen says he hopes that riding more often will improve his scores in the Premiership whilst racking up points for the Witches.
"My form has been steady and I had a good Australian summer coming second in the Australian Championship. It's been slow at Belle Vue, it's one of those things where other guys are riding more consistently and doing a bit better. I've done pretty well so far but I'm not where I want to be just yet. Hopefully coming to Ipswich I can do a good job for them and improve my scores for Belle Vue."
The Australian makes his debut on Thursday at Foxhall against Glasgow and says it will be a tough meeting.
"Glasgow are a strong team and hopefully we can get the ball rolling. It will probably take me a couple of races to get to grips with the track which is one of those things. I've got to listen to what the guys have been doing out there already this year and go from there. It's a tough match but at the end of the day it's just another meeting. Glasgow want all the points and so do we, so it will be a good one and I think we'll be there at the end when it counts."
Words: Henry Chard
Sedgmen Factfile
Date of Birth: 17 February 1992, Mildura, Australia
British career
2009 Somerset
2010 Birmingham, Swindon
2011 Swindon, Newport, Plymouth
2012 Lakeside, Redcar
2014-15 Edinburgh
2016 Swindon
2017 Belle Vue, Ipswich
Honours:
South Australian State U16 Champion: 2008
Victoria State Champion: 2012
2017 Aces form
Meetings: 6
Rides: 25
1st: 6
2nd: 6
3rd: 9
4th: 4
Points: 39
BP: 5