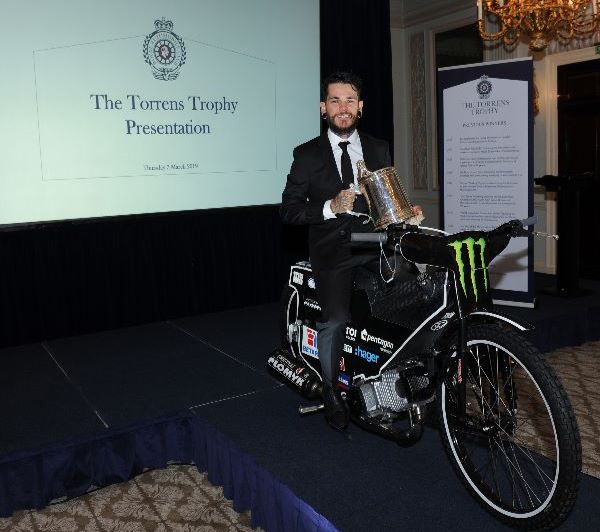 By Henry Chard
Three-times world champion Tai Woffinden spoke to the official website about his beginnings in the sport and what advice he would give to youngsters starting out today…
Like many speedway riders, Tai started out riding motocross bikes before making the switch as he grew up in Perth, Western Australia having moved from the UK at an early age. Highly talented in both sports, financial constrains meant that Tai had to choose between the two and he explained how he came to the decision to move back to England and try and make a living out of speedway.
"I was first riding motocross as a kid, so we were riding at my dad's friend's house as he had a garden and we were doing a bit of practice there on the Saturday," said Woffinden. "On the Saturday night when we were prepping the bikes for the Sunday there was a speedway bike tucked away in the corner and I fancied a crack at that.
"I was 12 at the time and dad said I needed to sell my motocross bike so that I could buy a speedway bike as I couldn't afford both. I made that decision and we bought the bike and about a week after having the bike they put me in an Australia Under-16 Championship as there was a rider missing from the east coast and it was in Western Australia. That was my foot in the door, they said if you can do a start we will put you in the meeting. So, I did a start from the tapes and they put me in.
"I kept riding over the years until I was 15 and won the Western Australia Under-16 Championship, that year is the year I guess I would have won the Under-16 Australian Championship but it was a decision to go to Europe or do the Aussie Under-16's as we didn't have the money to do both, so I made the decision that I wanted to go to England and then it became a profession."
Pathways into speedway can often start from a family link to the sport but in Tai's case although his father Rob used to ride, Tai was unaware of the family ties to the shale until he had started riding back in the UK. Moving back to his birth country would ultimately prove to be the right decision but it was not a move that was taken lightly with his father Rob unsure if his son could turn potential into making a living.
"To start with it was more just a thing to do at the weekends. I would go to school during the week and ride my dirt bikes at the weekend. That's how it started and then it became the family thing, it was cool hanging out with mum and dad and going to the races at the weekend and I enjoyed the whole vibe. Then I just got better and better and all of a sudden it was like 'you can do this as a job, but you've got to go to Europe.'
"My dad's friends that were ex riders living in Western Australia were telling him 'you have got to take him out and give him a shot,' but dad didn't know if I would be any good. My mum and dad didn't expect anything from me, the first year I came over my dad said in the media to somebody that he would be happy if I came away from every meeting having scored three points. That was the target dad set me as he genuinely didn't know how I would do.
"He raced as a kid which I didn't know about until I came to England, it was never spoken about in the house when I was growing up. Even when I started racing, I still didn't know. Then I came to England and people were saying I raced like my dad used to when I started at Scunthorpe. I was like: 'what do you mean?' Then they told me I looked like my dad on the bike and I was like: 'explain, what are you talking about?' Then they explained my dad used to race.
"I literally stumbled across it, I don't know if anyone believes in fate or things like that, but I was focused on racing motocross and then I saw this bike tucked away in the corner and thought I want to have a go on that. Dad said you can't do that and motocross, we are not loaded, you need to make a decision. I made that decision and the rest is history."
Things were going well for Tai having made the move back home as he racked up the honours, becoming British Under-18 champion and then British Under-21 champion. Tai had already impressed many in the speedway world and was awarded a wildcard spot in the 2010 Grand Prix series, the highest stage of them all. Everything was going to plan until personal loss would hit Tai hard. He lost his father to cancer early in 2010 and looking back Tai admitted that he nearly stopped racing after an unenjoyable year. However, Tai had started working with a psychologist and told the story of how he came back from those dark days to return to the Grand Prix in 2013.
"After my dad passed away in 2010, I raced in the world championship in 2010 without my dad and I didn't enjoy it. I wasn't ready mentally, physically and mechanically. That was a really tough year for me and I went back to Australia completely off the rails and partied for three months.
"In 2010 I started working with a sports psychologist and basically it was my decision to come back to UK in 2011 to see if I enjoy racing, have a clean slate and start again. Dad wasn't going to be there anymore and there were all these things I had to factor in and I decided to come back. 2011 and 2012 were building years to make sure my equipment was 100% and my engines were 100%. I wanted to learn about my fitness and my food. Things were progressing very rapidly towards getting my wildcard in 2013.
"When I got my wildcard in 2013, I don't want to name names, but I didn't want to be another British rider that constantly got given the opportunity to race in world championships. I thought this is my second chance and, in my eyes, you only get two chances, your warning and last chance. 2010 was my warning and 2013 was my second chance. I had to qualify in the top eight to earn myself that position otherwise I would become one of those riders who were given the opportunity every time."
Tai certainly took his second chance, winning the world championship in 2013 having started the year as a 500-1 outsider. He has since gone on to win two more world championships and has arguably made himself the most marketable man the sport has seen for many years. As a youngster starting off in the sport, funding your passion or career can be difficult with sponsors playing a huge role in the sport, even at the highest level. Tai explained about how being proactive with the business side of things can be a major benefit to your career in the sport.
"I do everything myself still, I have made myself a businessman essentially. I have studied, watched YouTube videos, read articles and I have learnt how to run my business as efficiently as I can. A lot of it is networking. You never know who you are in a room with, networking is so key in the progression of it all. For instance, there is a guy here at this awards ceremony today and he has been working with me. I met him at an event that was a speedway event, but I didn't really have any reason to be there. I went there met him and that's been a relationship that has become fruitful over the last four years.
"The Monster Energy deal, I made that happen in 2013, if I didn't make that happen, the sponsorship wouldn't be there. It was one e-mail sent and it's about being on it all the time. I take that into my daily life and that is the same with my food, my training and all that sort of thing. I think if you have that business head on and you put it into your everyday life, it becomes natural and you live and breathe that."
At the age of 28, on an individual level Tai has won it all and is on course to become one of the most successful riders of all time. So, what advice would he give to youngsters starting off in the sport today who want to emulate his success?
"When you start racing you need to go around every track in the country, especially in the UK, do whatever you can to get to all the tracks and learn your craft. Once you have learnt your craft on all of those hard, wet, different conditions then you can go anywhere in the world and race your bike.
"Mastering your craft young and putting everything into it when you are that age, really tweaking everything and being as on it as you can, learning and asking questions, talking to the older riders and understanding it all, all of that is key. The more you can learn and understand at a young age, the better off you will be as you move forward."