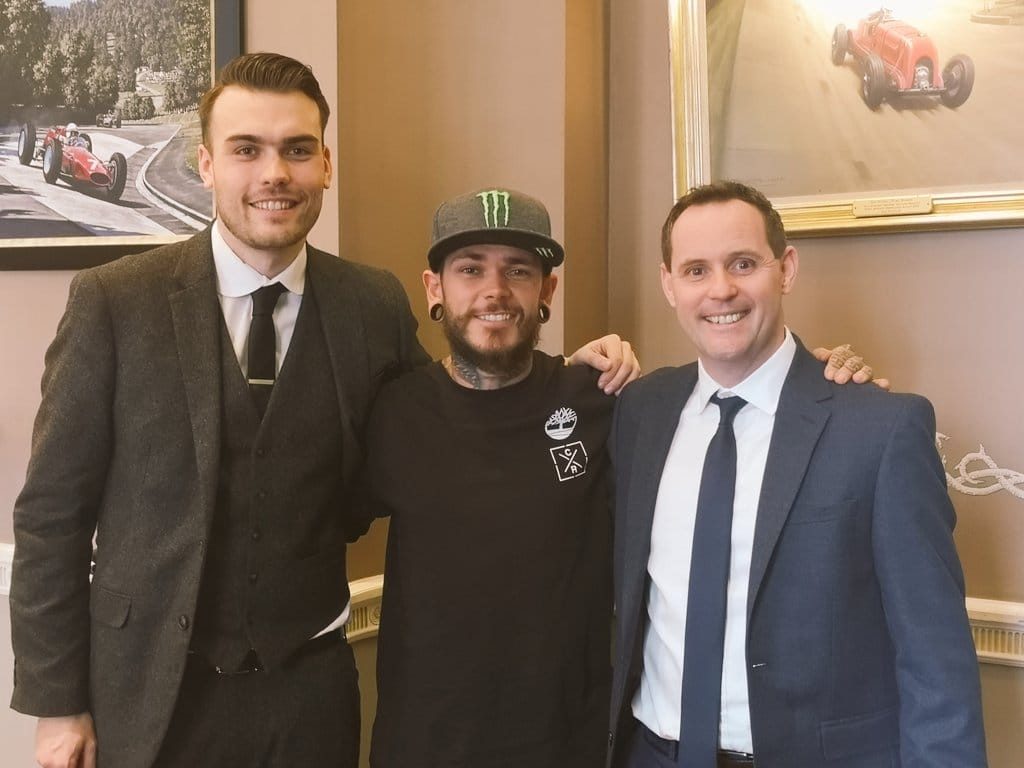 By Henry Chard
Three-times world champion Tai Woffinden spoke to the official website about the fitness levels required in speedway at the top level.
For many onlookers, fitness in speedway can be overlooked. It's an easy conclusion to come to that the powerful machine underneath the rider does all the work and the rider's fitness levels are often an afterthought. However, like in many sports, fitness and nutrition is a hugely important aspect of being an athlete at the very top of the game. Tai gives us an insight into the kind of training he does off the track and explains why he is so strict with his food.
"I am just looking on my Strava (fitness app) and my last ride before I left Australia was 160km, five hours, 4000 calories burned so that is the kind of stuff I do," said Woffinden. "The day before that was 82km, 1500m swim, 1500m beach run.
"When you are fit in your body, you are fit in your mind. Just being fit in general, it's not even about speedway, it's about life. When you buy fish in the supermarket, every bit of fish is poisoned by plastic, you will never get away from that, but you can filter the food you put into your body. When I buy water, I look at the bicarbonates to see what mineral content is in it, I want water that has more minerals in to help the body.
"There is an abbreviation I use that is called JERF, I use it all the time to remind myself, Just Eat Real Food. I try to limit myself to two coffees a day and then JERF is about eating a lot of plant-based stuff, I always go for grass-fed meat, grass-fed butter. It's not a diet, it's a lifestyle. If you look at it as a diet it becomes a burden, it's about being balanced.
"The food I normally eat, I am a mile off today because I am away. I am really good with my food when I am at home and on the road. When I am at an event like this (Torrens Trophy Presentaion) I let my hair down a bit, for example I just had a sugar in my coffee. I don't have sugar because it is not natural, if you want a natural sweetener then you are talking about a syrup, that is getting really technical, but it is part of being an athlete. If you put the right fuel in, then you get will the results. You want your brain to be switched on all the time, you need to give it the fuel."
Like fitness and nutrition can be overlooked, so can fatigue. On the face of it, technically riders are only on the bike for five to seven minutes every meeting. However, the physical demands of controlling such a powerful machine on varying conditions every other day all over Europe can be taken for granted. Tai's planning is vital to keeping fresh for the long, arduous season and he explained why he opts for a more manageable race calendar.
"When I was younger I might have felt aching muscles as I was holding on so tight but now I have become at one with the bike so it is not that demanding on the body because me and the bike have become one and I know what the bike is going to do the majority of the time, not all the time as they can be unpredictable at times!
"It is everything, the whole package, eating the right food, getting the right sleep then you should not feel fatigued. It's the JERF thing and it rolls in together. After you race you want to eat the right thing so that you are fresh for the next day, so I don't really struggle with fatigue. I have a reduced calendar and I pick my races I want to do. If there is an individual event I will look at my calendar and if there is a two-day break before and a two-day break after, then I will do that. If it is an individual on a Saturday and then I am riding in Poland on the Sunday and then flying to Sweden on Monday and riding in Sweden on Tuesday, then I won't do that individual no matter how much money they offered me. I would perform less better in Poland and in Sweden because of fatigue so it is all about planning and preparation."
Injuries are part and parcel of speedway and Tai like all riders has had to ride through the pain barrier on several occasions in his career. Tai broke a collarbone on the way to world championship glory in 2013 and broke a bone in his foot on the way to winning the title in 2018. It is the speedway rider's mentality to find a way to carry on despite the immense pain. If they are not riding they are missing that adrenaline rush they live off and they are not earning money. With that, there is not much thought for the long-term future, but Tai says that living in the present is the only way to be as a speedway rider.
"Basically, as a rule of thumb if a doctor says six weeks, then you are good in three, so you can probably do two and half. Speedway is only a short career, you ride with injuries because you might only have a ten-year window to do what you do. You deal with the consequences later in life. You need to live in the present moment, if you are thinking about the future then you are going to be a bad speedway rider. If you are thinking about wanting to run a half marathon when you are 60 and not have any problems with your knees, then you are not going to be focused on your speedway."
Maintaining such a strict fitness and diet regime like Tai can be difficult for some in a sport where you spend so much time on flights or in vans all over Europe, but his preparation is meticulous. More of an issue for Tai is the time he spends away from his wife Faye and child Rylee Cru and he told us about how balances his work and family life.
"The hardest part for me is being away from the girls, some days I am only home for two days a week and I hate that. On the flip side, I know that if I work hard during the season then there is four-month period where I am with them every day, there is a happy medium.
"If I am away for two weeks, then I will fly out for a couple of days and the girls will fly in for five days and then they will leave. If there is a two-week period where we won't see each other then I will fly the girls out in the middle of that to break it up. It's just about balance between work and family life."