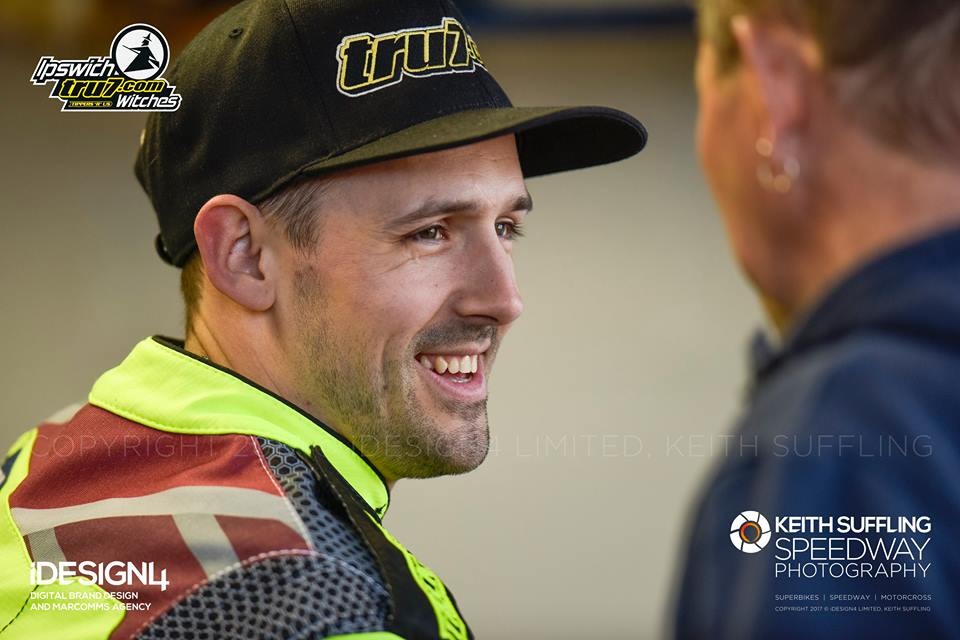 The season has been full of bad luck so far, especially on the road! We seem to be holding our own at home but it's one thing after another at the moment but our luck has got to change soon. The Championship is always tough and they are all tough meetings. It is a level playing field this season and you are seeing a lot of funny results, teams losing at home and then winning away but it just goes to show how competitive it is.
The spirit is really good in the team considering everything that has gone on. It's nice to have Kyle (Newman) back and it's a shame we won't see the team we started with on the track at the same time now that Nico (Covatti) is injured. It is what it is and we need to get on with it.
I think it is important to get the right characters and we are lucky that we have a team of good guys and riders. I'm sure there are some scenarios where you get a good rider who is not a team man and that is not good for morale. We have got a good team and the spirit has been brilliant and it's nice to welcome Kyle back and I'm sure he is looking forward to it too.
I'm feeling good now but the past couple of weeks have been hard. After the crash at Sheffield, I was riding every day and didn't have any time to rest up. I have a couple of days off now before Thursday's meeting against Berwick so I can rest up a little. I've had a lot of clutch issues but we seem to have sorted that, so it's onwards and upwards now.
Coming back from injury is never easy but it depends on the injury. In Nico's case, it's tough because it is a long road back. It's not a case of just being out for two weeks and then you're back. It's a waiting game and we don't know if it is going to be eight weeks or 12 weeks. It's a nasty accident he has had and from what I am hearing the operation has gone well so hopefully as soon as he is out of hospital he can get on the mend. I'm sure he will go and see his own doctor in Italy and get a second opinion and get a target in his head.
There is no secret to my form at Foxhall and I don't feel invincible that's for sure! I love the track, it's my home track and I want to go out there and win every race, like I do anywhere I go. I know the lines and I know where to go. I have been gating well since we sorted out the clutch issues and that makes a big difference.
I really like the new track and it certainly gives you more options. Luckily for me I haven't had to utilise the extra space yet. I have had to make a couple of passes and when I have it has been good and there certainly is more room coming into the corner and there will be a lot more passing at that point of the track.
The support has been brilliant and the following has been unbelievable this season. Especially considering how cold it has been this season, they have come out in force every week and it is great to see.
It's been good to get a place with Leicester in the Premiership but the first few meetings I have done with them were when I was having clutch issues. Since then I have done a few meetings with them but not many and it will be nice to get a few more under my belt and get going! I have had one home meeting with them since they made track changes and I struggled a little bit working out where to ride and the set-up but I'm going to go and do some practice before the next home meeting and try and dial that in.
I'm at Esbjerg in the Grand Prix Qualifiers on May 6 and it's a track I have been to before. It's a typical Danish track, normally pretty slick and I'm confident going there and the goal is just to get through to the semi.
It's the first British semi-final on Sunday at Newcastle with the inclusion of Rory (Schlein). Rory has been riding on a British licence for some time now and if he is eligible it is simple really. He is going to get some stick for not being British but it does not bother me. I have got to go out and do my best and try and win and that is all I care about. It is a tough track and you need to be gating that is for sure as there is not much room for passing. I'm pleased we have been there this week and had a meeting there and it was nice to get that out the way and learn the track again ahead of the semi-final.
All the best,
Danny