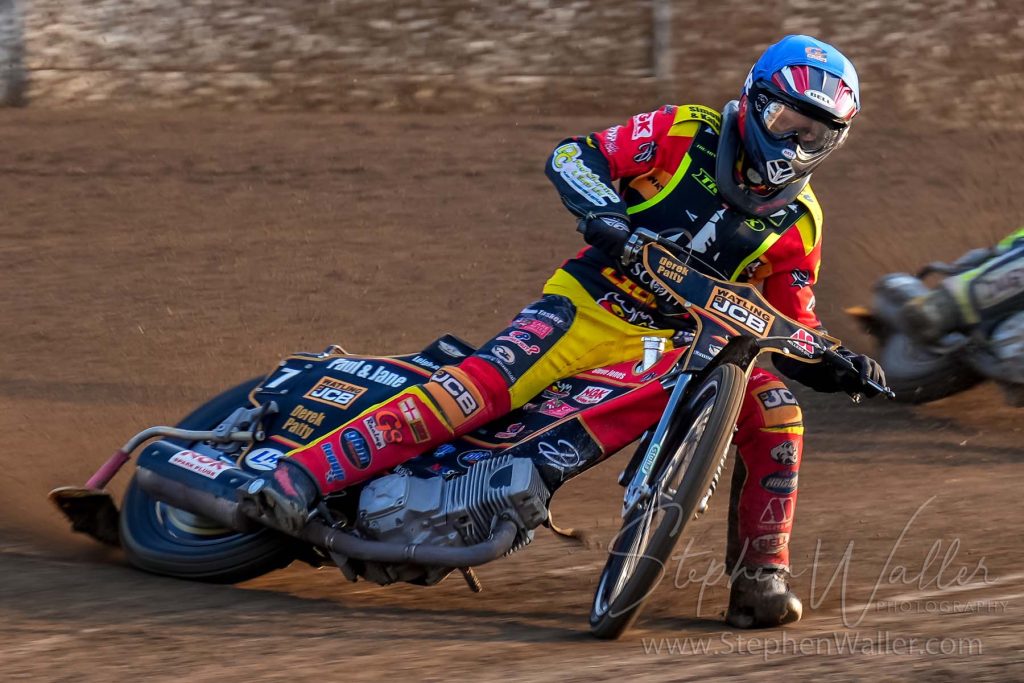 By Mike Bacon
Ipswich 'Tru Mix' Witches Rising Star, Dan Thompson has said he knew joining Ipswich would be a challenge – but one he hasn't regretted taking on.
Thompson, 19, produced his best performance in a Witches race jacket on Monday night, as the Suffolk side kept their slim play-off hopes alive with a big victory at in-form Leicester Lions.
Now he, and the Witches, are looking to kick on in pursuit of that top-four place, with two more away-day Sports Insure Premiership clashes at King's Lynn on Thursday night, and Peterborough next Monday. And Thompson is gunning for more points.
"I've been riding a lot lately and good results have been coming my way," he said.
"To be honest, I've changed engine and that's been good for me, but I've also been riding so much more regularly, and riding tracks I would only perhaps visit once a season.
"Being in the pits at Ipswich with the likes of Jason (Doyle), Emil (Sayfutdinov) and Danny (King), I'm being exposed to so much knowledge and experience, it's helped me massively.
"They come over and give me advice. At Leicester on Monday, I spoke to Emil before my last ride about whether I should make a small change. They are always there for you. It's amazing to have people like that next to you."
Thompson has hit a consistent run of form that has seen his scores improve for the Witches, and individually. He finished on the British U-21 rostrum in third place after almost sealing the deal in Glasgow.
"The Under-21 final was a great experience, and I was gutted I couldn't bring the trophy home," he said.
"But I've got two more years to have a go at that and I'm confident I can get that title in the future."
Joining the Witches from Leicester in June, Thompson admits it was a tough gig to take on, replacing his brother in the Ipswich team, as well as knowing little about the Foxhall circuit.
But he's glad he made the move.
"I was in a bit of a dip mid-season when Leicester let me go and I was in and out of Championship teams, so Ipswich was a bit of a transition for me," he said.
"I knew Ipswich would be a real challenge, having had no experience of the track. But since joining, everyone has been supportive of me. I've got to grips with the track over the last few weeks, so I'm contributing to the team and looking to continue to do that until the end of the season.
"Ipswich fans have been great. They come and speak to me after meetings and give me good support. Obviously, I knew my first few meetings, not scoring many points and making mistakes, I'd get a bit of stick. But since I've found my way, the fans have been there.
"It's a great club to be part of."
The Witches have kept their play-off hopes alive after the win at Leicester. But they have little wiggle room, lying fifth in the table. They need to beat Lynn and Peterborough in the next five nights away from home to keep their hopes alive.
"It was good for us as a team to beat Leicester and for me to put in a big performance," Thompson added.
"We've talked about the play-offs. Winning at King's Lynn and Peterborough isn't out of the window. We can win there. Leicester are strong at home and look what we did to them.
"Anything can happen, and we are still pushing for it."
KING'S LYNN V WITCHES, Sports Insure Premiership, Thursday, August 3, 7.30pm, Adrian Flux Arena