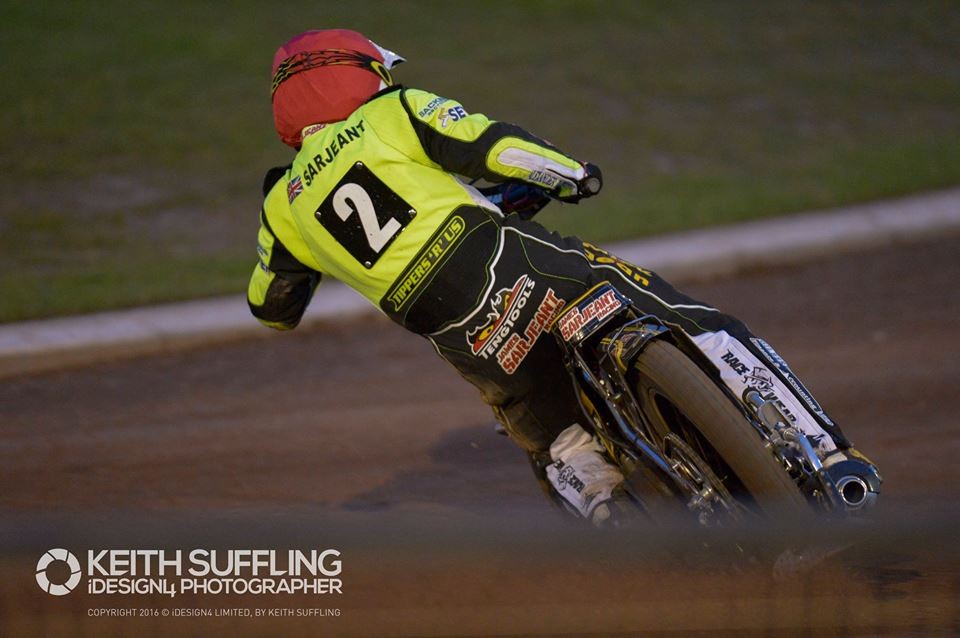 The 'Tru7.com' Witches are back in action on Thursday as they entertain the high flying Glasgow Tigers at Foxhall (7.30pm).
The Witches recorded a confidence boosting 61-32 win over Redcar on Saturday but know they will be in for a much tougher test against the Scottish side who currently occupy a play-off spot.
New signing Ben Barker comes into the side and will make his debut, ironically against the side he was dropped from last week as the Witches look to continue getting their season back on track. Barker will come in at number five with Nico Covatti moving to three whilst Morten Risager moves back to number four.
The Tigers were many pundits favourites for the title this season and they have started the campaign strongly. Led by Richard Lawson, Aaron Summers and former Witch Richie Worrall, the home side will have be on top of their game to take the win. The away side will be without Nike Lunna who broke a bone in his hand in Finland and will use Rider Replacement in his absence. Last time the Tigers visited Foxhall they took a 47-43 win in last season's Premier League.
Team Manager Ritchie Hawkins knows his side will be in for a stern test but has confidence his side can produce the goods.
"It will be tougher but I think we can win and we could potentially win all of our home matches comfortably if everyone performs," said Hawkins. "Obviously it will be Ben's first meeting for us against Glasgow and I know he will be fired up to do well. Hopefully he will come in and strengthen the team and can keep pushing us on."
Hawkins believes the addition of Barker will be a boost in the Witches side of the pits.
"Ben knows most people well,  he rode with Danny (King) and Nico for two years at Birmingham and Morten at Ipswich and I know Ben really well so we all know him really well and he should fit in quickly. His personality will rub off on everyone else and that will build the team spirit."
The boss was full of praise for the transformation that has taken place at Glasgow but believes his side have what it takes to win on the track.
"They are the big spenders in the league and what they've done with the club is brilliant for speedway but I don't see any reason why we can't beat them. The meeting is not won on your bank balance, it's won out on the track and I think my boys should be better than theirs. If we perform to our potential every meeting we will win meetings."
Meeting Sponsor: Collier & Catchpole
http://www.colliercatchpole.co.uk/
Ipswich 'Tru7.com' Witches:
1. Danny King (c) 9.27
2. James Sarjeant 4.58
3. Nico Covatti 7.74
4. Morten Risager 7.04
5. Ben Barker 7.70
6. Paco Castagna 3.13
7. Oliver Greenwood 3.00

Team Manager: Ritchie Hawkins
Glasgow 'Allied Vehicles' Tigers:
1. Richard Lawson 9.01
2. R/R for Nike Lunna 4.38
3. Richie Worrall 7.28
4. Rene Bach 7.42
5. Aaron Summers (c) 8.96
6. Fernando Garcia 3.53
7. Danny Ayres 3.77

Team Manager: Stewart Dickson
Premier League table
| | | |
| --- | --- | --- |
| Team | Pl     | Pts   |
| Peterborough | 8 | 17 |
| Glasgow | 8 | 16 |
| Somerset | 5 | 16 |
| Sheffield | 8 | 16 |
| Berwick | 8 | 12 |
| Rye House | 6 | 11 |
| Workington | 7 | 11 |
| Newcastle | 5 | 11 |
| Plymouth | 7 | 10 |
| Edinburgh | 5 | 8 |
| Witches | 6 | 6 |
| Redcar | 7 | 5 |
| Scunthorpe | 6 | 3 |
Last five home results v Tigers:
23.07.15 L43-47
17.07.14 D45-45
27.06.13 W63-29
14.06.12 W64-29
07.07.11 L42-48

Tigers' last five:
PL Tigers 57 -35 Plymouth
PL Newcastle 49-44 Tigers
PL Tigers 49-40 Newcastle
KOC Redcar 40-50 Tigers
KOC Tigers 60-29 Redcar