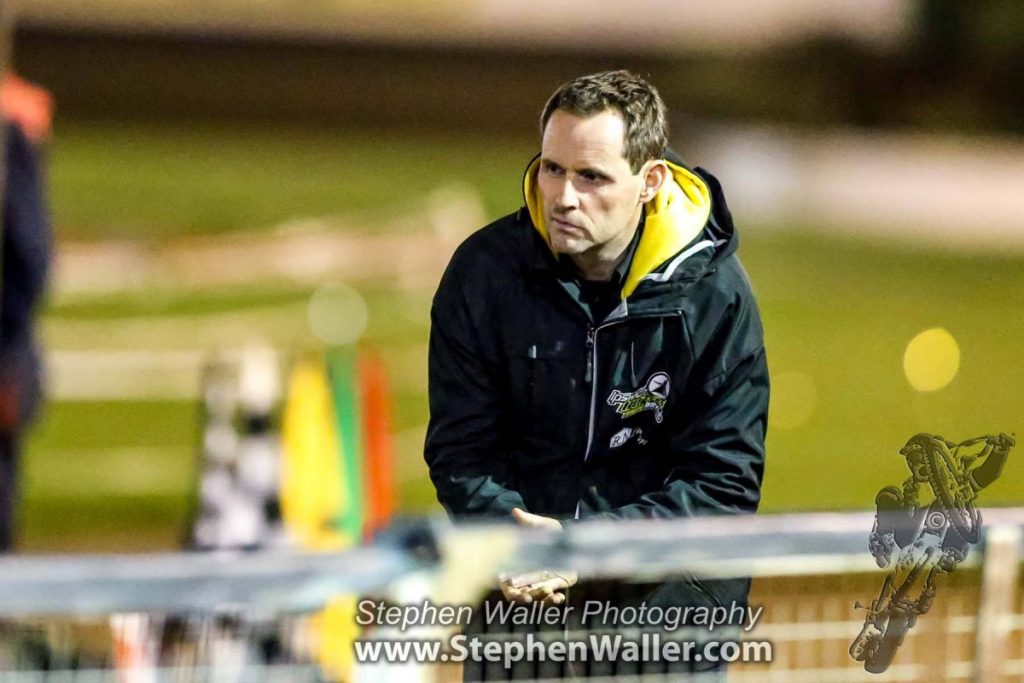 To steal a line, I have just read a piece Mike Bacon put online called 'the team that never was' and that sums up our season really. Before we even started we had problems. To sum up 2017, it has been the best team I have worked or been involved with for many years, just for its unwavering effort from start to finish. That deserved some medals and trophies, or at least one trophy but it wasn't to be and lady luck deserted us right to the very end, to the very last meeting, to the very last rider to get injured! That summed up the season really and is my only disappointment but it will be remembered by me as a great bunch of guys to work with and who gave everything for the Witch and that is all you can ask for. I think comments from fans on social media that have all been positive even though we won nothing say it all. For a team that started as many people's favourites, to win nothing could easily come with an onslaught of abuse from fans but everybody feels the same way as I do and you couldn't have asked for anymore from any of them.
I feel had we have kept the seven we had on press day fit then we would have won both trophies. Given the circumstances, yes I won't argue Sheffield were the better side over the two legs in the Play-Off final and it would have only been our tenacity that would have seen us through as even in that final we were suffering with injuries and things going wrong. I won't argue they were the better side and deserved to win the league. The Knockout Cup against Peterborough, for me we were winners in our hearts because we did both legs with five riders and still only lost by four points. No trophy to show for it but as far as I am concerned we were winners but unfortunately effort does not win trophies, points do and they scored more than us. That was the harder one to take as I felt that should have been ours and we knew what we did in both legs with five men was quite amazing.
The highlight of the season, not to sound like a broken record but it was the effort from all of the lads and how they got on. When a season gets tough and people get injured, the results you expect to go your way don't because of that and it is easy for the spirit to drop, needle to set in and people to get upset with each other. That happens in all teams in all sports but our lads just battled away and got on with each other and the more adversity we faced, the stronger we got as a unit and bonded. That was great to watch that was facilitated by the gaffer and in any sport that is a large part of what the boss has to do and Ritchie (Hawkins) did a great job of it. Hats off to him, everyone is talking about the riders and their effort but he kept their heads in the game at times and played a massive part.
Another pleasing thing was seeing Cam (Heeps) come back and do so well. We brought him over as a 15-year-old from Australia and worked with him in those early days and he hadn't pushed on as much he could in my mind and I am sure he would agree with that. He really was a standout rider for us especially at home and that was pleasing on an individual front. It is hard to pick out individuals but Danny (King) did his job despite suffering from his shoulder for large parts of the season which people don't know about as he does not talk about it. Again, he did his job and maintained his number one position. Rory (Schlein) came back from serious injury as did Connor (Mountain) and both played massive roles this year. What can you say about Nathan (Greaves)? He had a terrible start to the season with Wolverhampton and wasn't necessarily feeling it and didn't know where he was with the sport because he was struggling so badly. Thankfully he took on coming to us after Danyon's (Hume) injury and had the best season he has ever had. There are so many positives in a season that gave us no trophies!
There is always the feeling of 'what more can you do' when you put together what a lot of people consider the best side. It is not the first time it has happened and even I have looked at the season and thought this is not down to the team not being good enough, it was down to the team missing for the whole of the season. That is frustrating but it has made myself and Ritchie even more determined to put together a winning side and get the job done next time. We've missed out on silverware in two finals but we were there to give ourselves a chance and we will be there again next year.
The issues we have faced all year add to the workload because every time you need guests you are juggling things around and effectively you are trying to put a new team together every week, it is difficult and expensive, so it is hard on the club's finances. At the end of the day that is our job and yes it was made tough by bad luck and injury but as a club we did the best we could do under the circumstances thrown at us. If there is one standout thing it is the support that has snowballed throughout the season culminating in massive crowds in the two finals. That is a standout thing for me and is second to none in both leagues in speedway this year.
The AGM question is far too big to answer in my column as we wouldn't have the time! However, it is about consolidating the teams in the leagues and making sure we have two competitive leagues. Fixture clashes and doubling up are a major bone of contention for fans and decisions based around what the fans want are what we need to look at if you ask me.
The Grand Prix series as always was very good and very exciting with so many rounds with great tracks and great entertainment. You know you are going to get that with the world's best riders all together. Jason Doyle is as deserved world champion as there has ever been I think. He has worked his way to that spot over a few years and has dedicated his whole life to the sport and winning that championship. To do it in wheel perfect style in his own country in Melbourne was a fitting end to the effort he has put in and it was fully deserved.
The wildcards I am not sure about really and I don't know if I fully agree with them but I suppose you are never going to please everyone when you do it. I am sure there is a balance of what is the most exciting line-up for the fans and a bit of business. At the end of the day, they are there to sell to lots of different countries as a TV product and you have to satisfy those audiences.  There is more to the thinking of 'who makes it more exciting' but it won't dilute the product and it will be hugely entertaining again in 2018.
This in some ways this is the busiest time of year even though I am not travelling around the country. At the end of the day, this is about preparing for 2018, building the team and getting the sponsors to finance the club and many other aspects of the club in everything we do from the website to social media. There is also the physical state of the track and making sure the track is better. We are looking to improve that again. I know I have been saying we might lose some home track advantage for a while but that did not affect us this year that is for sure. All I want is the most entertainment and most excitement for the fans, that is what we do and I want to make it the best it can possibly be.
I would like to thank all the many people that keep our wonderful speedway club going and if I have missed anyone I apologise, every single contribution is very much appreciated. I start with thanks to my wife Julie for her hours of work behind the scenes and putting up with the highs and lows that occasionally come home on a Thursday evening! A big thank you to all the track staff including Bob Ellis, the linchpin of the whole operation here at the track. Keith Barton, Richard Amott, Brian Messenger and Shane Silburn who keep the pits organised and the meetings flowing. Henry Chard, for his endless efforts on improving our press and social media coverage and presence. Julie Last, for her hard work on the programme advertising and endless running around looking after our corporate customers along with Danny Robinson on race nights. Chris Ellis, for the long hours spent collating season tickets and arranging the hugely successful Cardiff tour. Peter and Roger Thorpe, Steve Waller, Keith Suffling and all at Gipping Press for all their hard work on the programme and other publications throughout the year.
All the track staff and fence gang who ensure that we have a safe arena to race in. Mark, Cheryl and all of the supporters club who contribute so much to the club and bring a smile to the faces our fans every meeting. All of the companies that contribute to advertising, meeting sponsorship and the air fence sponsorship. A big thank you to title sponsors 'Tru7.com', Guy Nicholls and all the family and crew at Tippers 'R' Us, Trucks 'R' Us and BagAgg. Guy is in his second year as title sponsor but is so much more to the club than that and is a great support to Julie and myself as we strive to push the club forward. Lastly Mark, Maria, Ray and all the family at RN Euston Ltd who came on board as a partner sponsor after many years of support as meeting and programme sponsors. Seeing you here every week cheering on the lads means so much, without you guys, none of this would be possible. We thank you all.
I would like to add Mike Smillie and Dave Wilkins to that list for all their hours of hard work keeping the paperwork and club accounts in order and also Peter, George and the start line crew for all their hard work which admittedly has become a little easier without Mr Sarjeant in the side! The stadium security, stewards and turnstile staff too for all they do to keep a race night smooth and safe. Last but not least Julie and Strawb on the pit entrance for signing in the riders, mechanics and officials, in a thankless task but they do it brilliantly week in week out. I will still have missed some which just goes to show how many hard working people it takes to keep the show on the road, you all know who you are and I thank you all.
Thank you for your continued support,
Chris