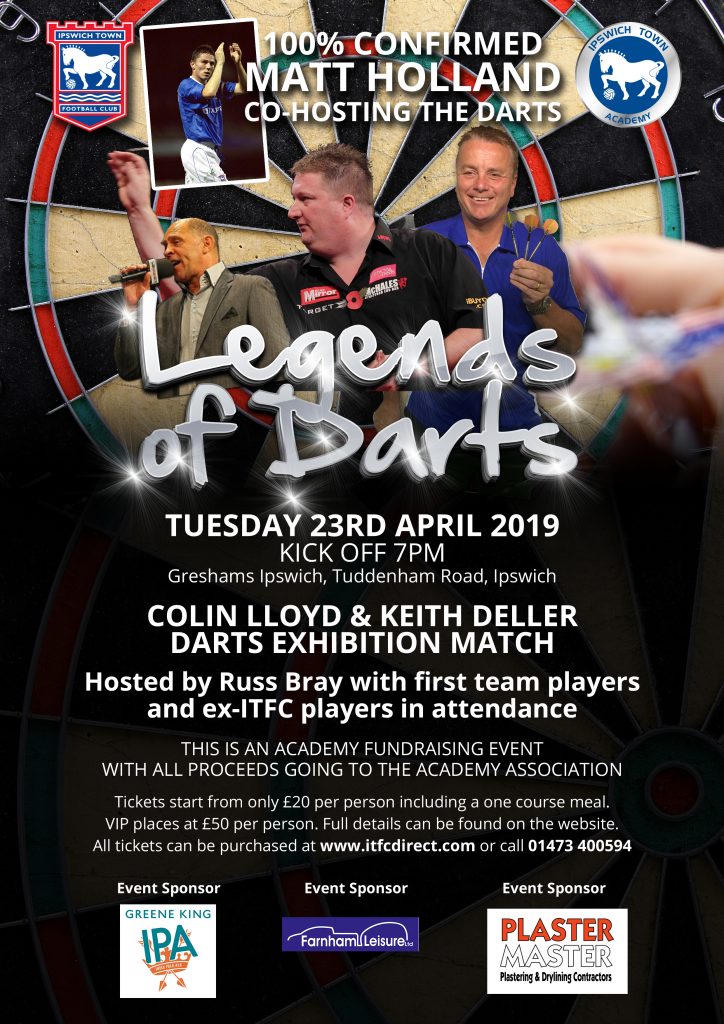 Members of the 'Tru Plant' Witches will at the Ipswich Town Legends of Darts event held at Greshams Sports and Social Club on Tuesday 23rd April.
Captain Danny King and manager Ritchie Hawkins are both confirmed to attend the event. The event will raise funds for the ITFC Academy Association and associated sponsors include Greene King, Farnham Leisure and Plaster Master.
The evening will once again be hosted by 'the voice of darts' Russ Bray and will include a darts exhibition match featuring 1983 World Champion Keith Deller and former world number one Colin Lloyd. Town players past and present will be joining the duo on the oche to test their darts skills, with fans also invited to take part. We're also extremely delighted to confirm that ITFC Legend, Matt Holland, will be co-hosting the event.
Standard tickets for this event are priced at only £20 per person including on-site parking, event seating on a 'first come, first served' basis and a one-course meal. Guests who book this package will have the opportunity to secure autographs from darts pros and ITFC stars alike, there will also be a random selection of ticket holders to play in one of the darts competitions through a raffle. Other elements of this package include the opportunity to participate in the evening's memorabilia raffle and auction.
VIP tickets for the evening are priced at £50 per person. As well as including all of the elements of the standard package listed above, VIP guests will also enjoy complimentary drinks in the VIP lounge with Darts Legends and ITFC representatives, an exclusive Q&A session in the VIP Lounge and a photo opportunity with Darts Legends and ITFC Players and Ex-players. In addition, the one-course meal will be served with complimentary wine, beer & soft drinks, while seating for the event itself will be reserved in a prime location.
To buy your tickets or for further information, please contact by phone 01473 400594 or email sales@itfc.co.uk or visit www.itfcdirect.com