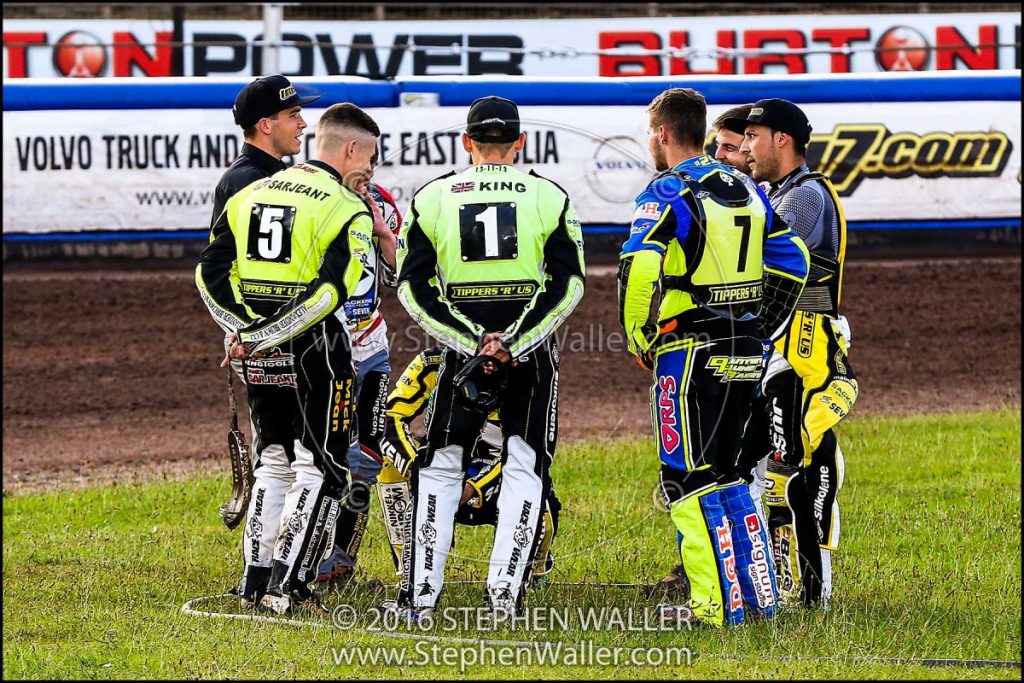 The 'Tru7.com' Witches head to Workington on Saturday as they face a pivotal weekend in the Premier League play-off race (7.00pm).
The Witches are in a rich vein of form that has taken them into the play-off spots temporarily after going unbeaten in the last six outings. Thursday saw Ritchie Hawkins' side thrash basement side Scunthorpe but the trip to Workington will be a much sterner test with the Suffolk side hit by the loss of Nico Covatti.
Covatti heads to Latvia for the European Pairs with rules only allowing for a National League guest to take his place which will be Luke Priest of Rye House Raiders. Covatti's absence means a temporary change in riding order with Ben Barker moving to number three and Morten Risager switching to number five.
The Comets are one of the Witches' rivals for a play-off spot and they currently sit just three points behind in the table with two meetings in hand. The home side are also hit hard by the European Pairs with Rasmus Jensen missing and Buxton's Ryan Blacklock replacing him. The Comets are led by USA World Cup rider Ricky Wells.
Ipswich Director of Speedway is still hopeful the side can pick up a positive result despite the loss of Covatti but is remaining realistic.
"I'm still hopeful we can pick up a point at Workington and maybe the same at Glasgow," said Louis. "If we can win one of them that would be great but you have to be realistic and set realistic targets. They are two tough away meetings but we can't afford to come away with nothing. If we get one or two points that keeps us on course as far as I'm concerned. We would still need four points at Redcar later in the month and a win at Newcastle would be nice. If we stay 100% at home and stop Newcastle and Sheffield getting a point at Foxhall then we are in with a reasonable shout I would say."
Louis says the temporary change in riding order is to try and cover the tougher positions for the meeting.
"With Nico missing we had to cover the heat leader roles and we needed to make ourselves fairly strong at number three. When you look at the races you are trying to cover and score points in, it makes sense to run that order. You are sacrificing the number four position and trying to cover the tougher positions."
The former two-time British Champion says it could be a big night for Joe Jacobs who is eligible to take seven rides on the night.
"He is in good form and we are hoping that continues and he can take those extra rides and get points from them. When you are a man down effectively you need people to step up to the plate and in this case it's going to have to be a reserve and Joe is that man. He knows Workington and he has ridden there so hopefully that will go in our favour."
Louis says there is no pressure on guest Priest who has a tough task on Saturday.
"At the end of the day Luke is someone who will stay on the bike and will be in a position to take points that are given to him. It would be nice if he could trap and pick up a couple of points of his own fruition but there is no pressure on him, he is coming in as a National League guest for a heat leader and he isn't expected to score points. We just want him to pick up what is available really."
Workington 'Thomas Armstrong' Comets:
1. Ricky Wells (c) 8.48
2 .Mason Campton 5.63
3. Kenneth Hansen 7.40
4. Ryan Blacklock (g) 3.00
5. Claus Vissing 8.27
6. Adam Roynon 5.29
7. Matt Williamson 3.39

Team Manager: Tony Jackson
Ipswich 'Tru7.com' Witches:
1. Danny King (c) 8.86
2. James Sarjeant 5.13
3. Ben Barker 7.42
4. Luke Priest (g) 3.00
5. Morten Risager 6.73
6. Joe Jacobs 4.07
7. Danyon Hume 3.00

Team Manager: Ritchie Hawkins
Premier League table
| | | |
| --- | --- | --- |
| Team |   Pl     | Pts   |
| Somerset | 16 | 46 |
| Glasgow | 18 | 40 |
| Edinburgh | 16 | 33 |
| Sheffield | 17 | 31 |
| Peterborough | 17 | 30 |
| Witches | 17 | 26 |
| Berwick | 20 | 25 |
| Workington | 15 | 23 |
| Newcastle | 12 | 22 |
| Rye House | 15 | 19 |
| Redcar | 17 | 19 |
| Plymouth | 18 | 19 |
| Scunthorpe | 16 | 12 |
Last five results at Workington:
20.06.15 L44-49
21.06.14 L43-47
28.09.13 L40-50
29.06.13 W47-43
27.04.13 L29-61
Workington Comets Factfile
Main Sponsor: Thomas Armstrong Ltd
Team Colours: Blue and White
Race-Night: Saturday (7.00pm)
Website: www.workingtoncomets.co
Track Length: 364 metres
Track Record: 61.7 seconds, Richard Lawson (May 31, 2014).
Admission Prices
Adults: £15
Concessions: £11
Children (5-15): £4
Infants (under 5): Free
Programme: Race-card free with admission
Car Parking: £1.50
Stadium Address
Zebra Clams Stadium, Derwent Park, Workington, Cumbria, CA14 2HG
Telephone: 01900-608071 (race-days only) 01900 813999 (Mon-Fri 9.00am-4.30pm)
By Train: The nearest railway station is Workington, which is on the Carlisle to Barrow line. If you are travelling to Derwent Park by rail, an overnight stay in Workington is a necessity followed by a train journey north to Carlisle on Sunday lunchtime.