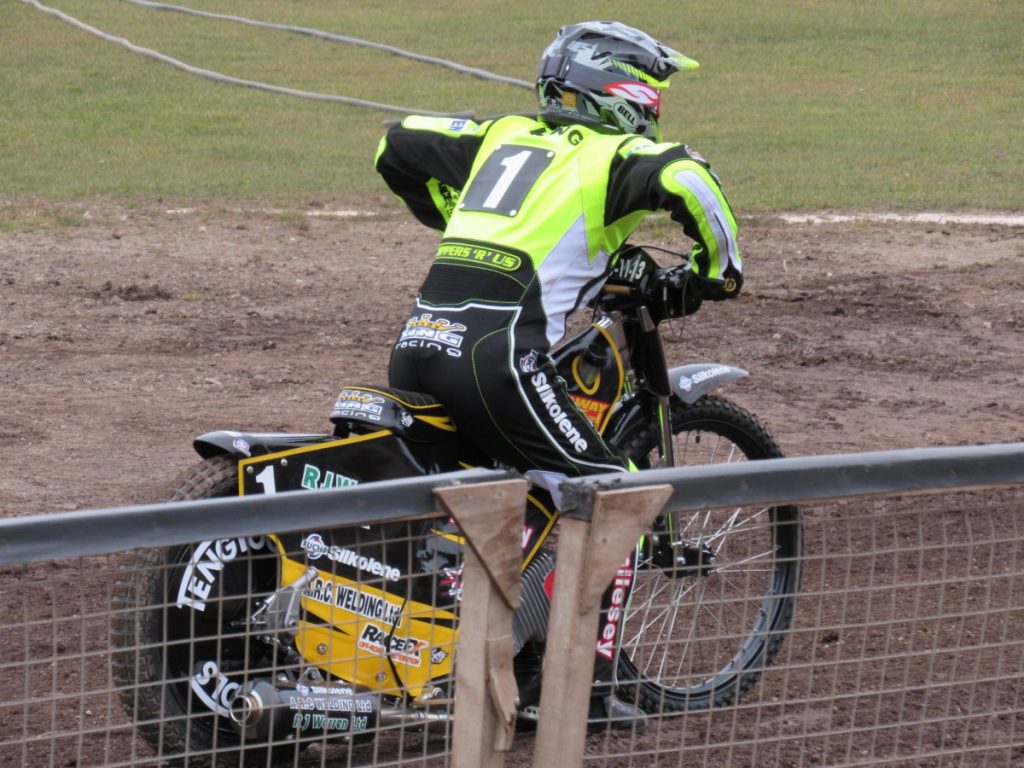 The Ipswich 'Tru7.com' Witches will be back on home shale on Thursday when they take on East Anglian rivals the Peterborough Panthers in the League Cup (7.30pm).
The Witches have not raced at Foxhall since the opening night of the season almost a month ago having suffered a frustrating rain-off against Sheffield since and are eager to ride in front of the home faithful and get a first win of the new season.
The Witches are once again at full strength for the encounter and will be keen to put things right after a disappointing result at Rye House on Saturday in the Premier League. The East Anglian clash is a must win for the Witches if they harbour any hopes of progressing to the latter stages.
The Panthers come to Foxhall sitting second in the group and a win would boost their chances of progressing as they look to overhaul Sheffield at the top. It's been an up and down start for the Panthers; an impressive draw at Sheffield was followed up by a big home win over Scunthorpe before they suffered a disappointing home defeat to Sheffield in the return fixture. They come to Foxhall in buoyant mood after a thumping win at Scunthorpe got them back in contention.
The last time the two sides met in Suffolk was at the back end of the 2015 season where the Witches romped home to a 61-29 win.
Witches Team Manager Ritchie Hawkins is looking forward to getting back to Foxhall and is hoping it is the start of a regular fun of fixtures.
"We need a regular run of meetings definitely, even more so at home," said Hawkins. "Hopefully the weather is going to be good for us and the boys are going to be fired up to put in a better performance than we did last time at home and obviously on Saturday."
It's been a tough start to the new campaign for Hawkins and his team but the new manager  is not panicking and remains confident of a successful season.
"I think everyone is short of a little bit of confidence at the moment but it's very early stages. I think we're having a little bit of a rebuilding process with the team this year and everyone's got to be given time to settle down. I've got full faith in them, my approach with them and how we are approaching the season. It's been a tough start but we are going to improve and be strong by the end of the season."
Despite the results the former captain says he is seeing positives throughout the team that will come to the boil soon enough.
"Individually the riders are making improvements and they'll know they need to build on them on Thursday. You can see slight improvements in maybe their starting or certain things they are doing differently. It's all going to click, a lot of the riders are not only new but they are building from the start of the season."
Hawkins is fully aware of the task in hand on Thursday and is looking for an improved performance and result against a solid Panthers side.
"We've got to win if we want any chance of progressing. I'm looking for more improvements from every rider and a much better performance and I expect us to go and get a win.
"They've (Peterborough) had a couple of good results, they went and beat Scunthorpe who are already weaker than they were at the start of the season but they've been a bit up and down as well I guess.  At the start of the season on paper I didn't think they looked that strong but we don't race on paper and they are all capable riders in this league."
Meeting Sponsor: Volvo Truck and Bus East Anglia
http://www.volvotrucks.com/dealers-vtc/en-gb/VTBC-EastAnglia/pages/Home.aspx
Ipswich 'Tru7.com' Witches:
1. Danny King (c) 9.54
2. James Sarjeant 4.88
3. Lewis Kerr 6.85
4. Morten Risager 6.86
5. Nico Covatti 7.55
6. Paco Castagna 3.33
7. Darryl Ritchings 3.00
Team Manager: Ritchie Hawkins
Peterborough 'T.Balfe Construction' Panthers
1. Ulrich Ostergaard 7.87 (c)
2. Simon Lambert 5.19
3. Nikolaj B Jakobsen 6.91
4. Michael Palm Toft 5.96
5. Nicklas Porsing 6.58
6. Emil Grondal 5.12
7. Tom Perry 3.00
Team Manager: Dale Allit
League Cup Table
| | | |
| --- | --- | --- |
| Team | Pl |  Pts |
| Sheffield | 4 | 11 |
| Peterborough | 4 | 9 |
| Scunthorpe | 6 | 5 |
| Witches | 2 | 2 |
Last five home results v Panthers:
27.08.15 W 61-29
03.04.15 W 53-39
04.09.14 W 59-36
15.05.14 W 55-40
18.04.14 L 39-54
Panthers in 2016:
LC Sheffield 45-45 Panthers
LC Panthers 64-26 Scunthorpe
LC Panthers 44-49 Sheffield
LC Scunthorpe 36-57 Panthers