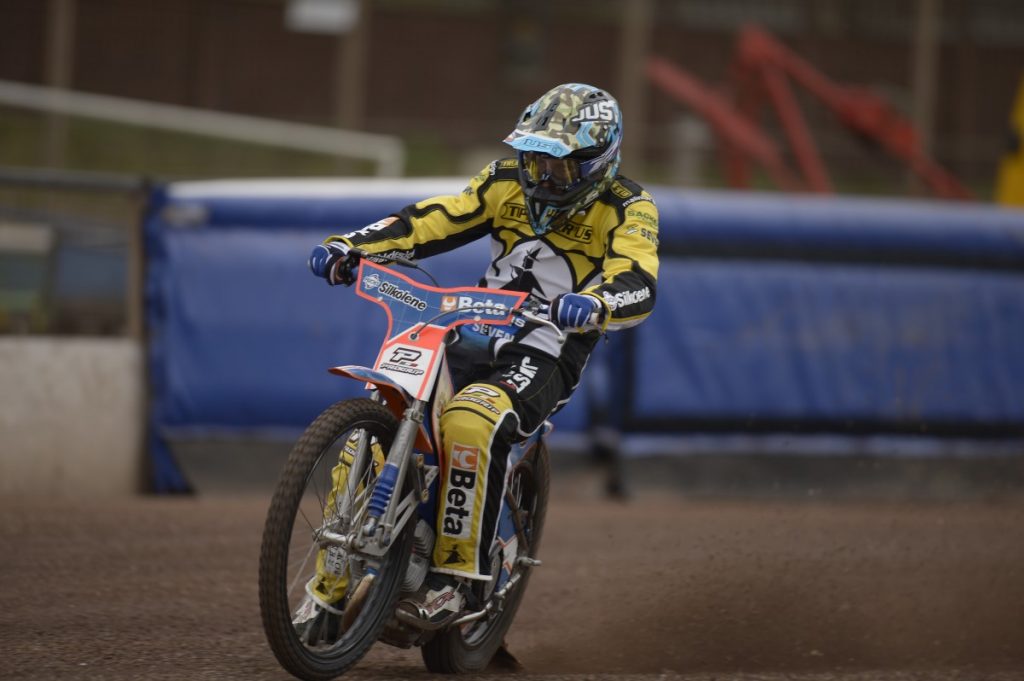 The Ipswich 'Tru7.com' Witches were beaten 53-39 by the Rye House Rockets in their opening meeting of the Premier League season at Hoddesdon.
The home side dominated proceedings from the off gradually building a strong lead as the Witches battled to stay in the meeting but the Rockets sealed a comfortable win as the Witches could only register a heat advantage in heat 15. Nico Covatti top scored with 15 from five rides for the Witches.
Things did not start well for the Witches; in heat one captain Eddie Kennett got the home side off to a good start with partner Kasper Lykke in third for a 4-2. Heat two looked to be heading for a 3-3 until Peter Karger got past Darryl Ritchings to make it another 4-2 to the home side. The Rockets continued their strong start with a maximum in heat three before Covatti stemmed the tide in the following heat for a 3-3 after holding off Stuart Robson to make it 16-8 to the home side after four heats.
Heat 5 was full of frustration for the Witches side; Danny King couldn't find a way past Leigh Lanham at the front whilst Cameron Heeps pipped James Sarjeant on the line for third resulting in another 4-2 to the home side. Ritchie Hawkins reacted in heated six, sending Covatti out on a tactical ride but Kennett won the heat from the gate with Covatti in second for a 4-4. Heat seven looked like providing the Witches' first heat advantage of the night as Morten Risager was first away from the tapes but Robson managed to get past the Dane to win the heat and secure a 3-3. Paco Castagna was adjudged to have touched the tapes in heat 8 and went off 15 metres as Sarjeant registered the second heat win of the night for the away side making it 30-20 to the Rockets.
Covatti was in fine form once again on the night and took the chequered flag in heat nine for a 3-3 but the home skipper Kennett was in unbeatable form again in heat ten taking the win ahead of Lewis Kerr with Lykke in third for another 4-2 to the Rockets. Karger fell in heat eleven but Robson beat King to the chequered flag to ensure the Witches could not capitalise. The meeting was sealed in heat 12 as Heeps and Ben Morley stormed to a maximum to make it 45-29 with three to go.
The night didn't get any better in heat 13 when King went through the tapes and went off 15 metres. Kennett was first away once again followed by teammate Robson but Covatti managed to split the pair and pushed the home captain hard but was unable to get past. Lanham won from the gate in heat 14 ahead of Risager and Kerr to make it 52-34 with one heat to go.
The Witches recorded their first heat advantage of the night in heat 15 as Covatti and King romped home but it was too little too late as it ended 53-39 to the home side.
Boss Ritchie Hawkins admitted it was a difficult night for the side and says the riders need to take what positives they can away from the meeting.
"It was a real tough night for us, as a team you're not going to take a lot from it but as individual riders they are going to have to take things from it; maybe from improvements made throughout the meeting and build on them for Thursday. As a team we are going to have to improve a lot on Thursday night."
Hawkins was full of praise for Covatti who was the star man on the night for the Witches but the manager believes there are positives within the team that will come to fruition soon.
"Apart from Nico they (Rye House) were out-trapping us. Nico set an example out there tonight and hopefully the others will step up and take on board what he is doing ready for Thursday. Nico's form is brilliant, the other guys are improving and I can see certain improvements but they are not showing as a return in points. We will click when they get a bit more confidence and belief in themselves, certainly amongst the younger riders there are improvements there, it's just not showing in their points."
Despite the start to the season Hawkins is confident the team will produce the goods over the course of the season starting on Thursday at Foxhall against Peterborough in the League Cup.
"You've just got to ask the guys to build upon things meeting by meeting. We need to put in a lot better performance on Thursday and I'm sure as a team they will.
"It's certainly not a disaster and we've not had an amazing start to the season but we're still a good team and they will click and get there, I have no doubt about that. I have full confidence and belief in them that will be happening soon."
Rye House 'BMR' Rockets 53
Edward Kennett 12 (Maximum)
Leigh Lanham 10+1
Cameron Heeps 9+1
Stuart Robson 9
Ben Morley 7+3
Kasper Lykke 5
Peter Karger 1
Ipswich 'Tru7.com' Witches 39
Nico Covatti 15
Danny King 8+1
Morten Risager 5
James Sarjeant 4+1
Lewis Kerr 3+1
Paco Castagna 3
Darryl Ritchings 1+1
Next Meeting: 14th April vs Peterborough Panthers, Foxhall Stadium.