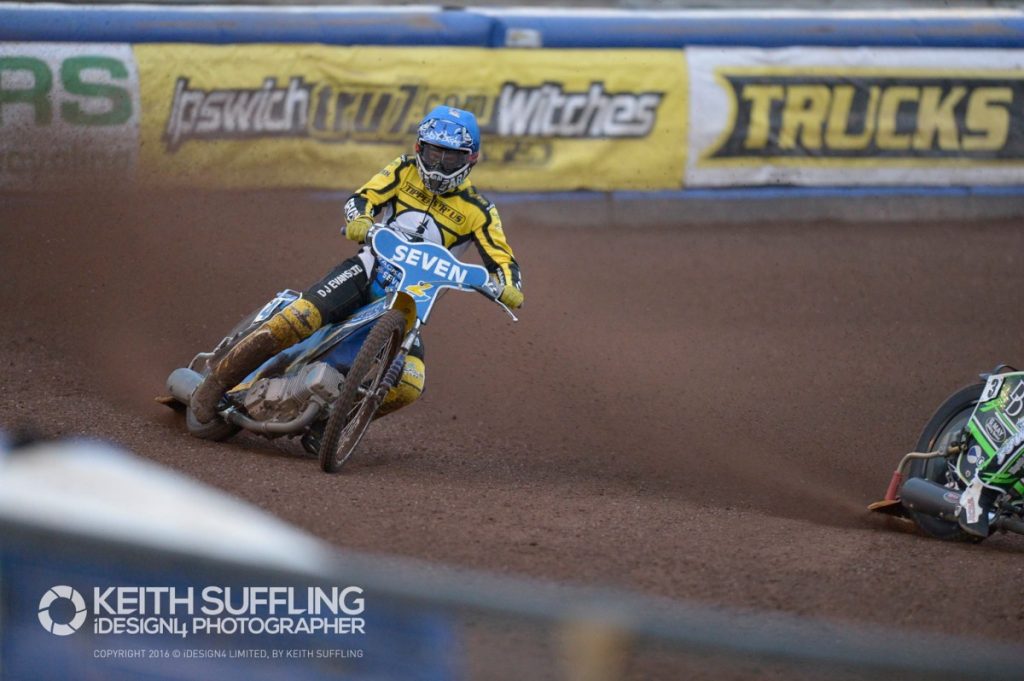 The 'Tru7.com' Witches face the long trip down to the south-west to take on the Plymouth Devils on Friday evening as they look for their first away points of 2016 (7.15pm).
The Witches were due to be in action on Thursday evening against Newcastle Diamonds but the meeting was postponed due to the weather and now attentions turn to the Devils as the Witches look to climb the table.
Ritchie Hawkins' side will be at full strength for the meeting as a couple of the Witches side make their return to Devon. Morten Risager was a Devil in 2015 whilst Ben Barker has also spent time with the club in the past.
The Devils have had quite the season so far. Faced with closure on the eve of the season the club has since been saved and they have had a promising campaign so far. They sit within striking distance of the play-offs boasting a 100% home record. Led by Australian duo of Brady Kurtz and Jack Holder the Devils will be a tough nut to crack but they will operate Rider Replacement at two with Kyle Newman out injured.
The Witches will be hoping for a better performance than last time they were in Devon when they lost 54-39 last season.
Team Manager Ritchie Hawkins says the two recent postponements may do the side good and is taking inspiration from Coventry's season so far.
"The Berwick result is still in our minds and we need to put that right," said Hawkins. "Maybe a break will do the boys good though. I was at Coventry's meeting on Wednesday when they won at King's Lynn and at the start of the year they were struggling but they are now stepping up and getting good results, so hopefully we can do something similar."
With the Witches still looking for their first away points of the season Hawkins is hopeful Plymouth will be the place where they break their duck.
"We've gone well there in the past and we have riders that can go well at every track but they haven't been so far this season. They are all capable but they need to start showing it.
"You'd hope that Plymouth will be the place we do it, all the boys have been there and it's not a new track for anyone apart from Paco (Castagna)."
Hawkins says Ollie Greenwood is fully fit and raring to go on his return to the side.
"I think Ollie was fit to ride last weekend but he was serving his mandatory period after concussion so I have no worries about Ollie. We need everyone to perform on Friday."
Plymouth 'Newton Abbot Races' Devils:
1. Brady Kurtz 8.73
2. R/R for Kyle Newman 6.89
3. Sam Simota 6.30
4. Todd Kurtz (c) 7.00
5. Jack Holder 7.17
6. Stefan Nielsen 5.11
7. Ellis Perks 3.00
Team Manager: Lee Trigger
Ipswich 'Tru7.com' Witches:
1. Danny King (c) 9.27
2. James Sarjeant 4.58
3. Nico Covatti 7.74
4. Morten Risager 7.04
5. Ben Barker 7.70
6. Paco Castagna 3.13
7. Ollie Greenwood 3.00

Team Manager: Ritchie Hawkins
Premier League table
| | | |
| --- | --- | --- |
| Team |   Pl     | Pts   |
| Peterborough | 10 | 23 |
| Glasgow | 11 | 22 |
| Sheffield | 10 | 22 |
| Somerset | 6 | 19 |
| Berwick | 11 | 18 |
| Workington | 8 | 14 |
| Rye House | 7 | 14 |
| Plymouth | 9 | 13 |
| Newcastle | 7 | 12 |
| Edinburgh | 8 | 11 |
| Witches | 9 | 6 |
| Redcar | 9 | 5 |
| Scunthorpe | 7 | 3 |
Last five results at Plymouth:
07.08.15 L54-39
22.05.15 W49-41
26.09.14 L47-43
06.09.14 L41-52
11.04.14 W52-41
Plymouth Factfile
Main Sponsor: Newton Abbot Races
Team Colours: Yellow with Red Devil
Race-Night: Friday (7.15 pm)
Website: www.plymouthdevils.co
Track Length: 216 metres
Track Record: 48.06 seconds (Ryan Fisher, June 8, 2012)
Admission Prices:
Adults: £15
Concessions (65 and over): £12
Youth (12-16): £5
Children (under 12): Free (if accompanied by an adult)
Family Ticket (2 adults and 2 children): £32
Programme: £2
Stadium Address: St. Boniface Arena, Coypool Road, Plymouth, PL7 4NW
Telephone: 07875 868202
By Train: The nearest mainline station is Plymouth