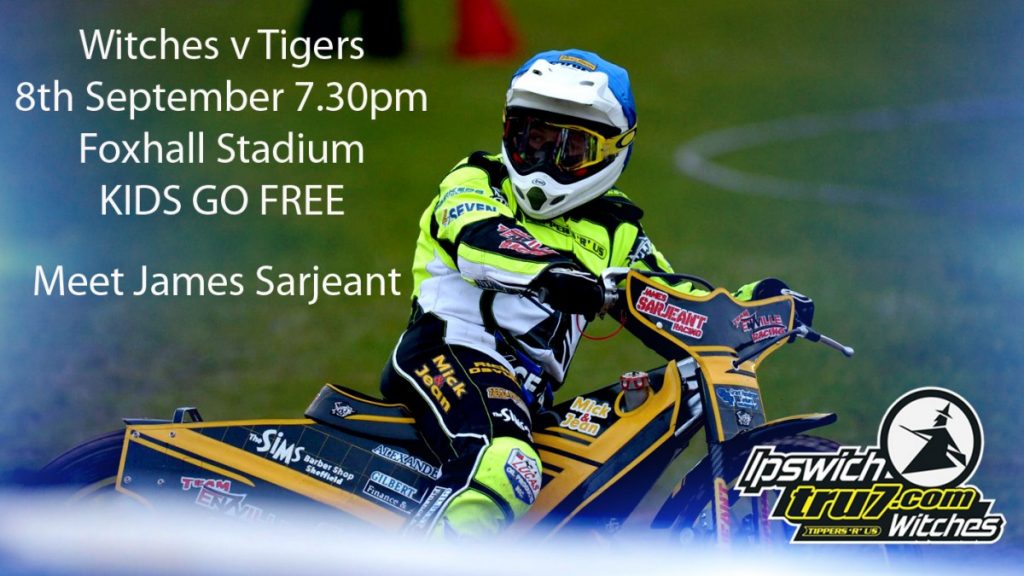 The 'Tru7.com' Witches are back in action at Foxhall on Thursday as they take on the Sheffield Tigers in a vital Premier League clash (7.30pm).
The Witches have not been in action for three weeks since their annihilation of Workington at Foxhall with the away meeting at Redcar rained-off. Since then the play-off picture has become a little clearer as it looks like a shootout for the final two places between Sheffield, Peterborough, Workington and the Witches.
A win for the Witches is imperative if they wish to keep their play-off hopes alive with the added importance of making sure the Tigers pick up nothing at Foxhall. The home side are at full strength for the clash.
A win for the away side would all but confirm their spot in the end of season shoot-out but they will have to do better than their previous visit to Suffolk earlier in the season as they were defeated 51-39 in the League Cup. The Yorkshire side are led by local legend Simon Stead with Jason Garrity and Kyle Howarth providing support although there are injury doubts over Garrity and teammate Dimitri Berge ahead of Thursday's meeting. British under-21 champion Josh Bates will also be in action for the away side on what promises to be a thrilling night of action.
Team Manager Ritchie Hawkins says the break for the team has been frustrating but believes the riders will be ready for Thursday's test.
"We got on a good run before the break at home, so to have a three week break wasn't ideal but that is the way of the world at the moment," said Hawkins. "Luckily most of the boys have been racing in a lot of meetings and have been busy riding so they haven't had much of a break like we have as a team.
"It's quite simple what we need; we need two wins this week and we need to win by more than six against Sheffield to stop them getting a point, anything less is not good enough."
Hawkins says the team are in good enough form to grab the chance with both hands and make the play-offs with the pressure on the opposition to maintain their place in the top six.
"It's time for them to stand up and be counted, they've got the opportunity to make the play-offs and we are in the form of a good play-off team so the opportunity is there for us to grab. We know what we have got to do we've just got to go out there and do it.
"Sheffield and Peterborough are the two teams we can catch mathematically and they have both dropped down the table a bit so the pressure is on them to keep those spots. In contrast we were written off a long time ago by many .
"The form we have been in at home I would expect us to beat anyone and we need to win by more than six it's quite simple. I'd expect us to beat them with a full strength team so we need to get that done and then move onto Redcar."
Meeting Sponsors: Doug Wade Insurance, Ipswich Sports Club and Ransomes Jacobsen
http://www.jacobsen.com/europe
http://www.ipswichsportsclub.co.uk/
Ipswich 'Tru7.com' Witches:
1. Danny King (c) 9.38
2. James Sarjeant 5.45
3. Nico Covatti 7.32
4. Morten Risager 6.88
5. Ben Barker 7.56
6. Joe Jacobs 4.78
7. Danyon Hume 3.00

Team Manager: Ritchie Hawkins
Sheffield 'Window Centre' Tigers: 
1. Simon Stead (c) 8.43
2. Dimitri Berge 7.09
3. Kyle Howarth 6.95
4. Josh Bates 5.46
5. Jason Garrity 8.43
6. Arthur Sissis 3.79
7. Nathan Greaves 3.00

Team Manager: Eric Boocock
Premier League table
| | | |
| --- | --- | --- |
| Team |   Pl     | Pts   |
| Somerset | 22 | 60 |
| Glasgow | 22 | 49 |
| Newcastle | 19 | 41 |
| Edinburgh | 21 | 41 |
| Sheffield | 21 | 37 |
| Peterborough | 21 | 35 |
| Witches | 20 | 30 |
| Workington | 19 | 29 |
| Berwick | 23 | 26 |
| Plymouth | 22 | 22 |
| Scunthorpe | 19 | 21 |
| Redcar | 21 | 21 |
| Rye House | 18 | 20 |
Last five home results v Tigers:
23.04.16 W51-39
23.07.15 L43-47
17.07.14 D45-45
27.06.13 W63-29
14.06.12 W64-29

Tigers' last five:
PL Glasgow 62-30 Tigers
PL Tigers 56-37 Rye House
PL Tigers 47-43 Edinburgh
PL Newcastle 54-36 Tigers
PL Somerset 53-38 Tigers