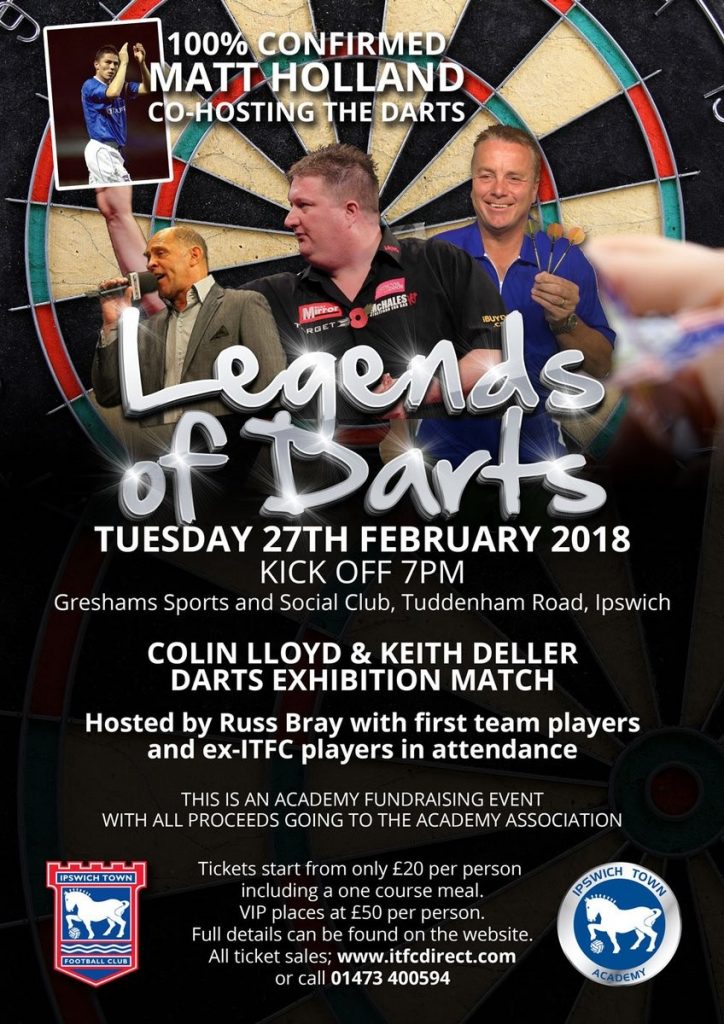 Words: Henry Chard
Members of the 'Tru7.com' Witches will be at the Ipswich Town Legends of Darts event held at Greshams Sports and Social Club on Tuesday 27th February (7.00pm).
Captain Danny King, manager Ritchie Hawkins and promoter Chris Louis are all confirmed to attend the event with more riders potentially attending. The event is an academy fundraising event with all proceeds going to the Academy Association.
The evening is co-hosted by former Ipswich Town captain Matt Holland and professional darts referee Russ Bray with an exhibition match between Colin Lloyd and 1983 world champion Keith Deller taking place. Several Ipswich Town players past and present will also be at the event.
King is looking forward to attending the evening as a big darts fan and says there won't be any pressure when he gets up on the oche despite the big build-up from friends and family on Twitter.
"It is always good to do these fundraising events and especially when it is something I am interested in as I love my darts," said King. "I grew up watching the darts and my family play it too. My mum is going to be jealous when I tell her Keith Deller will be there, that's for sure!
"I'll just enjoy it, I am steady, I wouldn't say I am good at it and I will probably be worse under the pressure and especially if I am up against a professional! It is all for a good cause and I will enjoy it."
Hawkins is also a big darts fan and says it will be a good start to a few days of team bonding as they head to France the following day for testing.
"As darts fans we are looking forward to seeing the professionals and it sounds like a really great night," said Hawkins. "When it was announced on Twitter that we were attending they was a lot of reaction and that is nice to see. It is the night before we all go away to France so it will be the start of a good few days for us.
"We love our darts and we are really looking forward to going. It is great to keep the involvement going between the two clubs too. We are really pleased to get an invite and we are looking forward to the evening."
It is another sign of the strong bond developing between the two professional sports clubs in the town and both King and Hawkins believe the partnership is positive for the town.
"It is great that they are working together, sport is a big thing in Ipswich and we should be working together," said King. "I think already we have seen good progress made since we started working together and I hope it continues."
"The speedway club is on the up and there are a lot of positive things going on," said Hawkins. "Ipswich are not having a bad season and still have a chance of the play-offs. The link-up is good for the town and it is a sporting town with a proud history and to work together can only benefit everyone so we have fans at both sports."
Tickets start from £20 per person including a one course meal. VIP places are available at £50 per person. For ticket sales head to www.itfcdirect.com, email sales@itfc.co.uk or call 01473 400594.