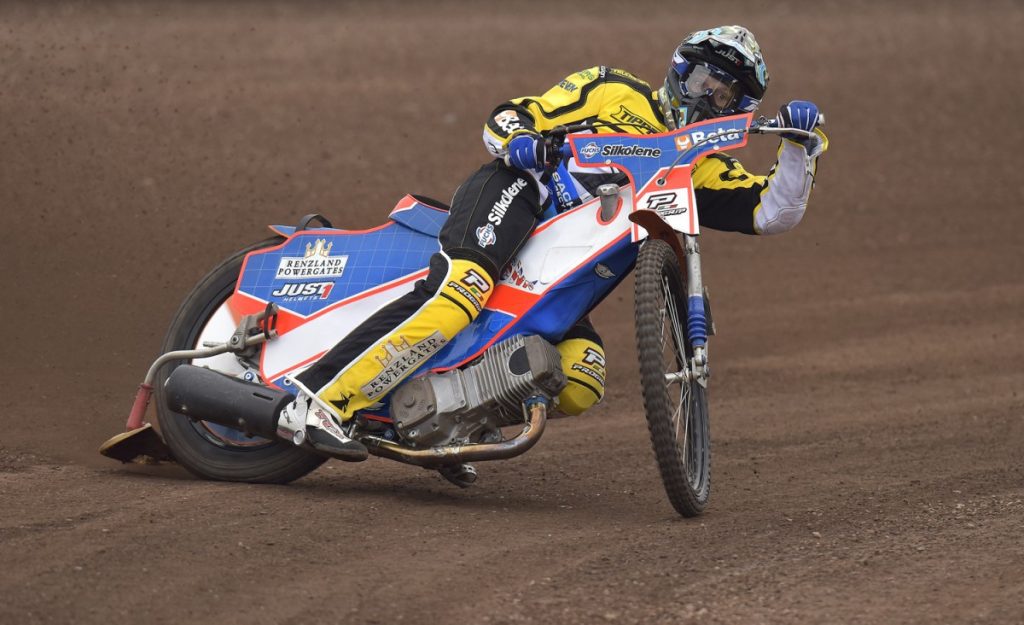 The Ipswich 'Tru7.com' Witches open their 2016 Premier League campaign on Saturday when they visit the Rye House Rockets at Hoddesdon (7pm).
The Witches have endured a long break since they last rode at Scunthorpe on 20th March due to two consecutive postponements for differing reasons and they will be eager to get back on track on Saturday.
Ritchie Hawkins will be delighted to be able to field a full side for the clash with Morten Risager back from injury and James Sarjeant back from illness as the side look to start the campaign on a positive note.
It's been a winter of change for the home side with some exciting developments for Rockets fans. New owners Team BMR have taken full control of the club in 2016 and they have already made track adjustments, changed the club colours and there are new logos for the club. It's a new era for the Hertfordshire club and they will be looking to transfer the positivity off the track into points on the track when they face the Witches.
The Rockets have one of the league's top performers leading them into 2016 with Eddie Kennett back for another year and there are a couple of familiar faces to Witches fans in the Rye House side with Cameron Heeps making the winter switch and Ipswich born Leigh Lanham also part of the side.  The two sides last met at Hoddesdon back in August with the Witches coming out 46-44 winners on the night and a repeat result would be the perfect start to the new campaign.
Team Manager Ritchie Hawkins says the long break between meetings so early in the season is not great preparation but refuses to use it as an excuse.
"It's far from ideal for us going straight into the Premier League season," said Hawkins. "We've missed out on two cup matches but for a team that is going to do well in the league you're going to have to overcome a bit of adversity along the way. We've got to remember that Rye House haven't rode that much either so it's not like they've rode loads and we've only rode twice. It's also nice to be fielding a full team and that's what we want to do, the way our team is built if we are missing a rider it does not help."
Hawkins says that the Witches away form could be even more crucial than the form at Foxhall and the boss wants to start the season on a positive note with the help of the more experienced members of the side.
"Looking at an away meeting there are more points available than at home, so your away form can be just as important as your home form, if not more. We don't want to be playing catch up in the league so hopefully we can step it up a level on Saturday. It might be that we will be relying a bit more on our more experienced riders who have been in this situation before. Most of our boys are riding other meetings its only Nico (Covatti) and Paco (Castagna) who are not and I suppose James has been ill so he has had time off."
The boss is looking forward to visiting The Rye House Stadium after the winter improvements and expects a good meeting against some old faces.
"I'm looking forward to going back to Rye House as I did not go there last season and it will be nice to see what they've done with the place. I hear they've made a lot of improvements in the stands and the track is a little different now too.  They've got a couple of riders in their team we know well and it should be a real good meeting.
"Generally we've always done well at Rye House but Leigh and Cam rider for them now! In Danny (King) and Eddie there will be two of the best riders in the league competing but I'm looking at it from our point of view and hopefully we can step it up a level for the start of the league campaign.
"I think Leigh and Cam will have good seasons at Rye House, they both like the track and it will be good to see Cam have a real good season and in the future we will benefit from that at Ipswich as well."
Rye House 'BMR' Rockets:
Edward Kennett (c) 9.57
Kasper Lykke 5.74
Cameron Heeps 5.87
Leigh Lanham 5.78
Stuart Robson 6.50
Peter Karger 5.00
Ben Morley 3.00
Team Manager: Peter Schroeck
Ipswich 'Tru7.com' Witches:
Danny King (c) 9.54
James Sarjeant 5.00
Lewis Kerr 6.85
Morten Risager 6.86
Nico Covatti 7.55
Paco Castagna 3.33
Darryl Ritchings 3.00
Team Manager: Ritchie Hawkins
Last five results at Rye House:
22.08.15 W46-44
21.03.15 L43-46
16.08.14 W49-41
31.05.14 W46-44
20.04.14 L39-51
Rye House Factfile
Main Sponsor: BMR
Team Colours: Black/Silver/Orange
Race-Night: Saturday (7pm)
Website: www.ryehouserockets.co
Track Details
Track Length: 262 metres.
Track Record: 54.7 seconds (Robert Lambert August 1, 2015).
Admission Prices
Adults: £16.
Concessions (over 60s): £14.
Full-time students (17-22): £10
Children (12-16): £5.
Children (under 12): Free
Programme: £2.
Stadium Address
Rye House Stadium, Rye Road, Hoddesdon, Hertfordshire EN11 0EH.
Telephone: 01992 440400.
By Train: Rye House station is next to the stadium and can be accessed from Liverpool Street and East Anglia.