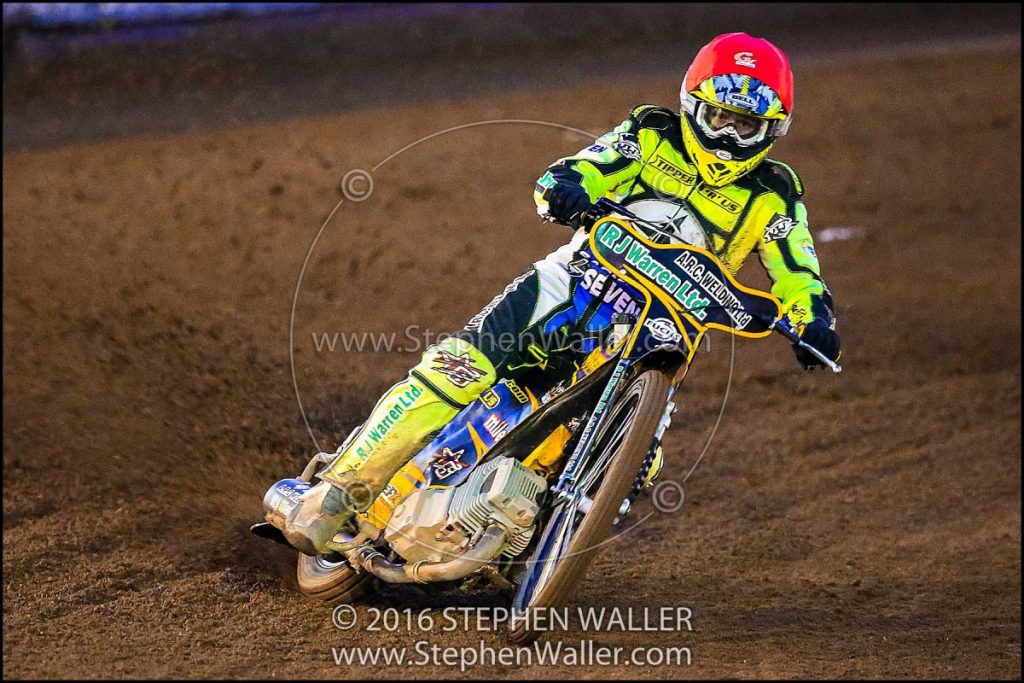 The 'Tru7.com' Witches head to South Yorkshire on Thursday to take on the Sheffield Tigers in the Premier League (7.30pm).
The Witches enjoyed a fine run of form in July at Foxhall winning all four home meetings to propel them up the table and towards the play-off spots. Ritchie Hawkins' side must now look to produce that form on the road if they are to get into the top six starting at Sheffield on Thursday.
There is a guest at number seven with Jake Knight coming in to ride for the Witches. Knight rides for Eastbourne in the National League and also had a spell with Sheffield back in 2013. Jake is the son of former rider Richard Knight.
The Tigers will be looking to get back on track after four without a win including their first home league defeat last Thursday against Peterborough. The home side welcome back Simon Stead after he missed their last outing due to injury and Jason Garrity also makes his return to the track after being sidelined for a lengthy period.
The two sides have met already this season on Sheffield shale in the League Cup with the Tigers taking a narrow 47-43 win.
Team Manager Ritchie Hawkins says his side is in good form and is hoping the team can put in a similar performance to their earlier visit to Owlerton.
"We rode well there earlier in the year so if we can ride like we did that night we can get a result," said Hawkins. "We've been doing a lot better and we're in the best form we've been in all season and we've got to look to get a win. We need to win a couple of away meetings to get into the play-offs, the momentum is with us and we need to perform."
Hawkins dismissed suggestions that it is a good time to face the out of form Tigers and believes the Witches must focus on themselves.
"They had a bit of bad luck to lose to Peterborough at home last week what with the black and white helmet being used and Steady (Simon Stead) getting injured. They're a good team but we've got to focus on our own performance and go there and put in a performance that we have shown we are capable of at times this season and if we can do that we will get a result."
The boss says that Witches guest Knight is a rider he has been keeping an eye on this season.
"Jake comes in at number seven, he's been going really well this year with Eastbourne and I've been keeping an eye on him. I've known Jake for quite a while from our Dad's racing against each other and he's done a bit of Premier League at Sheffield a few years ago. Hopefully he can come in and enjoy it."
Hawkins says he is not looking at the table too much, knowing that his side needs wins on the road if the play-offs are to become a reality.
"We're still at the stage where we know we've got to win meetings to progress up the table. There are teams below us with a lot of meetings in hand so we need to get points on the board, especially away from home."
Sheffield 'Window Centre' Tigers: 
1. Simon Stead (c) 8.97
2. Josh Bates 5.86
3. Dimitri Berge 7.06
4. Jason Garrity 8.44
5. Kyle Howarth 7.22
6. Arthur Sissis 3.92
7. Nathan Greaves 3.00

Team Manager: Eric Boocock
Ipswich 'Tru7.com' Witches:
1. Danny King (c) 8.86
2. James Sarjeant 5.13
3. Nico Covatti 7.52
4. Morten Risager 6.73
5. Ben Barker 7.42
6. Joe Jacobs 3.00
7. Jake Knight (g) 3.00

Team Manager: Ritchie Hawkins
Premier League table
| | | |
| --- | --- | --- |
| Team |   Pl     | Pts   |
| Somerset | 11 | 34 |
| Glasgow | 16 | 33 |
| Peterborough | 15 | 30 |
| Sheffield  | 14 | 27 |
| Edinburgh | 14 | 26 |
| Berwick | 18 | 24 |
| Witches | 15 | 21 |
| Workington | 12 | 20 |
| Newcastle | 10 | 19 |
| Rye House | 13 | 18 |
| Plymouth | 16 | 16 |
| Redcar | 15 | 13 |
| Scunthorpe | 13 | 12 |
Last five results at Sheffield:
21.04.16 L43-47
30.04.15 L43-50
28.08.14 W51-42
29.08.13 D45-45
19.07.12 L42-50

Sheffield Tigers Factfile
Main Sponsor: Sheffield Window Centre
Team Colours: Blue and Yellow
Race-Night: Thursday (7.30pm)
Website: www.sheffieldspeedway.co
Track Length: 361 metres
Track Record: 59.1 seconds, Ricky Ashworth (October 14, 2010).
Admission Prices
Adults (aged 16 and over): £15
Concessions (over 65s): £11
Juniors (aged 15 and under): £1.
Programme: £2.50
Stadium Address
Owlerton Stadium, Penistone Road, Sheffield, S6 2DE
Telephone: 01142 853142
By Train: The nearest station is Sheffield, which is about two and a half miles from Owlerton Stadium.