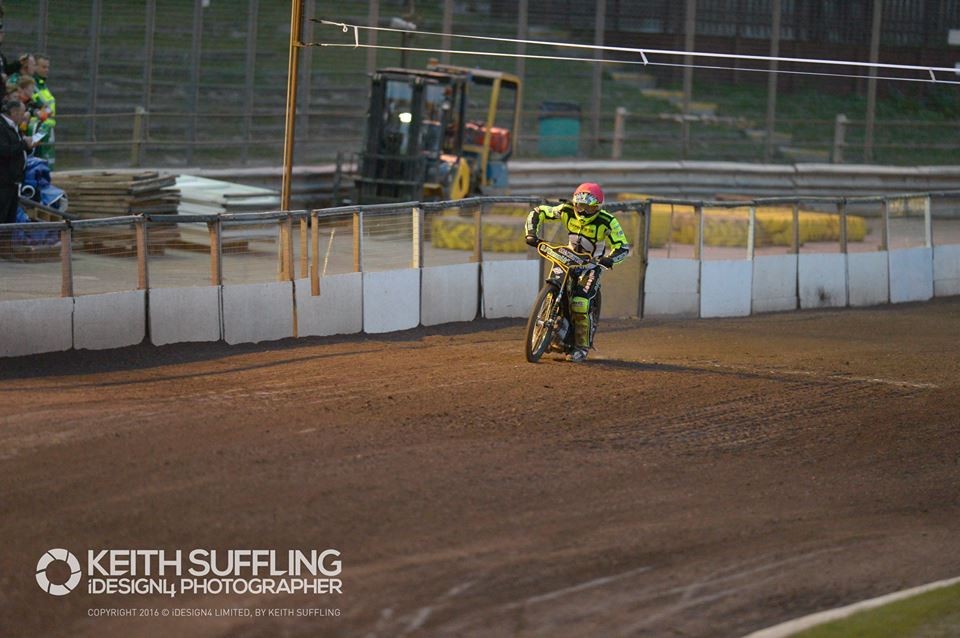 The 'Tru7.com' Witches put in a dominant performance to hammer the Redcar Bears 61-32 at Foxhall on Saturday evening.
The result was never in doubt as the home side racked up the 5-1's during the meeting and cruised to a comfortable victory. Skipper Danny King was top scorer with a paid maximum of 14+1.
The captain signalled his intent in heat one with a convincing win with James Sarjeant in third unable to find a way past Lasse Bjerre to join King for a maximum. The Foxhall faithful could be forgiven for feeling a little nervy after heat two as the away side eased to a 5-1 thanks to Simon Nielsen and Lee Payne but that was as good as it got for the Bears. In heat three guest Ryan Douglas was awarded the win with Morten Risager joining him in second  after passing both Redcar riders on the home straight of lap one before David Bellego fell late on in the race. Nico Covatti won heat four as the Witches hit a 4-2 with Ollie Greenwood in third after being passed by Jonas B Andersen for second, which left the home side 14-10 up.
Douglas won heat five in a shared heat as Risager could not find a way past the Bears to get into the points. From here on in the Witches began to dominate proceedings and they hit a 5-1 in heat six as King and Sarjeant gated and were untroubled. It was more of the same in heat seven as Covatti and Paco Castagna eased to another maximum. The 5-1's just kept on coming as the Witches duo of Sarjeant and Castagna coasted round for a maximum leaving the home side in a commanding position 32-16 up.
Things did not stop there either as the remarkable run of 5-1's continued in heat nine. Risager won an awarded heat with Douglas in second before falling after a move from Andersen; a move for which the Redcar man was excluded for and the heat awarded. Incredibly there was another maximum to come as King and Sarjeant were at it again for a comfortable 5-1 in heat 10 which all but sealed the win. The Bears did cut the deficit in heat 11 though as Bjerre won whilst on a tactical ride with partner Nielsen in third for a 7-2 after Covatti had prevented the 8-1 passing the Redcar man on lap two. The mini revival continued in heat 12 as Bellego won with Nielsen again in third this time for a 4-2 but it wasn't enough with the Witches 46-29 up with just three heats to go.
Then came another string of 5-1's to the Witches. Bjerre made the start in heat 13 but Covatti swooped round to take the lead on the second bend before King picked off Bjerre on lap two to join the Italian at the front.  Douglas concluded his night guesting for the Witches by completing his paid maximum with a win after passing Nielsen on the fourth bend of the first lap with Greenwood coming through into second after Nielsen suffered a puncture on the last lap.
King and Covatti put the cherry on top of the cake in the final heat as they gated and stayed there to complete a rampant victory for the Witches, taking a 61-32 win.
Team Manager Ritchie Hawkins was pleased with his side's dominant display but wants them to continue this form from now on this season.
"It was what we needed," said Hawkins. " They (Redcar) had a good result at Somerset so we didn't think it was going to be easy but everyone stepped up and Ryan was a brilliant guest, he was a great addition to our team. All the boys pulled their finger out like they needed to and got a result for the fans in a dominant display. It was a lot better but we have got to keep working hard and make sure we perform the same as that every week."
Asked what clicked on the night, Hawkins believed track conditions played a part whilst a good team spirit in the camp helped.
"There was a bit more dirt down on the track which the boys seemed to enjoy that and we turned up tonight. There was a good atmosphere in the pits, the team spirit was brilliant. Everyone had a great laugh before the start and they seemed focused and determined and they've been told they've got to start riding as we expect them to for the Witches and they did.
Hawkins was pleased to see two paid maximums in his side but said it was a team performance.
"All the boys did well and it was nice to see a couple of maximums and that's the first time we've had that this year."
Ipswich 'Tru7.com' Witches 61
Danny King (c) 14+1 (Paid Maximum)
James Sarjeant 8+2
Morten Risager 7+1
Ryan Douglas (g) 11+1 (Paid Maximum)
Nico Covatti 13+1
Paco Castagna 5+2
Oliver Greenwood 3+1
Redcar 'SG Petch' Bears 32
Lasse Bjerre (c) 11
Jacob Bukhave 1+1
David Bellego 3
Jonas B Andersen 5
Simon Nielsen 8
Lee Payne 4+1
Premier League table
| | | |
| --- | --- | --- |
| Team | Pl     | Pts   |
| Peterborough | 8 | 17 |
| Somerset | 5 | 16 |
| Sheffield | 8 | 16 |
| Glasgow | 7 | 13 |
| Berwick | 8 | 12 |
| Rye House | 6 | 11 |
| Workington | 7 | 11 |
| Newcastle | 5 | 11 |
| Plymouth | 6 | 10 |
| Edinburgh | 5 | 8 |
| Witches | 6 | 6 |
| Redcar | 7 | 5 |
| Scunthorpe | 6 | 3 |
RN Euston Construction Rider of the Night: Danny King
Next Meeting: PL 9th June vs Glasgow (Home)