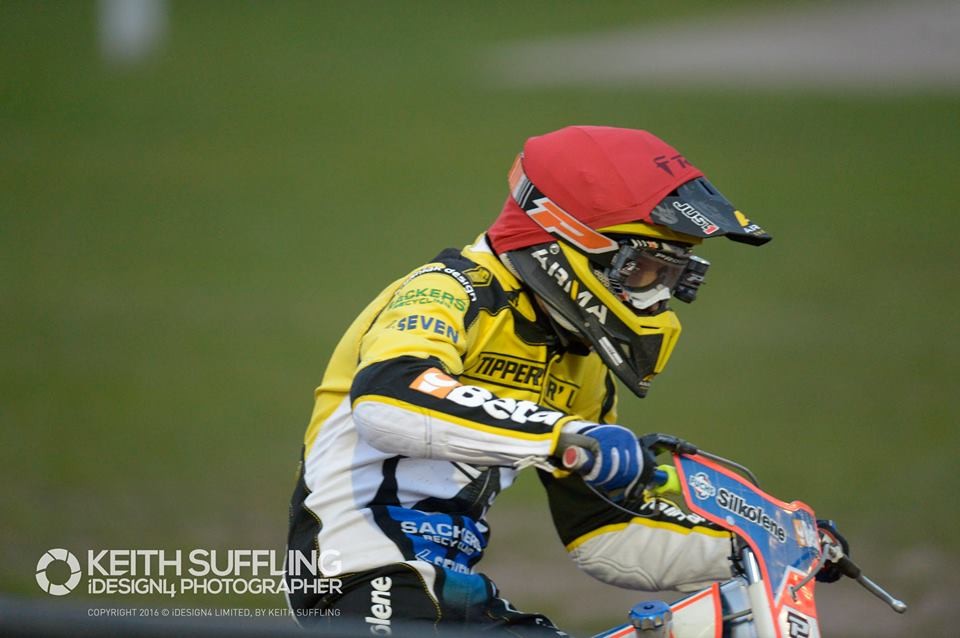 The 'Tru7.com' Witches continue their northern tour on Sunday as they head to the Newcastle Stadium to take on the Newcastle Diamonds (6.30pm).
The Witches were in action on Saturday evening and were soundly beaten at Berwick and Ritchie Hawkins' side will be looking for a much improved performance on Sunday as they look to climb the league table.
Danyon Hume once again rides in place of Ollie Greenwood who is still serving his nine day lay-off period for concussion he suffered in an incident riding for Buxton.
The Diamonds sit just outside the play-off spots after a mixed start to the season and they are led by one of speedway's brightest young talents in Robert Lambert whilst one of the stars of the Elite League season Steve Worrall rides at number five.
The last time the two sides met on Newcastle shale the home side came out 48-43 winners in last season's Premier League.
Team Manager Ritchie Hawkins knows his side are in for a tough test but believes they can pull off a result.
"It's always tough when you go to Newcastle but hopefully we can get a big result on Saturday and then carry that confidence into Newcastle on Sunday," said Hawkins. "We are more than capable, so we can get a result anywhere. It's a matter of getting everyone going at the same time."
With the Witches having a slow start to the season the boss is targeting a win with consolation points not enough.
"We need as many points as possible as we are playing catch-up massively now and we need big results and two points from the two meetings isn't really going to be enough."
Newcastle 'Sapphire Engineering' Diamonds:
1. Robert Lambert 8.29
2. Victor Palovaara 5.05
3. Matej Kus 7.03
4. Ludvig Lindgren (c) 7.23
5. Steve Worrall 8.29
6. Lewis Rose 4.15
7. Danny Phillips 3.00
Team Manager: George English

Ipswich 'Tru7.com' Witches:
1. Danny King (c) 9.27
2. James Sarjeant 4.58
3. Nico Covatti 7.74
4. Morten Risager 7.04
5. Ben Barker 7.70
6. Paco Castagna 3.13
7. Danyon Hume 3.00

Team Manager: Ritchie Hawkins
Premier League table
| | | |
| --- | --- | --- |
| Team |   Pl     | Pts   |
| Glasgow | 11 | 22 |
| Peterborough | 9 | 20 |
| Somerset | 6 | 19 |
| Sheffield | 9 | 19 |
| Berwick | 11 | 18 |
| Workington | 8 | 14 |
| Rye House | 7 | 14 |
| Plymouth | 8 | 13 |
| Newcastle | 7 | 12 |
| Edinburgh | 8 | 11 |
| Witches | 9 | 6 |
| Redcar | 8 | 5 |
| Scunthorpe | 7 | 3 |
Last five results at Newcastle:
10.05.15 L43-48
25.05.14 L44-46
29.09.13 L27-65
09.06.13 D45-45
28.10.12 L32-58
Newcastle Factfile
Main Sponsor: Sapphire Engineering
Team Colours: Black, white and blue
Race-Night: Sunday (6.30 pm)
Website: www.newcastlediamonds.co
Track Length: 300 metres
Track Record: 61.0 seconds (Kenni Larsen, October 24, 2010)
Admission Prices:
Adults: £15 online, otherwise £16
Concessions: £11 online, otherwise £12
Children (5-16): £3
Under 5: Free
Programme: £2.50
Stadium Address
Newcastle Stadium (formerly Brough Park) Fossway, Byker, Newcastle upon Tyne, Tyne and Wear, NE6 2XJ
Telephone: 01912 656581
By Train: The nearest station is Newcastle Central Station, which is on the main line from London to Edinburgh