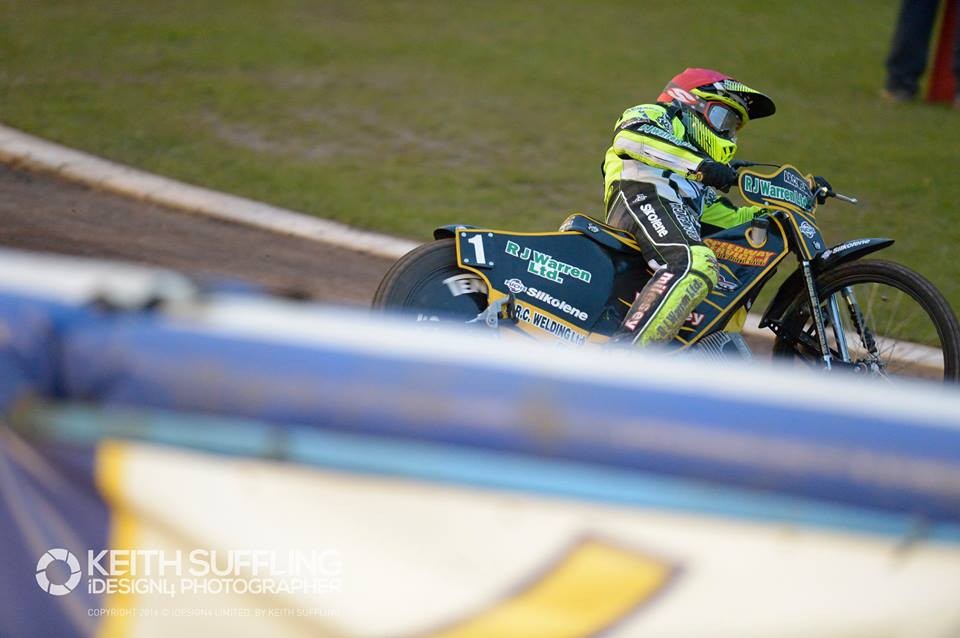 The 'Tru7.com' Witches suffered a heavy defeat away at Berwick on Saturday evening going down 60-33 at Shielfield Park.
Things started badly for the Witches and they never recovered in the meeting and were comprehensively beaten. Danny King was once again the Witches top man scoring 14+1.
The skipper won heat one for the Witches in a shared heat but it didn't take long for the Bandits to show their dominance in the meeting. Liam Carr and Daniel Gappmaier raced to a 5-1 in heat two before Kevin Doolan and Matthew Wethers did the same in heat three. Thomas Jorgensen won heat four ahead of Ben Barker with Carr in third for a 4-2 that left the Witches 17-7 down already.
King was sent out on a tactical ride in heat five which he duly won to record a 6-3 to the Witches. However, the tide did not turn and Theo Pijper won heat six with David Bellego in second for another maximum. Jorgensen and Gappmaier inflicted another 5-1 on the Witches in heat seven and the battering continued in heat eight as Pijper and Carr continued the run of 5-1's leaving the tie all but over with the Bandits leading 35-16.
The run of maximum's didn't stop there either as Doolan and Wethers raced home for a 5-1 in heat nine. The Witches finally showed some resistance in heat 10 as Nico Covatti won in a shared heat and the away side then recorded a 5-1 of their own in heat 11 as James Sarjeant won and King got past Jorgensen to join him at the front on the second lap. The Bandits responded in heat 12 with their own 5-1 thanks to Carr and Doolan leaving the Witches 49-26 down with only pride to race for in the final three heats.
Bellego and Jorgensen made the evening worse for the Witches in heat 13 with yet another maximum and they increased the lead in the penultimate heat with Wethers beating Morten Risager and partner Gappmaier in third for a 4-2. King won heat 15 with Covatti in third for a 4-2 but it was little consolation for the Witches who were soundly beaten 60-33 on the night.
Chris Louis was left speechless after the heavy defeat and offered an honest assessment of the side.
"I honestly don't know what to say," said Louis. " We were well beaten in every department. Man for man whether it be starting or track craft they were better. It was the most lacklustre performance I have seen from a Witches side in all my time with the club. There are no excuses we were extremely poor."
Berwick 'Olympus Marquees' Bandits 60
David Bellego (g) 9+1
Theo Pijper 8+2
Kevin Doolan (c) 10+1
Matthew Wethers 10+3
Thomas Jorgensen 9+1
Daniel Gappmaier 5+2
Liam Carr 9+1
Ipswich 'Tru7.com' Witches 33
Danny King (c) 14+1
James Sarjeant 4
Nico Covatti 6
Morten Risager 3
Ben Barker 5
Paco Castagna 1
Danyon Hume 0
Premier League table
| | | |
| --- | --- | --- |
| Team |   Pl     | Pts   |
| Glasgow | 11 | 22 |
| Peterborough | 9 | 20 |
| Somerset | 6 | 19 |
| Sheffield | 9 | 19 |
| Berwick | 11 | 18 |
| Workington | 8 | 14 |
| Rye House | 7 | 14 |
| Plymouth | 8 | 13 |
| Newcastle | 7 | 12 |
| Edinburgh | 8 | 11 |
| Witches | 9 | 6 |
| Redcar | 8 | 5 |
| Scunthorpe | 7 | 3 |
Next Meeting: PL 19th June vs Newcastle (away)