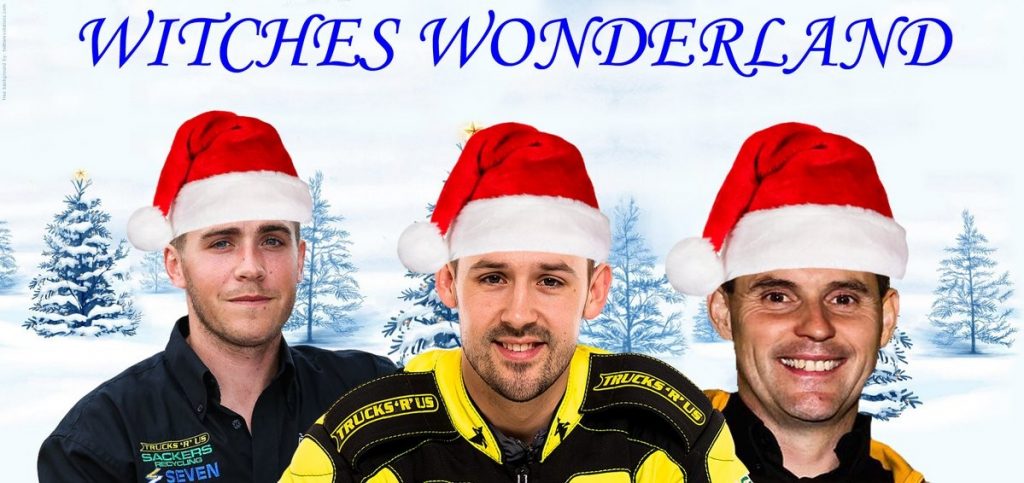 With Christmas fast approaching we spoke to Chris Louis, Ritchie Hawkins and Danny King to reveal some of their festive favourites and traditions.
What is the best thing about Christmas?
Danny: Family time! Clara and I absolutely love Christmas and it is nice to switch off from everything. Speedway is my life and I love it but you always need a break. It's the same for Clara who has worked hard as a school teacher and we always find that Christmas is a time you can forget everything. You can have some fun especially with the kids. Logan is at the right age where he understands it and he is so excited, Christmas is my favourite time of year.
Ritchie: Apart from the festive drinks, spending time with family! It's nice to be able to have more time together at this time of year. I've had a nice couple of Christmas dinners off of the mother-in-law and my mum has got me this year so I'm sure that will be nice as you can't beat the mother's cooking!
Chris: The food! I would have said family but none of them are here this year!
What Christmas traditions do you have?
Danny: As kids my brother and I used to always have to have breakfast before we opened the presents. My mum wouldn't give in but we were allowed to open one present before breakfast and then we scoffed our breakfast so quickly! I've adopted that with Clara and always like winding her up as she wants to go and open her presents!
Ritchie: I haven't really got any but I normally go for a run on Christmas morning!
Chris: Eating! There is a theme developing here… No actually I like Christmas stockings, I still have one so that is my favourite tradition.
What is your favourite memory as a child?
Danny: My mum made it so exciting, she loved Christmas and made it so festive so that is what sticks out in my mind.
Ritchie: Waiting in the morning for my Grandad, who I was very close with. Christmas started when Grandad came walking down the road and that was my favourite part of the day.
Do you have a present you will always remember?
Danny: I got a Speedway bike once and it was wrapped up! It was wrapped in wallpaper because it was easier than using wrapping paper! It was all different bits of wallpaper from the garage.
Ritchie: Getting WWF or WWE tickets as it is now known, I got very excited and had to go to bed because I was over-excited.
Chris: Getting the Evel Knievel stunt bike, it made a significant mark on my life! I got numerous aches, scrapes and grazes after having practised on that and then got on my BMX bike or 'drifter' as it was back then!
Favourite Christmas movie…
Danny: That is a tough one but the first Home Alone, I'll have to go with that!
Ritchie: Bad Santa!
Chris: Bizarrely, as it was on every Christmas but I loved watching The Towering Inferno which is a disaster film!
Favourite festive food…
Danny: It's got to be Christmas dinner, I only have turkey once a year!
Ritchie: I love a trifle. It's between that and the sausages wrapped in bacon. We have a trifle in the evening and it's the only time I have one every year so that edges it!
Chris: Just the selection on offer. We have a lot of fresh fish on the table to pick at and all the cheeses. Obviously the traditional Christmas dinner is wonderful and always is but I do love the picky bits!
Favourite festive tipple…
Danny: Mulled wine for me. I don't really drink red wine at all but I started drinking mulled wine once when I was skiing and it warms you up nicely!
Ritchie: Guinness, silly question! I will have a Jack Daniels and coke later on in the evening though!
Chris: Even though I've been told I'm not allowed to say Guinness, I'm saying Guinness! I do like an ale though, Adnams Ghostship in particular.