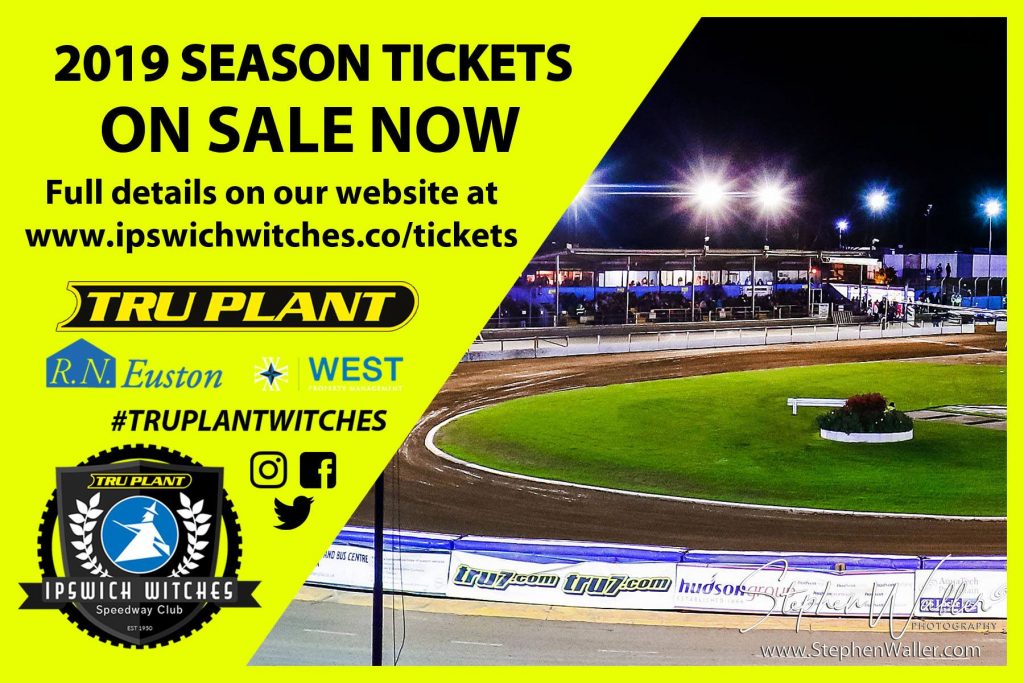 Season Tickets for the 2019 season are now on sale as the Ipswich 'Tru Plant' Witches embark on their first season back in the Premiership after eight years away.
You can download a season ticket form here or from our Tickets page. Season tickets are available to buy until 29th March and are priced at £245 for Adults and £220 for Concessions.
There are three ways to pay. You can visit the stadium on 22nd December and pay in person, you can email your completed form and pay via our credit card payment line or you can post your completed form with a cheque to: Mrs C Ellis, 120 St. Gotthards Avenue, Martlesham Heath, Ipswich, Suffolk, IP5 3RT. Please make all cheques payable to: IPSWICH SPEEDWAY PROMOTIONS LTD. For all the details on the ways to pay, please visit our Tickets page.
Your Season Tickets will be issued at the first meeting of the 2019 season and will cover all our league and Supporters Cup fixtures. You can find all the terms and conditions on our Tickets page.
2019 admission prices will be £18 for adults, £16 for concessions (60+), £5 for students (16-17) and children will go free. Programmes will be priced at £3.
Don't miss out as top flight speedway returns to Suffolk and a new era begins for the Witches.