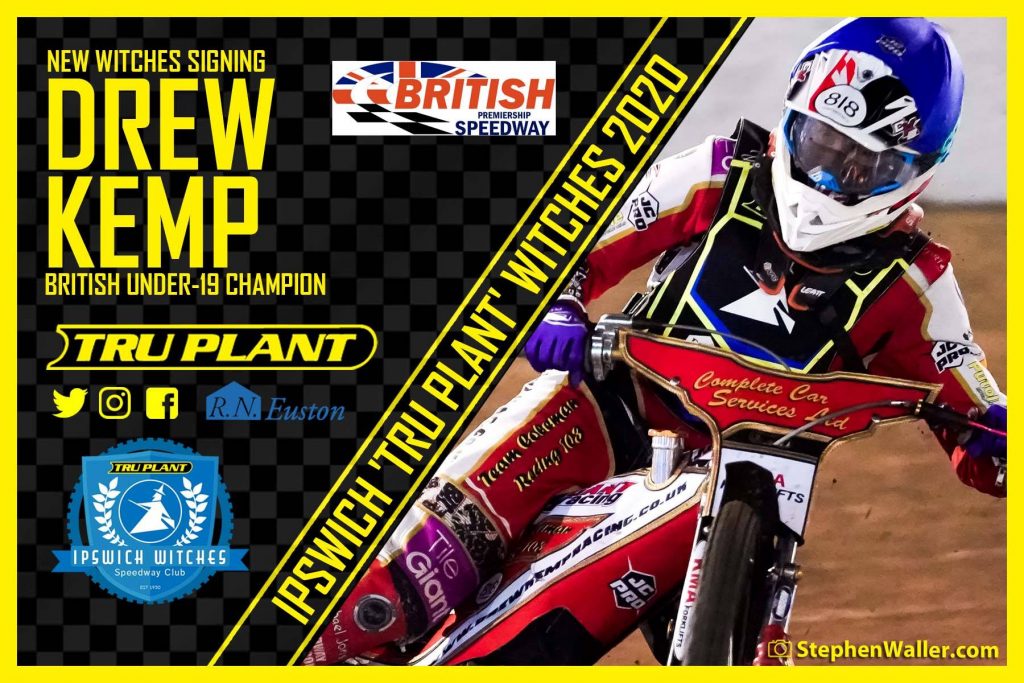 By Henry Chard
The 'Tru Plant' Witches have given a team place to asset Drew Kemp for the 2020 season.
The signing of Kemp comes following the tragic loss of Danny Ayres and Kemp started by sharing his memories of Ayres.
"I spent all my year with Danny at Mildenhall, especially towards the end of that year when we were at number one and five together," said Kemp. "I got on with him really well and what happened is tragic. To come in and replace someone like Danny will be hard as he was known as 'Mr Entertainer' and he will be missed by all of us. I just hope I can do him proud and do what I know I can do."
The 2019 British Under-19 champion will make his Premiership debut with the Witches and had targeted a team place with the Witches in 2020 but admitted he didn't think the opportunity would come so soon.
"I didn't expect it to be honest. I said I wanted to ride for Ipswich by the end of the season. To come in this early is great. I am 17 years old, so to ride for my home team in the top league is brilliant and I am looking forward to it now."
The 17-year-old has been working hard this winter, riding for Great Britain in Australia and can't wait for the new season to begin.
"This year will be tough, no doubt about that. Last year I struggled with my head and got stuck in a rut and each meeting got progressively worse and I didn't feel like I went anywhere. I have worked hard through the winter and went to Australia and had a good few meetings out there. Now I am back here and I'm getting ready for the new season. I am feeling better than ever, fitter than ever and by the time the season comes we should be well away."
The talented youngster believes that having someone like Jason Crump in the same team will help his own development.
"To have someone like Jason, a three-time world champion, it does not get any better than that. I saw him in Australia and raced against him and I definitely feel like although he has been retired, he still has got a lot of expertise and he can help me become a better rider and pull the team together."
Kemp starts the year on a 3.00 average and is looking to enjoy his riding again whilst gaining top-flight experience.
"I want to do my job, have fun and gain experience. I know it is going to be tough. The problem I had last year in the Championship was that I was going into it thinking it would be like how I did in the National League before that and I would end up as number one. I have got to enjoy it; score points I know I can score and gain all the experience I can and think about it as a way to make me a better rider for the future."
The Suffolk-based rider has been training hard so that he is race-sharp as soon as the season begins.
"I just had Team GB camp last weekend, so I have been doing that and I have got Isle of Wight training this week. I have been pretty busy; it has been a rest, but I haven't been off the bike. I had a few meetings in Australia and am preparing bikes and am spending a lot of time in the gym."
2020 Season Tickets are now available to purchase, all the details can be found here.
2020 team: Danny King ©, Nicolai Klindt, Cameron Heeps, Jake Allen, Nico Covatti, Drew Kemp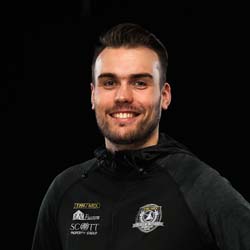 Digital Media Manager at Ipswich Speedway