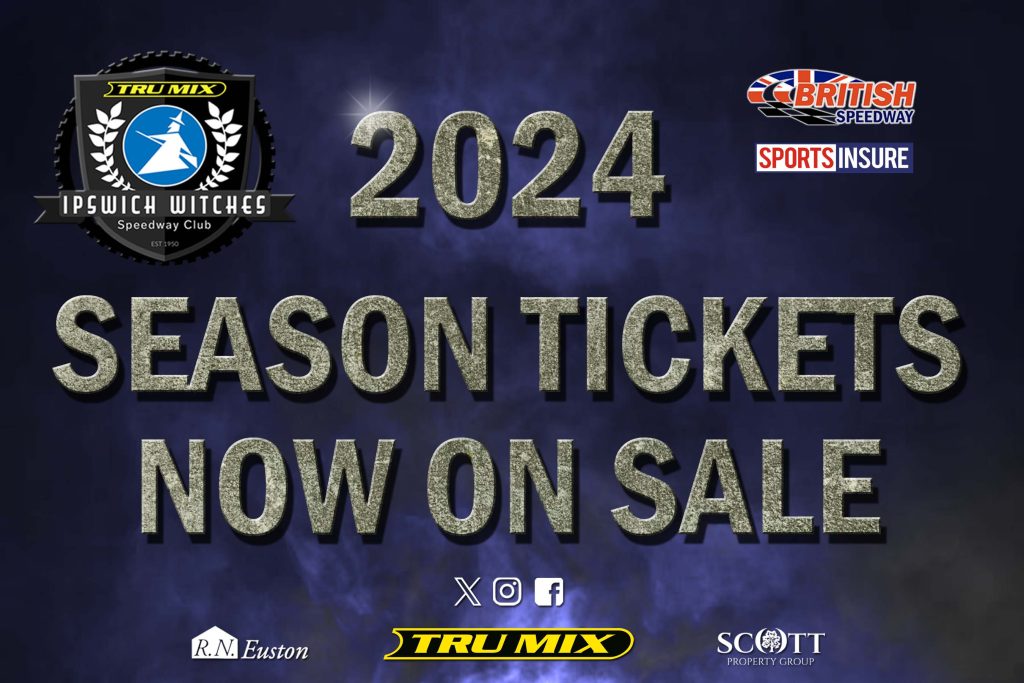 Season Tickets for the 2024 season are now on sale as the Ipswich 'Tru Mix' Witches embark on another season of Sports Insure Premiership speedway.
You can buy your season ticket online, here. Alternatively, you can download a season ticket form here. Season tickets are available to buy until 1st March 2024 and are priced at £260 for Adults and £230 for Concessions, with Grandstand seats priced at £30.
There are three ways to pay. Online via the link provided above, you can visit the stadium on 9th December between 10am-1pm and pay in person or you can post your completed form with a cheque to: Mr M Styles, 7 Penhurst Road, Ipswich, Suffolk, IP3 8QZ. Please make all cheques payable to: IPSWICH SPEEDWAY PROMOTIONS LTD.
Your season tickets will be issued at the first meeting of the 2024 season and will cover all 12 of our Sports Insure Premiership league fixtures and the first round of the Knockout Cup. This does not include any semi-finals or finals. However, you will still be able to purchase your tickets for these events at the season ticket gate.
Concession tickets are available to those who held a 2023 concession season ticket or those who are over the age of 65 on or before 15th March 2024. Student (21 & under) applications will require a valid student card and proof of age including passport, driving licence or birth certificate.
Proof of age is required for all first-time concession applicants, this can include a copy of your passport, driving licence or birth certificate. This can be provided when you collect your ticket.
Season tickets are transferable. ID and proof of age will be required for concession tickets not bearing the holder's name and may not be used to discount an adult admission.
With your season ticket you can claim 10% discount on all Ipswich 'Tru Mix' Witches clothing at the Track Shop and 10% off your first appointment at Keep Well.
Season Tickets do not include a programme.
Admission prices for the 2024 season will be £23 for adults, £21 for concessions and students (21 & under), £1 for children aged 6-16, whilst children 5 and under go free.