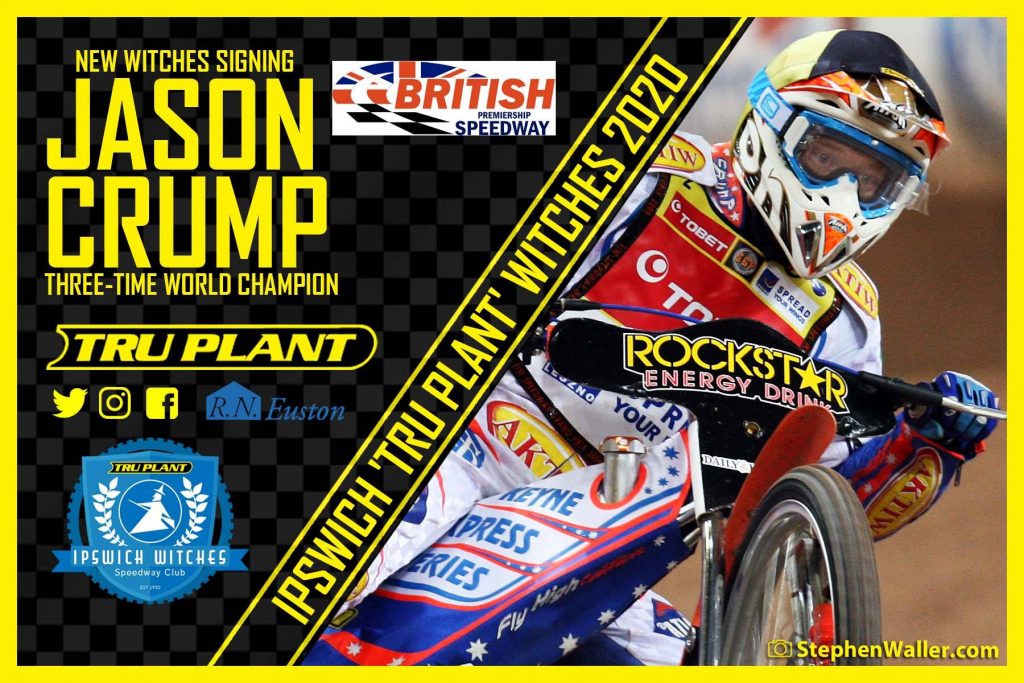 By Henry Chard
The 'Tru Plant' Witches have signed three-time world champion Jason Crump as he comes out of retirement to complete the 2020 team.
The Australian has been retired since 2012 and he explained how the idea of returning to the sport gathered pace after the winter test matches in Perth between Great Britain and Australia.
"To be honest it's a funny thing as I haven't not ridden much in Australia," said Crump. "At the end of the British season, Daniel Bewley, Tom Brennan and Kyle Bickley came to Australia through Ian Sinderson from ATPI. They stayed with Justin Sedgmen at his place and those three boys and Justin came up to my place on the Gold Coast and spent nearly a week up here doing some training with one of my old trainers.
"Of course, the conversation leads into speedway and 'you should ride again', all these comments start coming up and you start thinking about things. The seed was planted by those guys then just after Christmas in early January there were those meetings in Perth. Ian Sinderson rang me up in a panic as he had been let down by a couple of riders in Australia that couldn't make it to the event. I got a last-minute invite to go over there. Perth is a long way from here, it is over 4000km, so it was a bit of a rush to get a bike sorted out and get over there.
"It was a good bunch of guys there and I really enjoyed it. Considering I had not been on bike for quite a while I ended up doing half OK. When I came back from there, I started getting some phone calls and proper interest. Your life leads you down different paths at different times and it seems the right thing to do. I am really excited to be doing it, I am a bit nervous at the same time but in ten years' time I will be too old to do it again. So, the feeling is there is to do it again, then I guess I have to do it sooner rather than later and I feel like I do want to do it."
The 44-year-old said that he has been speaking to Ipswich promoter Chris Louis for quite a while about a potential move.
"Chris actually contacted me in November/December and asked what I was thinking. My average got reassessed and a Championship team were quite interested in having me in a different role as a rider/coach thing. My average wasn't very friendly for Championship level speedway. Chris contacted me at that point. As crazy as it sounds, I have probably been talking with Chris about it since November time believe it or not."
The three-time World Cup winner has been keeping in shape since his retirement and says that now feels the right time to return to British league racing.
"I have been going to the gym nearly every day. I have been unlucky in Australia as where I live in the last three weeks, after the severe bush fires, we have gone from burning to flooding. I haven't had the opportunity to have many rides. I would have been riding in the Darcy Ward Invitational but that got rained off which is pretty unusual here for speedway to be cancelled. I went three weeks ago for a ride but apart from that I am getting things into place.
"Ian Sinderson from ATPI, I am probably going to blame the majority of this on him as he got me over to Perth and the four guys that were up here, they were all geeing me on. Simon Stead was in Perth and he said that I should think about having a ride as I would probably do half OK. Not that I need people to encourage me to do it, it has been a family decision and at this stage with what is going on with our family it seems the right thing to do."
Crump starts the year on an 8.21 average and says he is not placing huge expectations on himself as he looks to try and be a role model within the side.
"I don't have huge expectations; I am not trying to be world champion anymore. My ambition for this year is to try and maintain a solid heat leader position for Ipswich Witches. I hope that I can be a role model and a leader for the rest of the riders in the team. Whether that means I am scoring more points or less points than them, I would like to think that I can contribute to their performance.
"I think I can bring maturity and help them develop as riders as well. I can give sound advice along the way too, at the end of the day when you are talking about a team, as much as you need points you need a good atmosphere in the team and you need to have a good group of riders. I am excited to ride with everyone in the team and I am looking forward to being a 'father figure' or mentor to all of them."
The legend of the sport has always performed excellently at Foxhall and admitted that he would have been a 'Witch' earlier in his career had it not been for the Thursday race night.
"To be honest, if Ipswich didn't race on a Thursday night, I would have ended up riding at Ipswich. Being committed to every Thursday in the UK before a Grand Prix weekend didn't fit in with the way I wanted to build my Grand Prix setup. I have loved Foxhall since the first time I rode there. It wasn't a track where I thought, 'Oh, I've got to go to Ipswich', it was always 'Yep, cool I am at Ipswich this week' and it is one of those tracks where you can measure yourself. If you go to Ipswich and you are going well, generally you are going to go well everywhere as it is one of those technical tracks where you have got to be on point to go well at."
Crump has not raced in England since 2009 with Belle Vue and is looking forward to being back in British racing with Ipswich.
"I have been to Belle Vue, I was there last year to see some racing and I was at Wolverhampton too. I was actually at Ipswich three or four years ago to watch a meeting. Like I say, it feels right, and I am happy it is Ipswich, Chris has been a pleasure to deal with. Guy (Nicholls) is always involved, and I had quite a strong relationship with Guy, his family and business when I used to ride. I have been fortunate to call on people like Guy, Martin Hagon and Ian Sinderson from ATPI to help me get set up again in the UK."
The new signing is hoping to get some track time in the coming weeks before flying over to England for the new season.
"There is a decent gap between press and practice day before another practice day at Foxhall and then we basically have a week off before the first meeting away at Peterborough. I am planning to be in the UK 10 days before practice day to start getting everything organised. The weather seems to have turned a bit here in Australia, so I am hoping by the end of the week to start getting to some tracks and do some riding myself."
2020 Season Tickets are now available to purchase, all the details can be found here.
2020 team: Danny King ©, Jason Crump, Nicolai Klindt, Cameron Heeps, Jake Allen, Nico Covatti, Drew Kemp.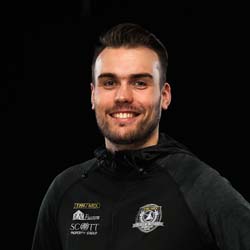 Digital Media Manager at Ipswich Speedway